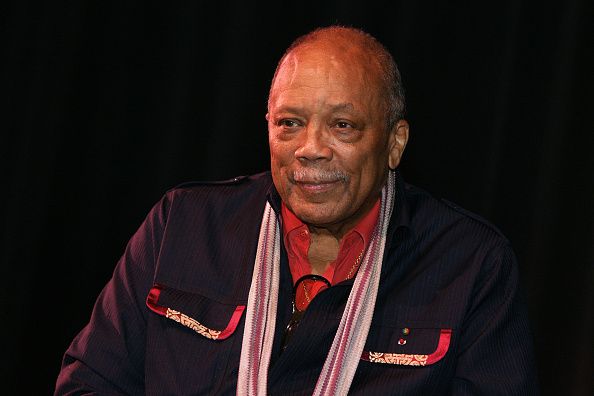 On Monday, the Academy of Motion Picture Arts and Sciences confirmed that Quincy Jones will present an award at the Oscars ceremony in February, and the legendary record producer has said he will use his moment in the spotlight to affirm that actors of color deserve parity with their white co-stars.
The producer, who believes confronting a problem is better than boycotting it, revealed on January 20 that being allowed to address the issue onstage would be a condition of his appearance at the award.
"They called me to go present with Pharrell and Common," the producer told The Hollywood Reporter. "When I'm back [in Los Angeles], I'm going to ask them to let me speak for five minutes on the lack of diversity. If not, I'm not going to [present]."
If Jones goes through with his promise, he will be following in some well-respected footsteps.
When Eddie Murphy took to the stage at the 1988 Academy Awards to present the prize for Best Picture, the comedian had something important to say.
"When they [the Academy] came to me and said they wanted me to present the award for Best Picture...my first reaction was to say, 'No, I ain't going,'" Murphy revealed to a shocked room.
The comedian went on to explain that his indignation stemmed from a frustration about the lack of black actors honored at that year's ceremony. Murphy famously used the opportunity to declare that "black people will not ride the caboose of society, and we will not bring up the rear anymore."
Marlon Brando didn't even take the stage in 1973. After his name was announced as the winner for his iconic role as Vito Corleone in The Godfather, Native American activist Sacheen Littlefeather strolled in front of the gathering of Hollywood's great and, accompanied with boos, carefully explained that Brando would not accept his award due to "the treatment of American Indians today by the film industry."
For the second year in a row, not one black actor has received an Oscar nomination. Director Spike Lee and actor Jada Pinkett-Smith have responded by leading a boycott of the event, while Lupita Nyong'o, David Oyelowo and Idris Elba have all spoken out. #OscarsSoWhite has resurfaced as the rally call against an organization that has failed for decades to address the issue of its ageing and insular membership.
Jones is unlikely to be the only person of color at next month's ceremony using the platform to demand a more inclusive industry.
Chris Rock is expected to dedicate part of his hosting duties to the issue, while the lineup of presenters includes Scandal star Kerry Washington, comedian Kevin Hart, actor Whoopi Goldberg and Bollywood's Priyanka Chopra.
The Academy Awards will take place in Hollywood, California on February 28.