Rachel Brosnahan Plays Celebrity Prank Caller in Flirtatious New Podcast
Ahead of the final season of The Marvelous Mrs. Maisel, Rachel Brosnhan's latest role sees her play a flirty celebrity prank caller in a dramatic podcast series based on a true story.
She is the star and producer behind the new Audible podcast The Miranda Obsession, based on the tale of a 1980s woman who seduced famous men using just her voice. The podcast features the voices of Brosnahan, Josh Groban and Milo Ventimiglia (This Is Us).
Brosnahan has wowed audiences and critics with her performance as Midge Maisel for four seasons, but the upcoming Season 5 will be the final one on Amazon Prime.
She sat down with Newsweek to talk about the end of her award-winning show, and to discuss her passion project, The Miranda Obsession.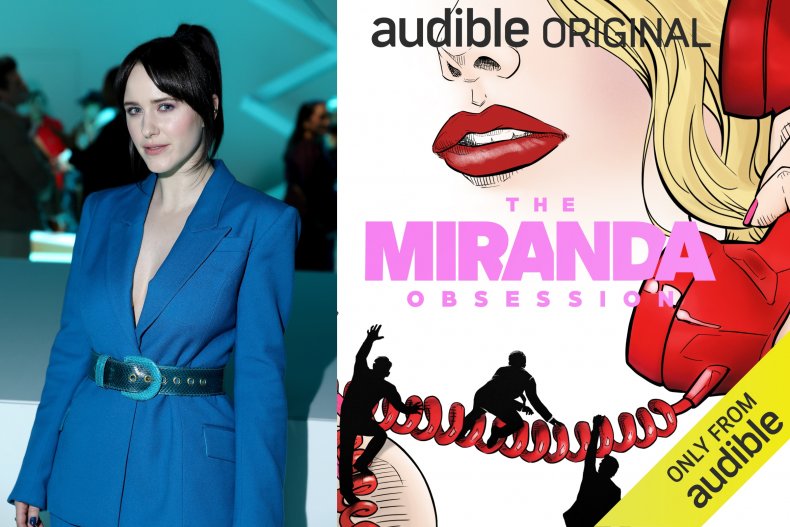 The Miranda Obsession
In between seasons of Mrs. Maisel, Brosnahan and her production company have created an Audible Original podcast series based on an unbelievable true story involving celebrities, deception and an outrageous amount of phone flirting.
Based on a Vanity Fair exposé, The Miranda Obsession recounts the reportedly true events of a woman named Miranda Grosvenor, who would enchant famous men over the phone.
"It's been such a labor of love over the last couple of years and it's really exciting to be able to share it and talk about it finally," producer and lead voice actress Brosnahan said.
"We were so struck by, not only this unbelievable story and how it unfolded, but also that the, you know, the article is such an interesting exploration of the 1980s and fame and power and men."
While the phone records aren't available, interviews with the men involved have enabled a story to be pieced together. Celebrities like Bob Dylan, Robert De Niro, Quincy Jones, Billy Joel, Richard Gere, Eric Clapton and Sting were just some of those who got pulled into Miranda's web.
"The podcast is a series of imagined conversations between Miranda and some of the men. From Richard Perry to Billy Joel and so many more who she had these lovely and strange and beautiful relationships with," Brosnahan said.
As the story goes though, Miranda was not the blonde model she said she was. This was only realized when one day, she suddenly stopped calling these famous men.
The majority of the series and imagined conversations between Miranda and her men had to be recorded over Zoom. Morgan Spector (Paul Schraeder) was in a "whisper booth" in New York, Harry Lloyd (Brian McNally) called in from London, Milo Ventimiglia (Richard Perry) was in Los Angeles but Josh Groban (Billy Joel) managed to get into the same studio as Brosnahan.
Groban turned out to be the only person to reach out to the person they were playing. "Josh and Billy are friendly," Brosnahan said, "So he just wanted to make sure he had his blessing before taking on the role, which was fun.
"We've sent it certainly to all of the men [featured] to give them a chance to listen before it drops." Brosnahan hopes those who hear it and are dramatized in The Miranda Obsession have a positive experience listening.
"One of the things that we all love about this story is that it's a victimless crime. This is a real character study of a woman who curated a fantasy world for herself. She was charming and sharp and smart and fascinating and could match wits in so many ways with some of the most influential and powerful men at the time. So it's only been our intention to explore in good fun and with a sense of curiosity about about this woman in this world," Brosnahan said.
A Marvelous finale
Brosnahan is deep into production for Season 5 of The Marvelous Mrs. Maisel at the moment. She shared her take on how the season is shaping up so far. "If the first couple of episodes are to go by, we're going out with a bang," Brosnahan told Newsweek.
The Marvelous Mrs. Maisel, the story of a 1950s housewife who has ambitions of becoming a stand-up comedian, has been on the air since 2017. Brosnahan admits production has been slightly sad this time round.
"It's been dreamy. It's bittersweet, knowing that it's our last season." she said. "But it's just so fun to get the band back together again and see what kind of shenanigans characters are up to this season."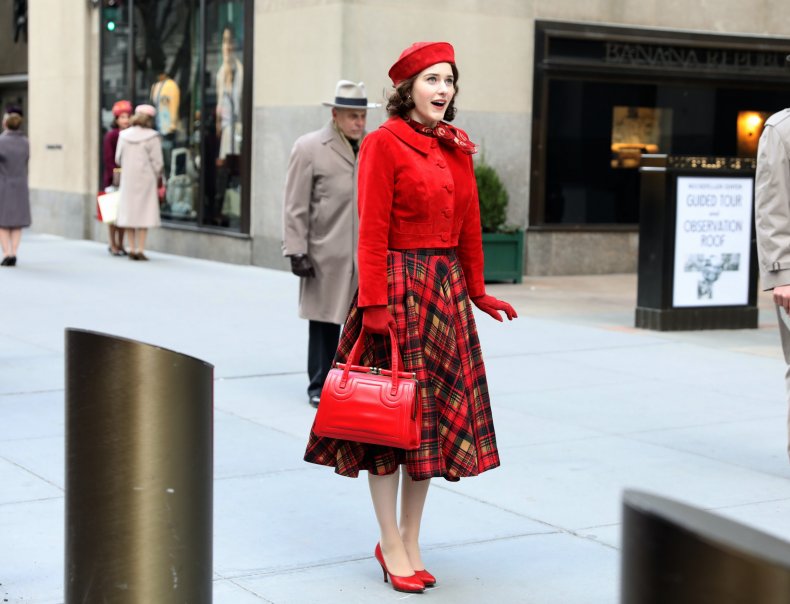 Links between Brosnahan's characters
Brosnahan loved that Miranda as a character was keeping up with, and seemingly even getting the better of, male entertainers in the 1980s. Meanwhile Midge Maisel, Brosnahan's award-winning role, is an exceptional comedian who attempts to make a name for herself in a male-dominated profession in the 1950s.
"Oh, that's interesting," Brosnahan commented when considering the comparisons between the two. "They feel so deeply different to me in that Midge is someone who makes no apologies for who she is. She's is pretty forthright and upfront and candid— sometimes to a fault. There's not a lot of mystery to Midge.
"Whereas, I think, Miranda, this entire woman is shrouded in mystery. She's such an enigma." Brosnahan added, "They kind of feel diametrically opposed but they are both women who have a very singular voice and aren't afraid to use it."
The Miranda Obsession is an Audible Original written by Jen Silverman. The story is spread across eight 20-30 minute episodes.
The entire podcast is available now, exclusively on Audible within the United States.