Rachel Brosnahan Urges Action After Shooting in Hometown Highland Park
Rachel Brosnahan has expressed her heartbreak and issued a call to action in response to a gunman opening fire on attendees at a July 4th parade in her hometown of Highland Park, Illinois.
The shooting at the Independence Day parade in the Chicago suburb left at least six dead and more than two dozen injured on Monday. Suspected shooter Robert E. Crimo, 22, has since been arrested in nearby Lake Forest.
As the neighborhood and the nation grapple with yet another mass shooting, Brosnahan, who was born in Wisconsin and raised in affluent Highland Park, took to social media to share her reaction to the deadly attack.
"I grew up in Highland Park and spent nearly every day after school and every weekend being stupid with friends directly across from where today's shooting occurred," she wrote on her Instagram Story. "I never once considered that I may be unsafe there."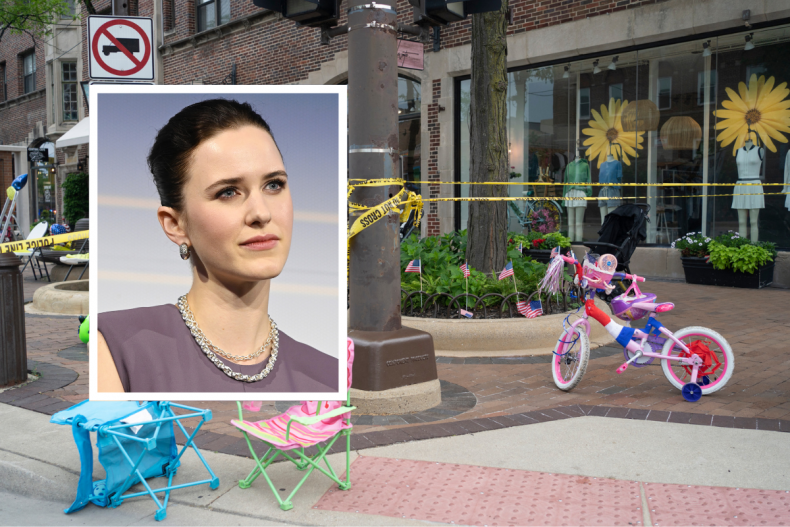 "My heart breaks a little bit more every time the news cycle lights up with news of yet another mass shooting, but today's news adds a whole new meaning to the phrase 'hitting home,'" the Marvelous Mrs. Maisel star went on. "I do not wish the feeling of calling and texting friends and family make sure everyone is okay on anyone."
In the final of her three posts, she shared a link to a gun control campaign on fundraising platform Act Blue.
"The definition of insanity is doing the same thing over and over and expecting different results. We have lost our minds," she wrote. "My heart is broken for the families in Highland Park affected by today's shooting. Enough is enough is enough is enough is enough is enough."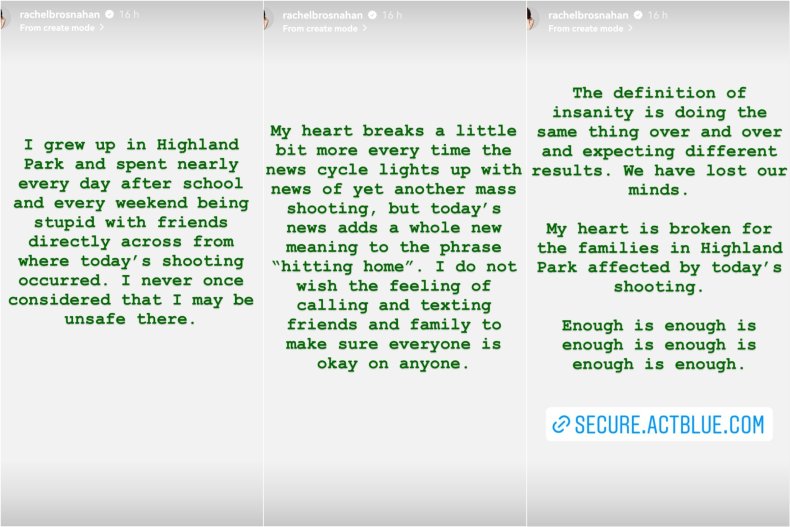 President Joe Biden released a statement following the shooting, reflecting on the need for more work to be done regarding gun reform.
"Jill and I are shocked by the senseless gun violence that has yet again brought grief to an American community on this Independence Day," Biden said on Monday in the statement.
"I recently signed the first major bipartisan gun reform legislation in almost thirty years into law, which includes actions that will save lives," the president said. "But there is much more work to do, and I'm not going to give up fighting the epidemic of gun violence."
The shooting comes less than two weeks after Biden signed the first major piece of gun legislation in nearly 30 years.
On June 25, the president passed a bill that would close the so-called boyfriend loophole, provide grants to states incentivizing red flag laws and expand background checks for buyers under 21. It would also set aside new spending for mental health treatment and school security.
The final passage in Congress came a month after a mass shooting at an elementary school in Uvalde, Texas, shook the nation and renewed calls for stricter gun laws.
The school shooting left 19 children and two teachers dead, and came just weeks after another gunman in Buffalo, New York, killed 10 Black people at a grocery store.