Rachel Dolezal Defends 'Transracial' Influencer Oli London
British-born influencer Oli London, who recently announced that they identify as a "transracial" Korean, has received support from Rachel Dolezal.
London, who also identifies as non-binary, has faced a backlash over the past few days after declaring in a YouTube post that they had "transitioned" races and cultures after undergoing multiple surgeries to resemble their K-Pop idol, Jimin of BTS.
Although London's posts have ignited fierce debates on social media, they have received support from Dolezal, who made headlines around the world in 2015 when it was revealed that she was a white woman identifying as Black.
In an interview with TMZ, Dolezal, former president of the NAACP chapter in Spokane, Washington, was asked about the furore surrounding London, who now calls themselves Jimin.
"I don't know Jimin personally, obviously, so they can speak for themselves in that regard," she said. "But I do think that the broader issue here is compassion and kindness, and that personal identity is not the big fish to fry when it comes to somebody's personal choices or how they feel.
"I think that we need to focus on fighting the public outrage issues of police brutality, of deinstitutionalizing racism. Those are the issues that I think that we need to come together on to fight publicly, and to be kinder to people and fight a little bit less on social media against somebody's personal choices.
"Cultural appropriation is very different from just being authentically yourself. So being true to yourself is a very different journey and experience than stealing somebody's culture in order to profit or gain from it. There's a different thing there, and I think sometimes people are confusing those two.
"It just gets caught up in the outrage online and I think sometimes we don't take the time to actually listen to someone's heart."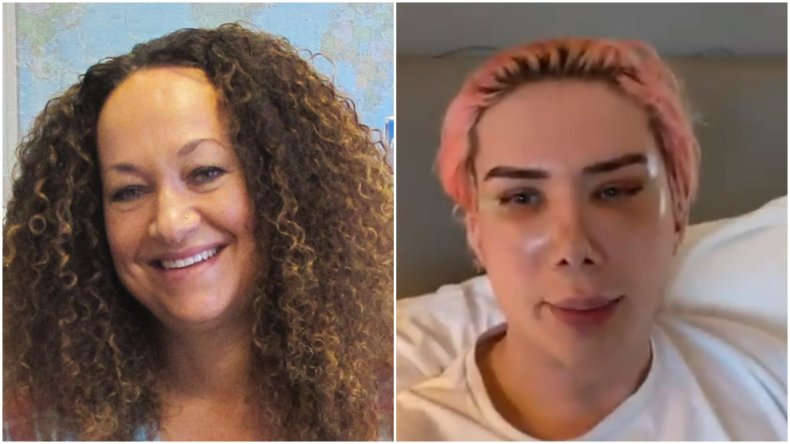 During the interview with TMZ's Harvey Levin and Charles Latibeaudiere, the former Africana studies teacher shared a few words of inspiration for London, saying: "My message is to be you and do what feeds your soul and makes you feel at home and at peace and that you know who you are.
"Don't afford anyone else the right to tell you who you are. Don't let anybody steal your joy, whether that's social media, peers or even your family."
Dolezal was also asked by TMZ if she felt she deserved an apology for the way she was ridiculed after her parents outed her as having been born white.
"I wouldn't wish any of what I went through on anyone, because it's been very challenging and very devastating to me and my small family, my three sons included," she said. "So I don't necessarily need an apology, but I would like to be able to go out in society without being shamed and mocked, and participate as a human being and as a mom.
"That would be amazing, to just have basic human rights in society and online, even … For people to spend their energy and channel their energy more towards deinstitutionalizing racism instead of channeling that into heckling me or heckling somebody on the basis of their personal appearance, or whatever."
In a video uploaded to Twitter on Monday, London proudly displayed their surgically enhanced "Korean eyes" while speaking more about their identity.
"Now finally, I feel Korean," said London. "I identify with the Korean community. Maybe they will accept me more now because I have the look. Maybe people will think I'm actually Korean, which would make me really happy. They can see how much I love their culture because this is the extreme length I've gone to, because I love Korea so much.
"I just want to make Jimin proud as well, because Jimin is my ultimate idol. I want him to be proud, I'm sure he'll be proud that I look exactly like him now. I have his eyes. I finally have Jimin's Korean eyes and they're so, so beautiful… So I'm so, so happy with my new look. I can't wait to see the final results when my swelling goes down."
After the video sparked widespread criticism, London tweeted: "TRANSRACIAL is a thing! I invented it! If you can be transgender you can be TRANSRACIAL. Live your life to the fullest, be who you want to be and spread love."
Newsweek has contacted representatives for Oli London and Jimin for comment.