Rachel Maddow Torches Joe Manchin on Gun Control, but His NRA Rating Is Relatively Low
MSNBC personality Rachel Maddow harshly criticized Senator Joe Manchin (D-WV) on Tuesday, accusing him of supporting policies favored by the National Rifle Association (NRA).
Maddow described Manchin, who is considered a conservative Democrat, as a barrier to gun control legislation in the Senate. The debate about gun reform has taken on renewed urgency in the wake of two recent mass shootings.
Though Manchin opposes a ban on assault weapons, he received a low rating from the NRA when he last sought reelection in 2018. He has also co-sponsored a bill that would expand background checks for firearms purchases.
Maddow criticized Manchin for not supporting two gun control bills that have already been passed by the House of Representatives.
Those bills would expand background checks for firearms purchases but are unlikely to pass in the Senate without revisions.
"Even now, with the NRA almost dissolved in disgrace and in bankruptcy, instead of doing what he says he wants to do, he will do what the NRA wants instead. Not even the NRA's members want that but Joe Manchin does," Maddow said.
The graphic below, provided by Statista, shows the number of mass shootings in the U.S. since 2013.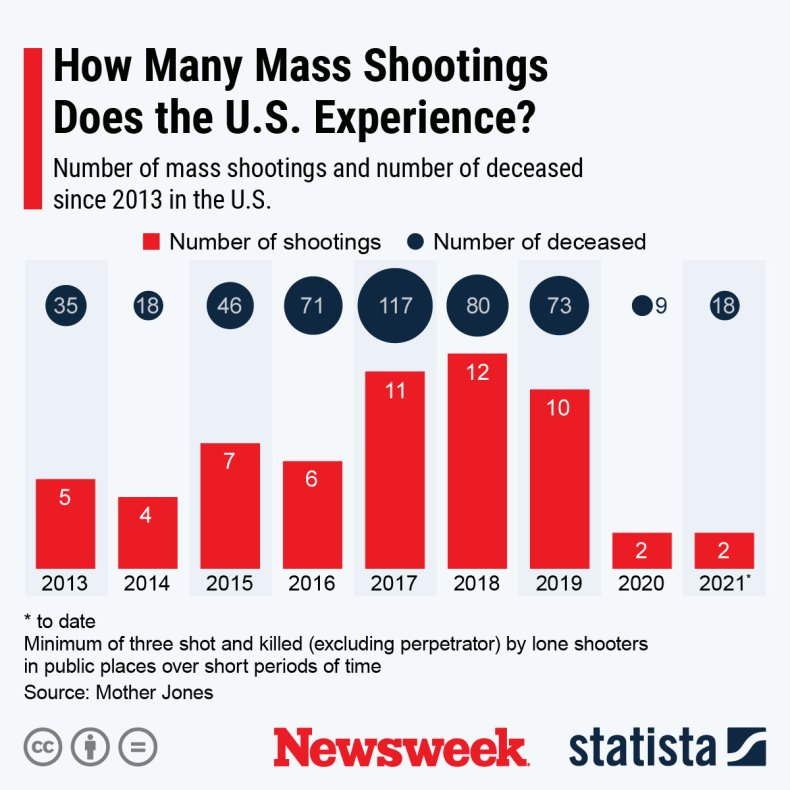 Maddow is referring to the fact that the NRA filed for bankruptcy in January after years of financial troubles. New York Attorney General Letitia James sought to dissolve the gun rights group in August 2020. The NRA paid a $2.5 million fine as part of a settlement.
"Even for things more than 90 percent of the country wants done, even things that tear our hearts this much and even when we seem to agree on anything else, the Senate does not work in large part because of Democrats like Joe Manchin," Maddow went on.
That 90 percent figure refers to support for firearms background checks among registered voters. The number has been relatively steady, at 90 percent in a 2019 Suffolk University/USA TODAY poll and 92 percent in a 2013 Quinnipiac University telephone poll.
While Manchin opposes the two gun control bills passed by the House, he is not against expanding background checks in general and received a "D" rating from the NRA in 2018. He had previously enjoyed an "A" rating.
Manchin cosponsored a background checks bill with Senator Pat Toomey (R-PA) following the Sandy Hook Elementary School shooting in Newtown, Connecticut, in 2012. That bill would have expanded background checks to include most private gun transactions, not just transactions involving a licensed dealer. It was this bill that led the NRA to downgrade his rating.
The Manchin-Toomey bill failed in the Senate in 2013 but Manchin reiterated his support for the measure following a school shooting in Parkland, Florida, in 2018.
"It's not gun control, it's gun sense," Manchin said during an interview with CBS' Face the Nation. "I'm very hopeful. President [Donald] Trump has said background checks [are] needed. This bill of ours, the Manchin-Toomey bill, should be the base bill they work off of."
However, Manchin remains opposed to a ban on AR-15s, a move favored by President Joe Biden.
"I don't have any friends that own the gun right now, I don't know anyone who's committed a crime with it so I wouldn't take their gun away," Manchin said in 2018.