Radio Host Demands Meghan Markle Be Stripped of U.K. Citizenship—Which She Does Not Have
A right-wing British pundit has said Meghan Markle should be stripped of U.K. citizenship,—despite the fact she does not have it.
The Duchess of Sussex never became a British citizen during about two years in the U.K.
However, Mike Graham, a host on talkRADIO, used his show to claim Meghan and Prince Harry should be stripped of the status.
Stripping the Duke of Sussex of his citizenship would itself be legally controversial as he does not possess citizenship of another country, meaning it could potentially leave him stateless, which is illegal.
Graham told his listeners: "I say not only do we strip them from the Royal Family, not only do we take away all royal connections, not only do we tell them, 'no, thanks, don't bother coming back to the UK.'
"We strip them right now, today, of British citizenship.
"Surely, this kind of attack on our most-treasured tradition must mean Haz and Megz are no longer members of this great nation of ours."
In a Twitter poll by the station, more than 83% of about 30,000 voters disagreed with Graham, at the time of writing.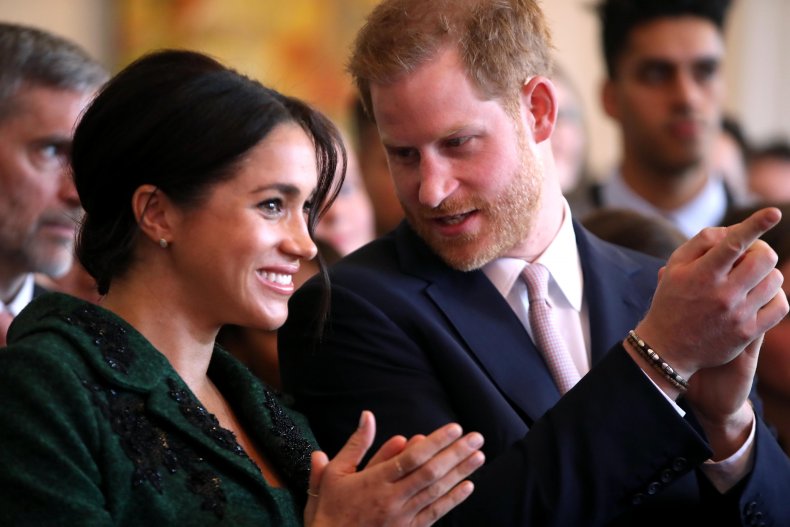 Graham was responding to a clip from Meghan's one-on-one segment with Oprah.
In the clip, Meghan said: "I don't know how they could expect that after all of this time we would still just be silent if there is an active role that the firm is playing in perpetuating falsehoods about us."
British nationality law allows citizenship to be revoked by the Home Secretary if deemed to be "conducive to the public good," but not if doing so would leave them stateless.
Stripping citizenship is a live issue in the U.K. at the moment because of the recent case of Shamima Begum, who fled London to join ISIS when she was a teenager.
Begum lost a legal case brought after the U.K. government claimed she was eligible for citizenship in Bangladesh, the birth place of her parents.
Prince Harry was born in Britain to British parents. He does not have U.S. citizenship.
The calls to strip the couple of their passports comes as Buckingham Palace said it would investigate claims of bullying by Meghan, following allegations revealed through anonymous sources in a British newspaper.
Popular breakfast show Good Morning Britain has come under fire for discussing those allegations with an all male panel.
Hosts Piers Morgan and Susannah Reid were accompanied by four male guests as they discussed the claims, by former Kensington Palace press secretary Jason Knauf.
A tweet pointing out the lack of diversity in the panel went viral on Thursday, having been liked more than 9,000 times. Sarah Lethbridge wrote on Twitter: "Five men debate whether Meghan is a bully. So tired of it all. #GMB."
Meghan and Harry are expected to discuss their experiences of the pressure of regular criticisms in the British media in the upcoming Oprah interview.
Preview clips released by CBS show the duke comparing their time in the royals to Princess Diana's before she died in a car crash while being chased by the paparazzi.
Harry said: "My biggest concern was history repeating itself."
He added: "I'm just really relieved and happy to be sitting here talking to you with my wife by my side because I can't begin to imagine what it must have been like for her going through this process by herself all those years ago.
"Because it has been unbelievably tough for the two of us. But at least we had each other."