20 unusual influences behind Radiohead's 'OK Computer'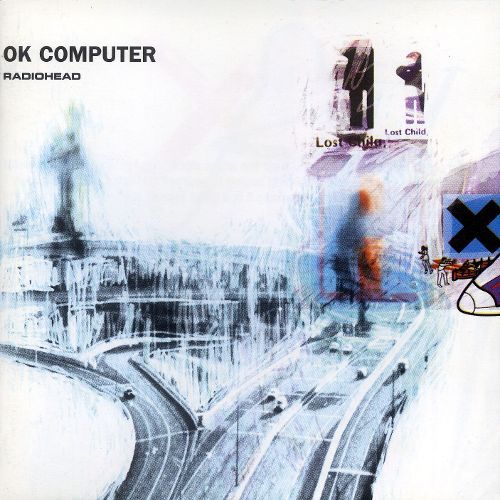 Radiohead's mind-bending 1997 masterpiece OK Computer (which turns 20 this spring) is finally getting the box set reissue treatment. The package contains a newly remastered version of the album, eight B-sides, three unheard tracks (including "Lift"!) and a hardcover book with 30 pages of artwork, among other treasures.
Radiohead is generally not much for nostalgia, but it's telling that OK Computer is so great as to warrant an exception. In honor of the imminent anniversary, we broke down the album's odd and eclectic stew of influences (musical and otherwise).
1. The 1966 Beach Boys album Pet Sounds
Pet Sounds revolutionized the recording process by incorporating unorthodox instrumentation, like bicycle bells and Coca-Cola cans. Radiohead was inspired, using a glockenspiel on "No Surprises" and cello, Mellotron and cabasa on other tracks. "We were going for that Pet Sounds vibe," frontman Thom Yorke once said of recording "No Surprises."
2. Queen's "Bohemian Rhapsody"
"Paranoid Android" contains four distinct sections, sudden changes, yowling guitar interjections and surreal lyrics. It was reportedly inspired by another iconic track with an unusual, multi-part song structure: Queen's "Bohemian Rhapsody" (which is much more fun at karaoke). Party on, Thom.
3. DJ Shadow
DJ Shadow's trip hop masterpiece Endtroducing..... was released during the fall of 1996, when Radiohead was recording OK Computer in a historic mansion owned by Jane Seymour. It's not a stretch to say Radiohead was paying attention. In fact, "Endtroducing..... was a big influence on OK Computer," Jonny Greenwood told SPIN in 1999. "We liked how he was cutting up beats quite minutely." You can hear this influence on the beat-heavy "Airbag," which samples and splices up a recording of Phil Selway's drumming.
4. The song "Souvlaki Space Station" by Slowdive
Was Radiohead listening to shoegaze icons Slowdive in 1997? Who knows. But the sputtering-garbage-disposal outro of "Karma Police"—an effect Ed O'Brien achieved by overloading a digital delay processor—sounds suspiciously similar to the ending of "Souvlaki Space Station," released four years prior.
5. Douglas Adams' Hitchhiker's Guide to the Galaxy
Despite how well it sums up the Radiohead aesthetic, the title "Paranoid Android" did not originate with Radiohead. It was borrowed from the Hitchhiker's Guide to the Galaxy science fiction series, which features a character named Marvin, the Paranoid Android. According to Yorke, the title was chosen "as a joke."
6. Noam Chomsky
According to a 1997 profile, Yorke spent a lot of time "ploughing through the collected works of the brilliant media critic [Noam Chomsky], especially the classic text, Manufacturing Consent." Chomsky's writings helped inspire the album's most explicitly political song, "Electioneering," with its scorching guitar and acerbic lyrics. "After writing pages and pages of words about the third world and wars and world politics," Jam! reported, "Yorke thought of Chomsky's writings and ended up boiling it all down to just one phrase: 'Cattle prods and the IMF.'"
7. Miles Davis's Bitches Brew
Yorke told Q Magazine that the explosive Miles Davis album from 1970 was an enormous influence on him: "The first time I heard it I thought it was the most nauseating chaos. I felt sick listening to it. Then gradually something incredibly brutal about it and incredibly beautiful... you're never quite sure where you are in it, it seems to be swimming around you... It was at the core of what we were trying to do with OK Computer."
8. Advice from Brian Eno
"A friend sent me a copy of these flash cards that Eno uses when he's recording," Yorke said in 1997. "One of them says something like, 'Whatever worked last time, never do it again.' It's incredibly depressing, but it's true."
9. Jonathan Coe's novel What a Carve Up!
Apparently Radiohead was reading Jonathan Coe's satirical novel about '80s Britain. The text inspired one of the most disturbing phrases from "Fitter Happier": "a pig in a cage on antibiotics." "It's a really funny book," Yorke told Select Magazine, "but a lot of it's based on the way...farming has changed [laughs]. The way that insensitive farming happened."
10. A magazine article titled "An Airbag Saved My Life"
You can probably guess which song this inspired. The article apparently appeared in AAA magazine.
11. Johnny Cash's prison albums
"If you listen to the rhythm at the beginning of 'Exit Music,' it starts off like a Johnny Cash song from Prison Tapes," Yorke told Q, presumably referring to Cash's live recordings At Folsom Prison and At San Quentin, both recorded for audiences of convicts. "I hate live albums but I get spine tingles every time I play that. You can hear the audience willing him on. And you can hear he's ill, he can't hit the notes, and yet the songs are so powerful in that environment with the prisoners there, whooping and laughing."
12. The Tibetan Book of Living and Dying​
Yes, really. The book inspired some of the death-obsessed lyrics of "Airbag." "The whole basis of [the book] was that Western civilization doesn't deal with death until it's too late," Yorke told Q. "A lot of the things I write are triggered by books."
13. Some random woman at a bar in Los Angeles who erupted in anger when someone spilled a drink on her
This unnamed woman, Yorke once explained, was the inspiration behind the "Kicking screaming Gucci little piggy" line in "Paranoid Android."
14. The work of film composer Ennio Morricone
According to the book Exit Music: The Radiohead Story, Radiohead was inspired by the "more stark, foreboding work" of legendary composer Ennio Morricone, who is perhaps best known for his scores for western films. This influence is most prominent on the sparse, eerie "Exit Music."
15. Romeo + Juliet
Not the Shakespeare text—rather, the Baz Luhrmann film from 1996. Luhrmann commissioned the band to write a song for the film, sending them a 10-minute clip, and Radiohead came up with "Exit Music (For a Film)." The lyrics vaguely describe a Romeo and Juliet-like scenario. ("I saw the Zeffirelli version when I was 13, and I cried my eyes out," Yorke once said.) Yorke was so fond of the song he decided to include it on OK Computer.
16. Two more political texts: Will Hutton's The State We're In and Eric Hobsbawm's Age of Extremes
The former is a 1995 analysis of British society under Conservative rule; the latter is an unsettling historical study of the 20th century. It's not clear how the hell Thom Yorke had time for so much reading in 1995 and 1996, but "these tomes seems to have left the songwriter with a profound distaste for politics," The Telegraph reported.
Related: Radiohead's A Moon Shaped Pool is a brooding triumph
17. A haunted Elizabethan mansion
The album was largely recorded in a historic and possibly haunted 15th-century mansion owned by Jane Seymour. The house had a profound effect on the recording process, though Yorke reportedly hated it. ("There was fear everywhere—coming out of the walls and floors," he told The Telegraph. "The house became like a swamp.") Radiohead took advantage of the acoustics and the isolation; the vocals for "Exit Music," for instance, were recorded on a stone staircase to make it sound eerie and huge.
18. A car accident Thom Yorke experienced in 1987
Yes, this took place a decade before OK Computer, but it had a severe effect on Yorke's psyche and inspired "Airbag," as well as other automobile-themed nightmares ("Killer Cars," "Stupid Car"). "We're just riding on those things," Yorke once said of cars; "we're not really in control of them."
19. The SNL "More Cowbell" sketch
OK, not really—the iconic Will Ferrell sketch didn't air until 2000. But Radiohead really does use a prominent cowbell on "Electioneering." Maybe even more prominent than the cowbell on "(Don't Fear) The Reaper." It's just funny that Radiohead played cowbell once. Does nobody else find this funny?
20. The terrifying and dehumanizing malaise of modern life and consumerist culture
Exhibit A: Every song on the album.