50 Thoughts on Seeing Brian Wilson Perform 'Pet Sounds' for Its 50th Anniversary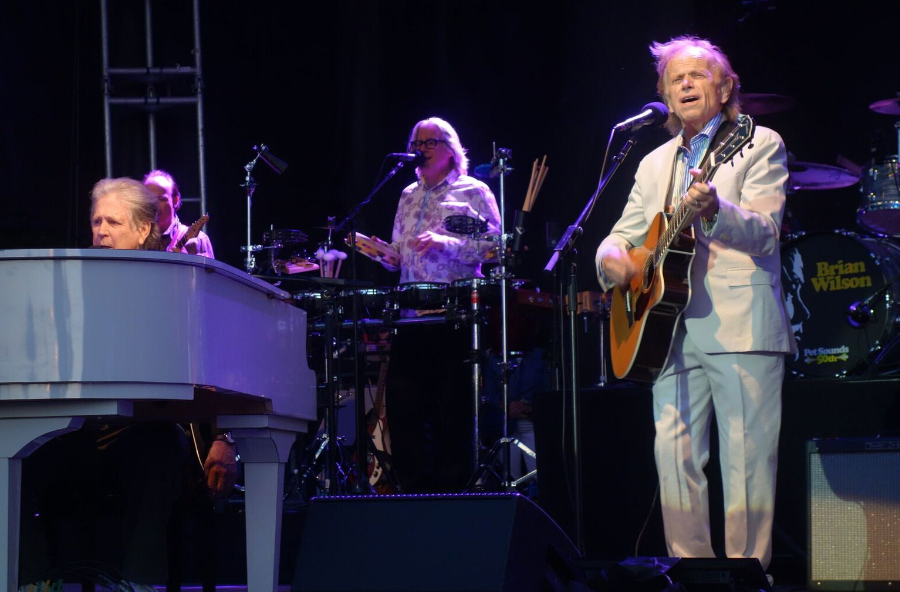 Fifty years after it was released, Brian Wilson performed the landmark Beach Boys album Pet Sounds at McCarren Park in Brooklyn, New York, as a part of the Northside Festival. The following is a series of observations, mid-show musings and reflections on the performance.
1. Pet Sounds turned 50 in May. Brian Wilson turned 74 this week. Don't do the math; it will only make you feel inadequate.
2. "You might have heard of this album," says a Northside founder, introducing Pet Sounds. "It is an album that the sound that has defined this community [Williamsburg] couldn't exist without."
3. That phrasing is a little convoluted, but the sentiment is fair. It is hard to imagine modern indie or indie-pop—or pop in general—without Pet Sounds.
4. A world without Pet Sounds is a frightening dystopia, like imagining a world without beaches or one in which Donald Trump is president.
5. The opening acts are Hinds, a catchy and spirited four-piece from Madrid, and Rostam, the new project of ex–Vampire Weekend guy Rostam Batmanglij, who brought with him a small string section and shared a song with former Walkmen vocalist Hamilton Leithauser.
6. The concert takes place the evening after the Orlando, Florida, shooting and, while the performers never directly mention the tragedy, there is a subtle sense of consolation and solace at the gathering. (There is also a relief in escape from the nonstop news coverage.)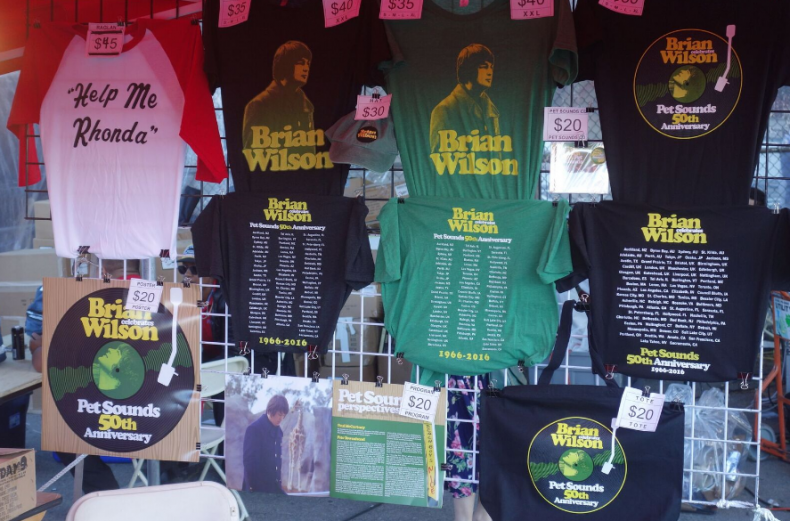 7. The audience is composed of lots of young dads holding children aloft, some not-so-young dads, babies, blankets. This all-ages affair is a nice break from the typical 18-plus concert scene.
8. No pets, though.
9. The scene is joyful and picnic-like, almost reminiscent of smaller, more family-friendly Woodstock.
10. (That cultural reference point is three years more recent than Pet Sounds.)
11. Wilson is not just playing Pet Sounds. He opens with a feel-good slew of '60s hits: "I Get Around," "California Girls," "Surfer Girl" and so on.
12. Hearing Pet Sounds sandwiched in between mid-'60s songs like "I Get Around" and "Barbara Ann" is a reminder of just how drastic a departure it was, both musically and emotionally—how shocking it would have been to have heard it in the spring of '66.
13. Beach Boys' Party!—the album containing "Barbara Ann"—was released just six months earlier, in 1965.
14. "Don't Talk (Put Your Head on My Shoulder") somehow feels a lot sadder when it's coming after "California Girls."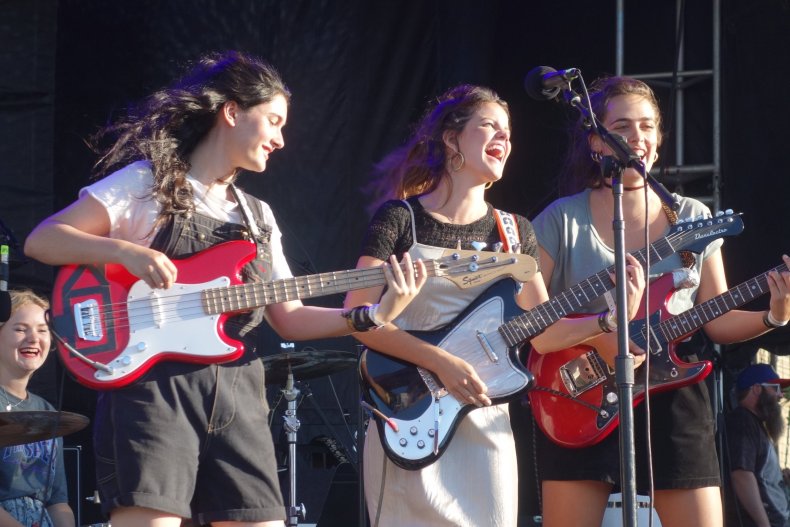 15. The songs on Pet Sounds (except "Sloop John B") aren't much for audience screamalongs, so this material fills that void nicely.
16. An underappreciated lyrical gem (from "Wouldn't It Be Nice"): "You know it seems the more we talk about it/It only makes it worse to live without it/But let's talk about it."
17. Wilson has aged a lot in appearance (white hair, a frail frame, barely emerging from behind a grand piano) but hardly at all in voice.
18. His voice strains on some of the higher notes—on "God Only Knows," "I Just Wasn't Made for These Times" and perhaps others—but he still sounds like nobody other than Wilson.
19. Compare this with what time has done to Bob Dylan's voice (to his detriment) or Tom Waits's hollowed out bark (to his great benefit).
20. On record, the Pet Sounds songs benefit from orchestration and wall-of-sound production. On stage, Wilson's musicians, which included former Beach Boys Al Jardine and (1970s member) Blondie Chaplin, fills out the parts with guitars and keyboards and piano.
21. Listeners can make out individual ingredients much more closely, counter-harmonies and bass lines sifting out from the dull roar.
22. Phil Spector, whose production techniques were said to have inspired Pet Sounds (as well as the initials of its title: PS), might not approve of this shift. But Spector is in prison.
23. Granted, one of the best things about Pet Sounds is how far it strayed from traditional rock instrumentation. Case in point: the empty Coca-Cola cans that appear as percussive instruments in the title track or the bike horn that pops up in the sublime final minute of "You Still Believe in Me."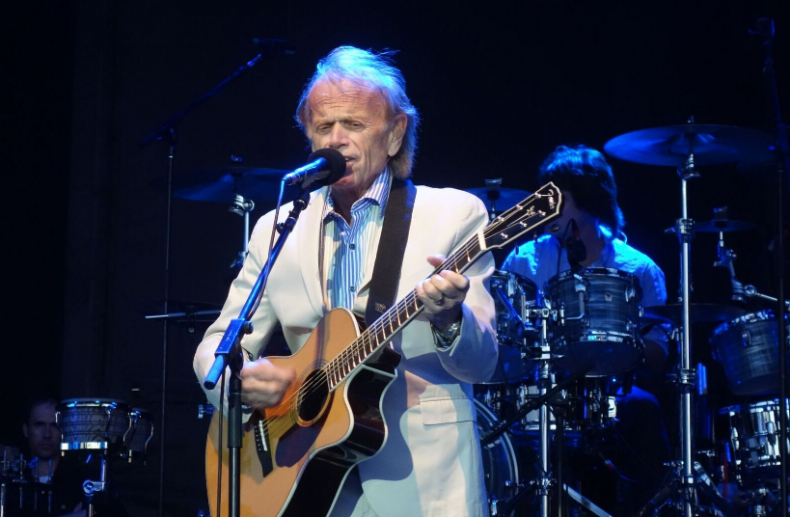 24. Disheartening: Wilson forgets the words midway through "I Just Wasn't Made for These Times."
25. Heartening: Wilson cries out, good-naturedly, "I forgot the lyrics!" as the audience roars approvingly, as though it really was 1966.
26. Jardine, who played clunky lead guitar on "Wild Honey," still wears the same striped shirt he wore in the early '60s.
27. It was smart of Wilson never to sing the lyric "I hope I die before I get old."
28. Another refrain that might sound trite in another context but works so powerfully here: "Sometimes/I feel/Very sad!/Sometimes/I feel/Very sad!"
29. Was Pet Sounds the world's first emo album?
30. The album inspired the hell out of Sgt. Pepper's Lonely Hearts Club Band, but there is nothing quite as vulnerable or wounded on the Beatles record.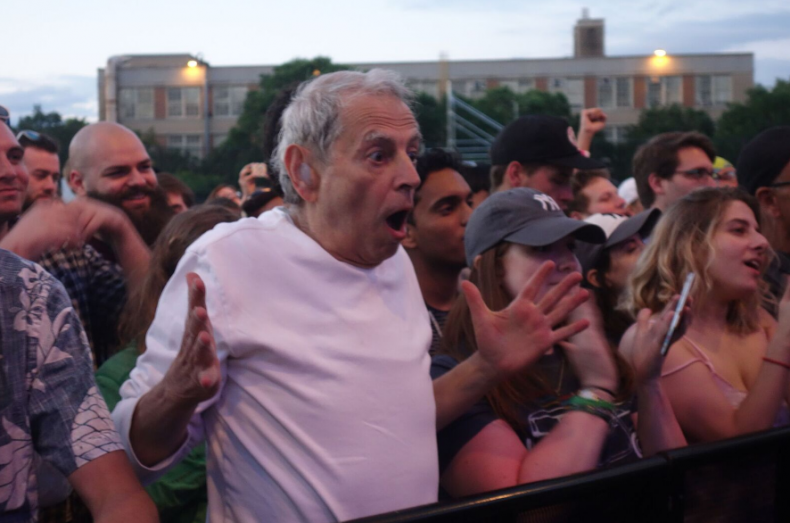 31. Speaking of which, it is easy to trace a straight line from the flamenco-inspired title track of Pet Sounds to the Beatles' more carnival-esque musical touches ("Lovely Rita," "Being for the Benefit of Mr. Kite!").
32. I wonder whether Wilson would have chosen a more sober album title or cover had he known how far the album's influence legacy would stretch. (Jardine, apparently, did push for a "more sensitive and enlightening cover.")
33. Wilson does not look like John Cusack and—despite what Hollywood would have you believe—did not look like John Cusack in the 1980s either.
34. A stretch of an analogy, but bear with me: "Sloop John B" is to Pet Sounds as "Heavy Metal Drummer" is to Wilco's Yankee Hotel Foxtrot.
35. Or as "Buggin'" is to the Flaming Lips' The Soft Bulletin.
36. Let this be a quick note in praise of Wilson's punny and very enthusiastic introductions for each song: "I wrote this next song in my car! Can you believe it?" "What will come next? God only knows!"
37. It's strange to imagine which contemporary acts will be touring behind the 50th anniversary of their landmark album in four or five decades.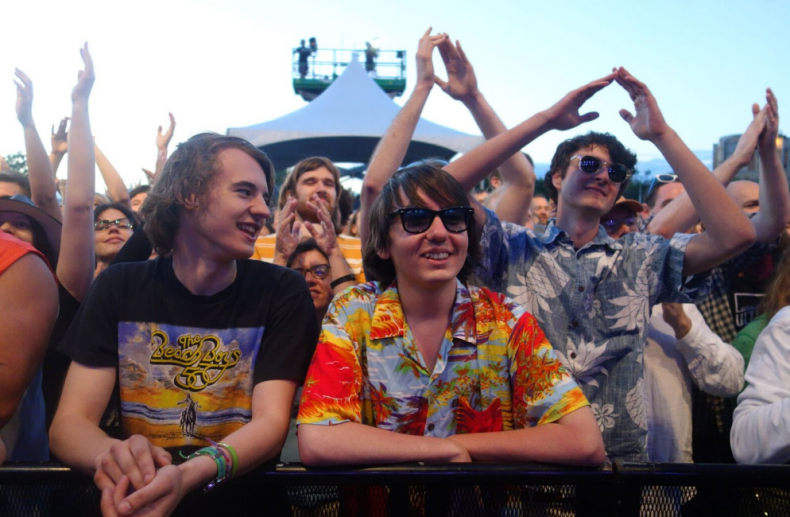 38. Will Kanye West celebrate the 50th anniversary of My Beautiful Dark Twisted Fantasy in 2060? Will the Arcade Fire play Funeral in its entirety in 2054? Or maybe a 74-year-old Taylor Swift bringing 1989 to worldwide stadiums (all of them owned by Facebook) in the summer of 2064?
39. Is "God Only Knows" a strong contender for Greatest Love Song in Pop Music History?
40. (Other candidates for consideration: "Adore" by Prince, "Unchained Melody" as recorded by the Righteous Brothers, "Be My Baby" as recorded by the Ronettes, "Into My Arms" by Nick Cave & the Bad Seeds.)
41. Once you've heard and grown to love Frank Black's 1993 recording of "Hang On to Your Ego" (which shares a melody with "I Know There's an Answer"), it is very hard to hear "I Know There's an Answer" without singing those alternate lyrics.
42. The album performance ends with the same train, dog barks and traffic sound effects that conclude the 1966 recording. And then more oldies.
43. Throughout the evening, Wilson and company only perform one song recorded after 1970: the excellent 1973 single "Sail On, Sailor."
44. Nobody shouts out a song request from No Pier Pressure, Wilson's 2015 solo LP.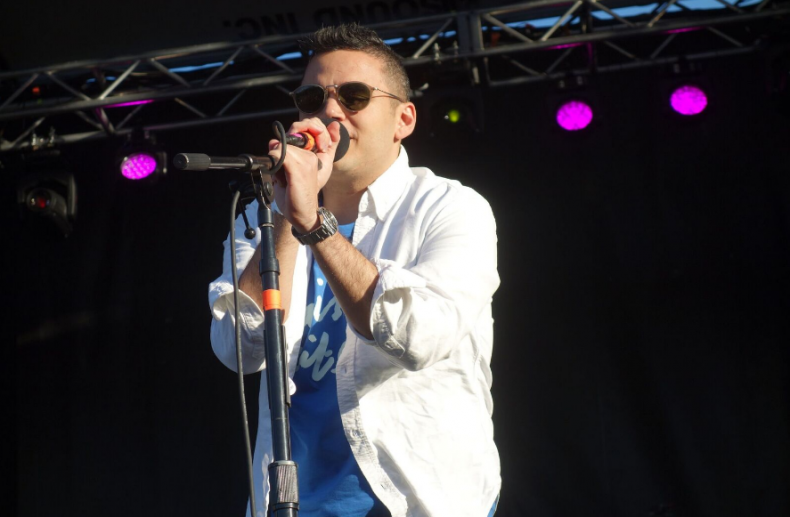 45. It might have been nice to hear something from Sunflower or Surf's Up—two brilliant early 1970s LP that built on the Beach Boys' psychedelic period. But now I'm just being greedy.
46. Though great, Pet Sounds is not the greatest performance I caught at the Northside festival.
47. That title goes to Ava Luna's stellar and theatrically informed performance of Serge Gainsbourg's Histoire de Melody Nelson in its entirety the night prior, at an event organized by the 33 1/3 book series.
48. Controversial opinion: Pet Sounds also takes a close second place in the Beach Boys' lengthy catalog.
49. I just barely prefer SMiLE, the long-bootlegged masterpiece that would have followed Pet Sounds in 1967, and which finally surfaced in newly recorded form in 2004.
50. OK, OK, forget I said it. God only knows where we'd be without Pet Sounds.