Rainn Wilson Says This is His Favorite Episode of 'The Office'
Everyone thinks they know "the best" episode of The Office. Variety says it's "The Dinner Party." For Entertainment Weekly, it's "The Dundies," and superfan Tim Marcin, who ranked all 185 episodes for Mashable, concluded that "Casino Night" deserves the top spot.
But for Rainn Wilson—Dwight Schrute himself—"The Injury" is the best episode of the beloved series. "It's my go-to favorite," Wilson recently told Newsweek in an interview, while promoting his Audible True Crime Series, Killing Hollywood: The Cotton Club Murder.
"The Injury is the episode where we really found our voice," Wilson said. The 12th episode in Season 2, Wilson summarized it as "the episode where Michael (Steve Carell) accidentally burns his foot on his George Foreman grill and Dwight gets a concussion and his personality changes." For a little while, "Dwight actually becomes really likable, and even becomes friends with Pam," he said.
"The episode is a little bit silly with a lot of our signature awkward, despicable humor," Wilson said, "but it's still grounded in the documentary style of the series." Most importantly, the episode has "a lot of heart."
Wilson said he stumbled across the episode again last year when, during lockdown, he and his 16-year-old son, Walter, started watching the series together for the first time. Though Wilson said he saw every episode when the series first aired, he confessed, "honestly, I hadn't seen most of the episodes for 10-12 years." And while he said that watching again was a nostalgic experience, "it was also funny because I was watching these scenes and thinking I have no memory of filming that!"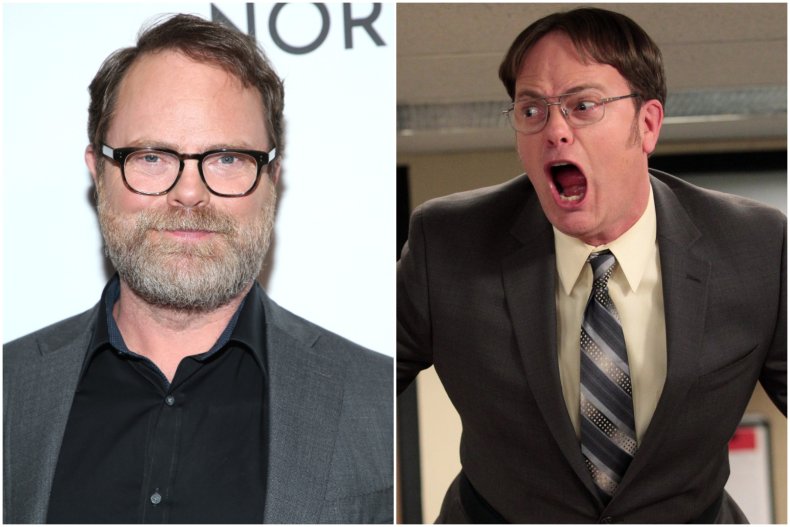 Wilson said he especially enjoyed watching it with Walter, because, "my son had never really seen the series before." A point he used to tease him about until one day he finally told him the reason he had waited to watch the show that made his father so famous: "You know, dad, I didn't want to know you as Dwight, I wanted to know you first as my dad." All at once, Wilson said he stopped questioning why his son wanted to wait to see the series when all of his friends already had. "Him telling me that really melted my heart," he said, "I got it."
That element of heart works for the characters in the series as much as it does for Wilson in his personal life. "That warmth and human connection in every episode," Wilson said, "is what makes The Office so long-lasting and why people find it so relatable."
A goal of the series' U.S. developer and executive producer from the beginning: "Greg Daniels would always say to us that 'every episode needs to have 10 percent heart and the other 90 percent could be comedy.'"
As long as the writers and cast never lost sight of "that human moment of family and connection each day on set," Wilson said, "then the viewers would connect to the characters and would keep checking in time and time again."