Rand Paul Rails Against COVID Relief Plans, Calls for Economy to Be Reopened
Republican Senator Rand Paul said the U.S. should "not borrow more money" and he railed against plans for further COVID-19 relief funds as stimulus talks gathered pace on Capitol Hill in the run up to Christmas.
Appearing on the conservative Newsmax channel on Friday, the Kentucky senator said Congress should not be "passing out any money" to states that had not reopened their economies, arguing that it would be "rewarding" poor behavior.
He added that the option between a large Democratic stimulus package and a smaller Republican relief bill was a "false choice," hitting out at any plans to increase borrowing as millions of Americans faced rent arrears, debt and food poverty.
Reacting to the push for further COVID relief funding, Sen. Paul said: "We aren't the party that's supposed to borrow money and pass it out, we're supposed to be the ones to conserve the money. So I think it's a false choice to say, oh the Democrats want $2 trillion and Republicans want $1 trillion, so $1 trillion is conservative."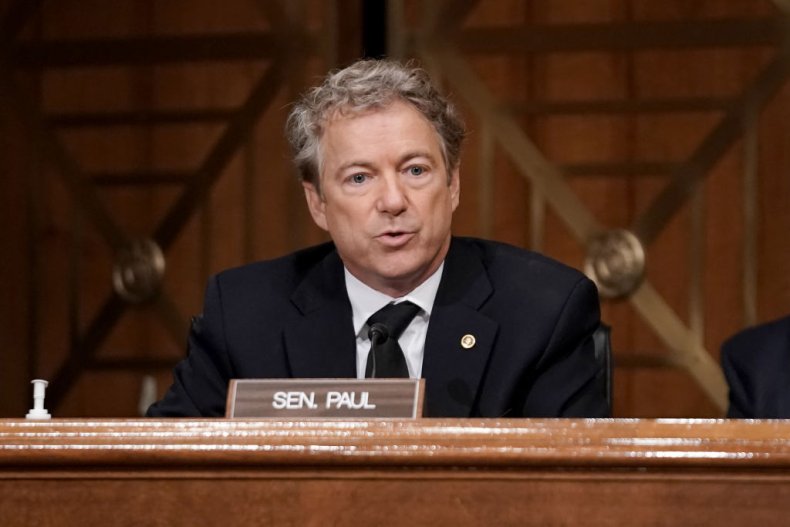 After railing against state-level restrictions on businesses in the hospitality sector, the Kentucky Republican added: "I think we need to open the economy, and not borrow more money."
"We shouldn't be passing out any money to the states," he later said. "We shouldn't be rewarding their bad behavior."
The libertarian-leaning lawmaker rebuked plans for a second COVID-19 relief bill as the Republican Senate Majority Leader Mitch McConnell (KY) heralded "productive conversations" between GOP lawmakers and Democrats on the outline of the package.
"Productive conversations remain underway on COVID-19 relief. But Congress must not slide into treating these talks like routine negotiations at our routine pace," McConnell tweeted on Thursday. "This could not be more urgent. The Senate's going to keep working right through the weekend until we get an outcome."
Senate Minority Leader Chuck Schumer (D-NY) also said lawmakers were "very close to an agreement" on another stimulus deal, nine months after the CARES Act was passed by Congress in late March.
"When it comes to unemployment benefits, stimulus checks, aid to small businesses and so much else: we have a responsibility to get this right," he said. "People's lives depend upon it."
The New York Times reported on Wednesday that the bill would include a second round of stimulus checks. But, these direct payments would be half the size of the $1,200 individual checks provided under the CARES Act, causing some concern on Capitol Hill.
"Our families deserve real survival checks. Six hundred dollars is hardly sufficient," Rep. Ayanna Pressley told the House on Thursday. "It is an insult. We must act to save lives now."