Is There a Second Stimulus Check Coming? Mitch McConnell Touts Relief 'Progress'
The prospect of another round of stimulus checks remains up for debate and further such payments appear more likely than before—though what amount people will receive has become a point of contention.
Senate Majority Leader Mitch McConnell (R-KY) has insisted the Senate will keep working until another package is signed off and that conversations were "making progress" on another support bill.
"We need to complete this work and we need to complete it right away," he said, insisting the discussions must be conducted at pace. "The Senate's not going anywhere until we have COVID relief out the door, we're staying right here until COVID relief is out the door."
House Minority Leader Chuck Schumer (D-NY) also spoke of nearing an agreement.
"We are very close to an agreement, but the details really matter," he said Thursday.
"When it comes to unemployment benefits, stimulus checks, aid to small businesses and so much else: we have a responsibility to get this right. People's lives depend upon it."
A major point of discussion has come around the prospect of further Economic Impact Payments, with public polling indicating support for another round and several lawmakers voicing their insistence these be included.
Members on both sides of the aisle have spoken of the desire for stimulus checks, with negotiators reported to have moved to include them. The amount included in such payments, though, has become a fresh point of contention.
Among congressional figureheads, another round of checks but at a reduced rate is reported to have become a potential option as they look to facilitate an agreement palatable to both the House and the Senate.
Senator Tim Kaine (D-VA) on Thursday said that an agreement on a stimulus package has "basically" been reached.
Joe Biden also earlier this week expressed optimism over a deal being struck and the prospect of further direct payments being included.
At an event in Delaware on Wednesday, he said: "The stimulus package is encouraging. Looks like they're very, very close and it looks like there are going to be direct cash payments."
How Much Will The Stimulus Checks Be?
The Associated Press reported negotiators are nearing a roughly $900 billion package, which would include payments up to $600. That figure would amount to half the $1,200 maximum payments from the CARES Act, which was signed nearly nine months ago.
Agreement on such a package between figureheads could see an end to a prolonged stalemate over pandemic relief.
This reported compromise came with several progressive lawmakers having outlined that they will oppose any package which does not contain checks, indicating the need for such payments to be included for a deal to pass.
The Congressional Progressive Caucus said in a statement that "any package must include direct survival checks and enhanced unemployment assistance, the two most effective ways to get money directly to people." Newsweek has contacted the Congressional Progressive Caucus for comment on the prospect of $600 checks.
Push for Higher Payments
While payments of up to $600 appear to have the strongest chance of being in an upcoming proposal from figureheads, there is a continued push for this amount to be increased.
A payment of $600 would undercut the amount polling suggests Americans believe another round of payments should contain.
There have been calls for the payments to echo the amounts signed off in the CARES Act nearly nine months ago.
Sen. Josh Hawley (R-MO) is to ask for a vote on Friday over a direct payment of $1,200 to eligible individuals.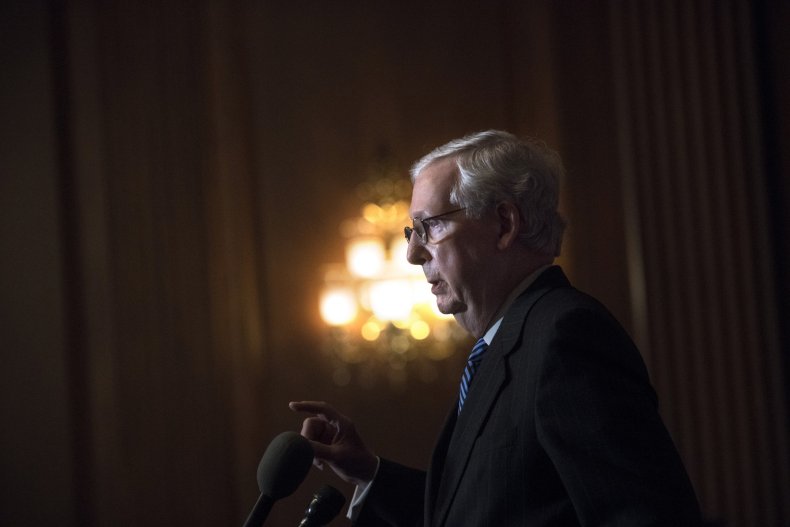 "Tomorrow I will go to the Senate floor to ask for an up or down vote on my bill to provide a direct payment of $1200 to working Americans, $2400 for couples, $500 for kids. This is the #covid relief working families need," Hawley tweeted Thursday. Those parameters are similar to the ones which were outlined in the CARES Act.
Sen. Bernie Sanders (I-VM) has also backed such calls.
Earlier this week he welcomed the prospect of $600 checks as a "step forward," but vowed to push for more.
Speaking on the Senate floor Wednesday, he said: "I'm happy to say that as of now—and we're going to fight for more, because this process is not over—the proposal, as I understand it, provides for a direct payment of $600 for every working class adult and $600 for their kids.
"It is a step forward and I'm going to do my best to make sure that we come as close to the $1,200 as we possibly can."
Sanders has also previously called for the overall spend on a package to be doubled in comparison to the touted $900 billion proposal.
Rep. Alexandria Ocasio-Cortez (D-NY) previously called upon people to let their representatives in Congress know if they felt $600 checks were too low. Hundreds of Twitter users responded with no when she posed the question on the social media platform of whether a $600 second stimulus check was enough.
Newsweek has contacted McConnell, House Speaker Nancy Pelosi (D-CA), Schumer, House Minority Leader Kevin McCarthy (R-CA) for comment on the state of negotiations.