Bernie Sanders Says $900 Billion Stimulus Deal is Too Small, Should Be Doubled
Senator Bernie Sanders called for the $900 billion coronavirus relief package being reached in stimulus talks to be doubled in size, arguing that the sum was "much too low" to combat the scale of the crisis faced by Americans.
Appearing on CNN on Sunday, the Vermont independent said there were "good" provisions in the bipartisan proposals, but repeated that the measures were "not enough" for the millions facing rent arrears and food poverty.
He also blamed Republican leadership in the Senate for delays to the arrival of a second COVID-19 relief package, arguing that they had "refused to entertain" the level of funding needed to bail Americans out of poverty amid the pandemic.
Speaking to CNN host Wolf Blitzer last night, Sanders said: "The entire bill, $900 billion, is much too low. It should be at least double that. So what's in this current bill is good, but it's not enough.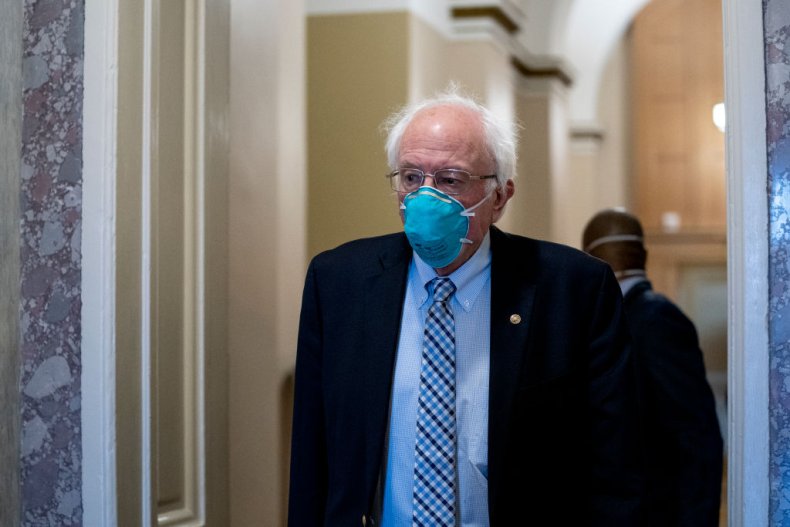 After noting that millions of Americans were growing hungry and struggling to pay their rent and utility bills, Sanders added that "the most important thing" Congress could do was provide direct help to those struggling with debts.
Asked why it was taking so long for lawmakers to help Americans, Sanders said: "I don't want to become overly political here, but it is clear to me we have a Republican majority in the Senate which has refused to entertain, and still refuses to entertain, the kind of funding that is needed to provide nutrition, to help people who are being evicted."
But the Vermont senator was also positive about the progress being made in negotiations, while still warning that he'd have to read the bill before confirming whether he would vote for or against the $900 billion stimulus proposals.
Almost nine months after Congress passed the first coronavirus relief bill in March, The New York Times reported on Wednesday that lawmakers on Capitol Hill had neared a deal on a stimulus worth around $900 billion.
The proposed bill will reportedly include a second round of stimulus checks and measures for extra unemployment benefit payments. Businesses and schools will also be able to access federal loans.
According to the Times, direct stimulus payments are expected to tally at $600 per person. The CARES Act passed in March provided millions of Americans with $1,200 stimulus checks, twice the size of the newly-proposed payments.
Sen. Sanders has pushed for another round of $1,200 stimulus checks to be provided to Americans alongside Republican Sen. Josh Hawley of Missouri, who said he would not allow American families to be "held hostage" in COVID relief bill talks.