Ayanna Pressley Says $600 Stimulus Checks An 'Insult' As Americans Struggle
Congresswoman Ayanna Pressley said it would be an "insult" to send Americans $600 stimulus checks after they were forced to wait months for Congress to reach a deal on a second COVID-19 relief bill.
Speaking on the floor of the House on Thursday, the Squad member said $600 checks were "hardly sufficient" for families who had gone several months without direct relief, and found themselves in debt and poverty as rent and other bills mounted.
The Massachusetts Democrat also called for Americans to be handed "real survival checks" in the next coronavirus relief bill, which could reach Congress before the Christmas holidays as lawmakers on both sides of aisle appear to be closing in on a deal.
"Some of my colleagues are patting themselves on the back for sending corporations payouts—corporations who have profited off of people during this pandemic—and shaming families on the edge. Shame on them, their theatrics and their callousness.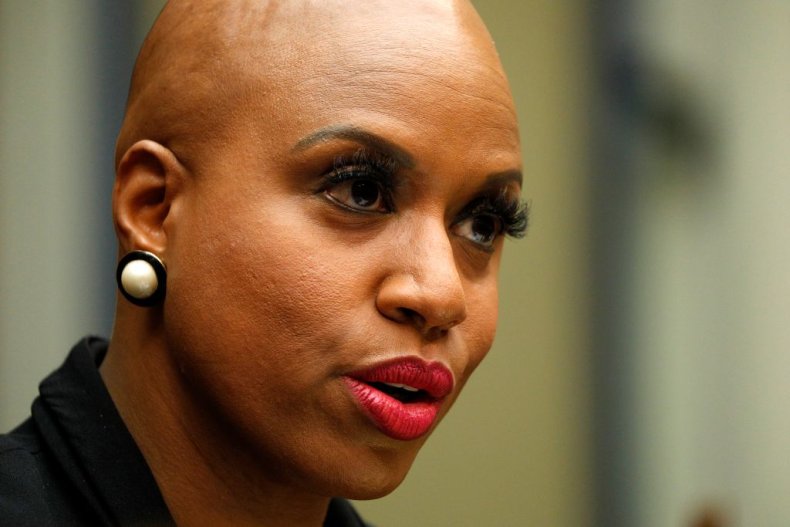 "Four hundred and fifty pennies a day for the last nine months. That's what our government has sent the American people to weather this crisis. And nothing for the immigrant families who drive our essential workforce. It didn't have to be this way."
The progressive lawmaker then added: "Our families deserve real survival checks. Six hundred dollars is hardly sufficient. It is an insult. We must act to save lives now."
Pressley hit out at the $600 stimulus check proposal after it was reported that they would be included in a bipartisan deal being reached on Capitol Hill that would be worth roughly $900 billion.
The New York Times reported on Wednesday that the second COVID-19 relief bill was also expected to include additional jobless benefit payments, and federal funding for businesses and schools impacted by the ongoing pandemic.
A little under nine months after the CARES Act was passed in late March—providing millions of Americans with individual stimulus checks worth $1,200—the mooted plan to provide $600 checks this time around has been met with derision from other lawmakers.
Sen. Bernie Sanders of Vermont argued the size of the stimulus bill was "much too low" and said it needed to be doubled for Americans out of employment and in poverty to have the money needed to feed themselves and keep roofs over their heads.
"The entire bill, $900 billion, is much too low. It should be at least double that," he said earlier this week. "So what's in this current bill is good, but it's not enough."
The independent senator and his Republican colleague Sen. Josh Hawley of Missouri have pushed for Congress to provide Americans with a second round of $1,200 stimulus checks to help the U.S. economy recover from the coronavirus crash.