Florida Man Charged With Police Officer Assault in Rand Paul Confrontation
A man has been charged with assaulting a police officer who had been protecting Kentucky Senator Rand Paul from a confrontation with protesters outside the White House last week.
Paul and his wife Kelley were surrounded by the group he later described as a "crazed mob" following the address by President Donald Trump at the Republican National Convention in Washington, D.C. on August 27.
Video from the scene shows the crowd gathering around the senator, who was protected by officers escorting the couple back to their hotel. A fracas ensued, with one officer who used a bike to push the crowd back clashing with a protester and getting pushed and falling into Paul.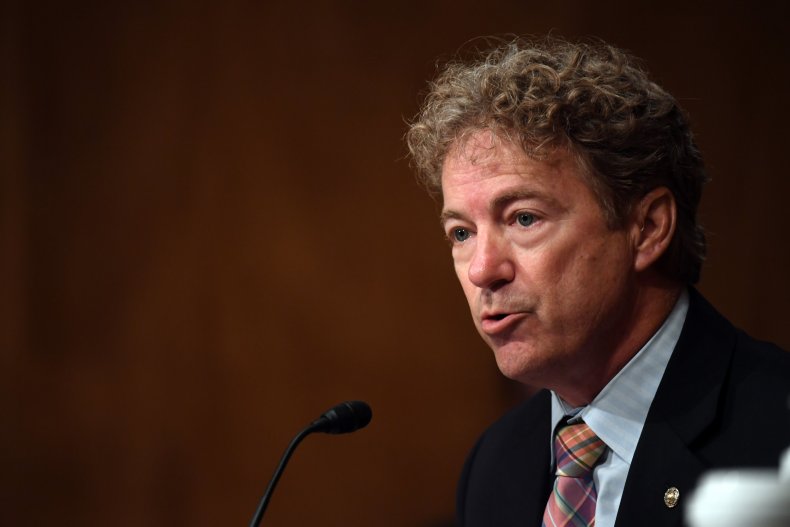 The Department of Justice said that Brennen Sermon, 27, of Orlando, has been arraigned in D.C. Superior Court on one count of assault on a law-enforcement officer.
The DoJ says that just after midnight on August 28, an officer was holding a police line on 14th and F Street, Northwest when Sermon kicked his bicycle and fled. The officer caught up with Sermon, who allegedly punched him in the face, giving him an injury that required stitches.
Body camera footage showed different shirts were worn by the person who kicked the bicycle and the person who punched the officer, so Sermon only faces charges over the alleged assault.
If convicted, Sermon could face a jail term of up to three months for each count and a fine of $1,000.
Newsweek has contacted DC Police and Sen. Paul's office for comment.
On Wednesday, Paul tweeted: "One of the brave DC cops who likely saved Kelley and me was assaulted by one of the violent mob. The attacker was arrested and charged with assault, then released. (If you're looking for him, maybe try Kenosha)."
After the incident, a shaken Paul said he and his wife had feared for their lives, telling Fox News: "I truly believe this with every fiber of my being, had they gotten at us they would have gotten us to the ground."
The incident came during a fevered atmosphere outside the White House where hundreds of protesters holding anti-Trump and Black Lives Matter signs had gathered and chanted, beat drums and played music as the president gave his speech from the South Lawn.
The next day at a rally in New Hampshire, Trump described the protesters as Biden supporters, adding, "It was a disgrace that these people are representing the United States of America."