Senator Rand Paul (R-KY) was confronted by a group of protesters outside the White House with police intervening amid tense scenes following night four of the Republican National Convention.
Demonstrations were held outside the White House throughout the evening, which saw President Donald Trump officially accept the nomination to run for president for a second time.
Footage from after the event showed Sen. Paul being confronted by some of those gathered, with police stood beside him who reportedly escorted the lawmaker back to his hotel.
Videos from the scene, embedded below, which contain some strong language, showed the senator being recognized on the scene and surrounded by a crowd. Police then stand between Paul and others he is with, before forming an escort to walk them back.
One clip shows a clash between a police officer, using a bike to keep crowds back, and a protester, in which the officer is pushed and falls into Paul, nearly knocking them both over.
Following the incident, Paul tweeted: "Just got attacked by an angry mob of over 100, one block away from the White House. Thank you to @DCPoliceDept for literally saving our lives from a crazed mob."
Paul, in his speech at the RNC on Tuesday, had nodded to ongoing civil unrest across the U.S., referring to people "burning our cities" and suggesting Trump would "stand up" to them.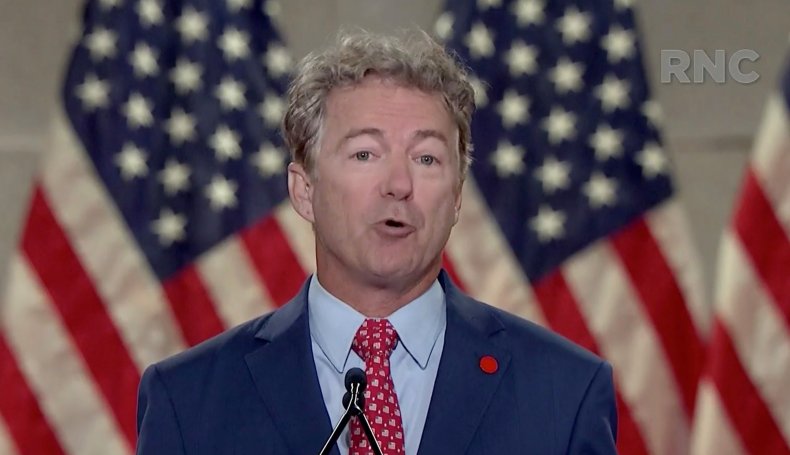 He said: "To those of you who want to stand up and fight the socialists poisoning our schools and burning our cities—join me in supporting President Trump."
Sen. Ted Cruz (R-TX) sent a message of support to Paul.
"Horrific. Our prayers are with you, my friend.@RandPaul," he tweeted.
"This madness has to stop."
Newsweek has contacted Paul and the D.C. Police Department for comment.
Protesters gathered outside the White House amid ongoing demonstrations, which have spread across the U.S. in the wake of the killing of George Floyd and the shooting of Jacob Blake.
While many protests have been peaceful, there have been clashes with authorities throughout in cities across the country. Some have also used them as a springboard for acts such as looting.
Trump, in his speech, focused again on his "law and order" messaging, condemning scenes of "rioting, looting, arson and violence."
He said such scenes were happening in "Democrat-run cities" as he criticized his political adversaries.
"There is violence and danger in the streets of many Democrat-run cities throughout America," he said.
"This problem could easily be fixed if they wanted to. We must always have law and order. All federal crimes are being investigated, prosecuted, and punished to the fullest extent of the law."
While Trump has long pushed such messaging, he has been criticized over his reaction to the protests.