Rep. Randy Fine Issues Biden Second Amendment Threat After Uvalde Shooting
Florida State Representative Randy Fine appeared to make a threat toward President Joe Biden over the Second Amendment following the school shooting in Uvalde, Texas on Tuesday.
"I have news for the embarrassment that claims to be our President — try to take our guns and you'll learn why the Second Amendment was written in the first place," Fine wrote in a tweet on Wednesday morning.
The tweet by Fine comes shortly after Biden made several calls for common-sense gun laws to be passed after 19 children and two teachers were fatally shot at the Robb Elementary School in Uvalde on Tuesday.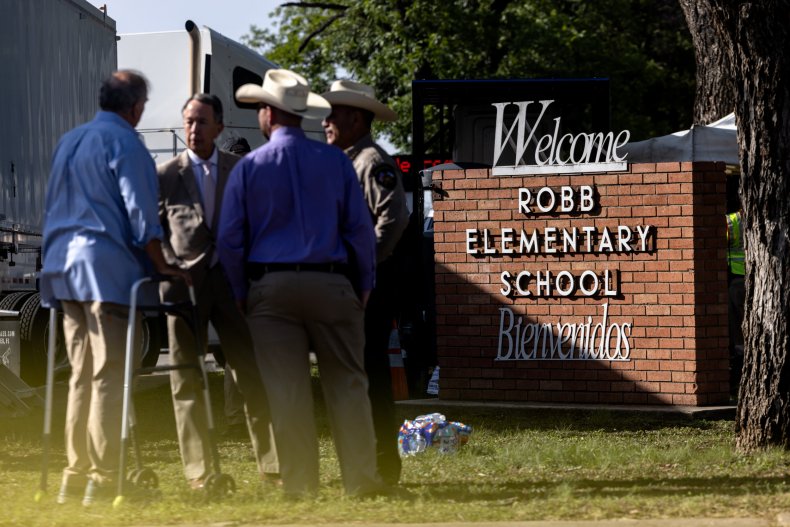 During a press conference following the shooting, Biden said, "I spent my career as a senator and as Vice President working to pass commonsense gun laws. We can't and won't prevent every tragedy. But we know they work and have a positive impact. When we passed the assault weapons ban, mass shootings went down. When the law expired, mass shootings tripled."
Biden continued, "For every parent, for every citizen in this country, we have to make it clear to every elected official in this country: It's time to act. It's time—for those who obstruct or delay or block the commonsense gun laws, we need to let you know that we will not forget."
Fine told Newsweek on Wednesday: "I'd like to see the Democrats stop their fetish with eliminating the Second Amendment and take the time to understand what happened in Texas and how it happened. It shows they have no concern about what happened when they won't even take a day to understand how was this person mentally ill, how did they get the guns, how did they get access to the school, what led to this."
He continued: "The purpose of my tweet was to point out that these people are liars. They have no interest in common sense gun control, they're obsessed with taking away our right to keep and bear arms and eliminating the Second Amendment."
After Fine faced criticism for his initial tweet, he posted a second saying, "The reaction exposes the lie of the left that they just want 'common sense gun control.' They want one thing and one thing only — gun confiscation and an end to the 2A — and the notion that Americans will exercise their right to fight them makes them go crazy. Boo hoo."
Shortly after the shooting on Tuesday, Fine wrote on Twitter that he was praying for the victims and their families, as well as stating "May the murderer spend eternity in hell."
On Tuesday, Texas Governor Greg Abbott identified the suspected shooter as 18-year-old Salvador Ramos.
In addition to the 21 victims who were killed, several others were injured during the school shooting incident. In a tweet on Wednesday, the University Health hospital in San Antonio said that four patients, including three children, were being treated for injuries.
"Update on the shooting at Robb Elementary in Uvalde: at University Hospital we have received four patients: 66-year-old woman, serious condition 10-year-old girl, serious condition 10-year-old girl, good condition 9-year-old girl, good condition," the tweet said.
Newsweek reached out to the White House for comment.
Update 05/25/22, 12 p.m. ET: This article was updated with a new headline and additional information.
Update 05/25/22, 1:04 p.m. ET: This article was updated with comment from Florida state Rep. Randy Fine.