Who Is Randy Fine? How Florida Lawmaker Added Fuel to Disney, DeSantis Feud
Disney's feud with Florida Governor Ron DeSantis continues to fester in the month since he signed the controversial Parental Rights in Education legislation. And the situation has further escalated when a bill meant to strip the company of its self-governing rights was introduced by Florida House Representative Randy Fine.
The HB 3C bill, which would dissolve Disney's special government agency rights and tax privileges in the state, passed Florida's Republican-controlled House and state Senate this week. The bill, which was signed Friday, will become law and go into effect on June 1, 2023.
Through his new bill, Fine seeks to dismantle six governing special districts, including the Reedy Creek Improvement District (RCID) which acts as Disney's own government in Osceola and Orange counties and is home to its six theme parks.
"Why should any company have the right to succeed from the state and govern itself? It's an extraordinary situation," Fine told Newsweek on Friday.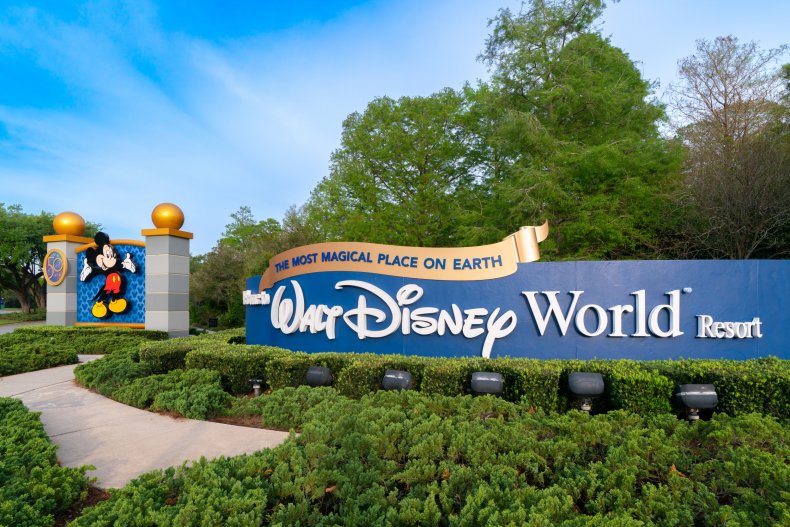 The RCID was established under a 1967 act created by Florida lawmakers under former Republican Governor Claude Kirk Jr. that offered Disney self-governing authority. The RCID has its own fire protection, utilities and planning, and security services.
Discussions to rescind those rights have been on the forefront recently after Disney opposed DeSantis' legislation, also known as the "Don't Say Gay" bill.
"Florida's HB 1557, also known as the 'Don't Say Gay' bill, should never have passed and should never have been signed into law," a Disney spokesperson said last month. Disney said that it would work to overturn the legislation and CEO Bob Chapek announced the company would pause political contributions made to the state.
DeSantis later took a shot at Disney, saying that the company "has alienated a lot of people now. And so the political influence they're used to wielding, I think has dissipated. And so the question is, why would you want to have special privileges in the law at all? And I don't think that we should."
Fine argued that the issue of special districts have been was meant to be changed for decades but Disney "had the political power to stop it."
When asked why some Florida lawmakers are focusing on issuing HB 3C now when the issue of special districts has been discussed for decades, as he claimed, Fine responded, "many of us haven't been focused on the issue of special districts until the hornet's nest got kicked [and] those who have and tried in the past have failed because of the overwhelming political power of Disney."
He also claimed that Disney wanted to bring California values to Florida and use that "special privilege" to oppose the Parental Rights in Education bill "that is overwhelmingly backed by Floridians."
Fine further argued that HB 3C is "a big win for people who believe that large corporations shouldn't be able to do whatever they want."
"Disney has rights that regular Floridians don't. How is that fair?" he added.
When asked whether his bill was retaliation against Disney after the company said it will work to overturn DeSantis' bill and pause political donations, the Republican representative confirmed that "Governor DeSantis showed that he has no issues raising money" and that this is not about contribution.
"Had Disney not said 'we are going to use our special privileges as a guest in your state to overturn a bill that the legislature has duly passed [and] the governor has duly signed,' people would not have started looking at special districts. The issue [rose] to the surface as a result," he said.
He continued: "Disney today has the right to determine the border of the Reedy Creek district without anyone's permission. They can build roads without following Florida's department of transportation guidelines. They don't have to follow zoning or safety codes that every other citizen and company in the state has to do. They can even build a nuclear power plant without permission. These are things that when you look into that are crazy so we are going to deal with it."
The Republican representative is also outspoken when it comes to opposing mask mandates and other social issues in Florida.
Fine previously referred to schools that impose mask mandates as "child abusers" who have a "special place in hell", according to Florida Today. In April 2019, he called a Jewish organizer of a local Israel-Palestine panel a "Judenrat" which is a demeaning term for Jewish individuals who cooperated with Nazis during the Holocaust.
The Republican lawmaker also co-sponsored the "Stop W.O.K.E" Act or the "Individual Freedom" bill, which limits discussions around race-related topics in classrooms and workplaces.
Earlier this month, Fine announced that he would introduce a bill that would make it illegal for minors to receive gender-confirming treatments including surgery and drugs in Florida.
"I think we have to protect children from child abuse. Having a 13-year-old girl's breasts cut off is child abuse. If you want to do these things to yourself when you're an adult, be my guest, but I think we should be protecting children from making decisions that can't be undone," he told Newsweek.
When confronted over his controversial views and his support for DeSantis, Fine told Newsweek that he and the governor are both "unafraid conservatives and generally think the same." However, he said that he doesn't always agree with DeSantis. For example, they share different opinions over congressional maps, according to Fine.
"I don't particularly like being a legislator. It comes at a great cost to my family. It comes at a great cost to my boys. I didn't run for office to name roads or bridges. I came to fight for Floridians and make it worth the sacrifice [for] my own family. So I want to work on the big issues because those are the big problems," he said in response to the views of his critics.
Disney declined to comment on the bill or Fine's remarks.
Update 4/22/22, 5:44 p.m. ET: This story was updated to include that Florida Governor Ron DeSantis has signed the legislation against Disney's self-governing rights.