Man's Rant About $25 Chipotle Bowl Goes Viral: 'Count Your Days'
A man's now-viral rant about a $25 Chipotle bowl has struck a chord with thousands of social media users.
Posting to TikTok last month, Robert Buckmon wrote: "@chipotle count your [days] because you'll never screw me like that again in your LIFE." The video has amassed over 830,000 views and more than 2,000 comments from empathetic viewers venting frustrations about the chain's prices. You can watch the full video here.
Increased Prices
In fact, Chipotle's prices have increased within the past two years. A spokesperson for the company told Newsweek that the restaurant's prices were roughly 10 percent higher in the first quarter of 2022 than in the first quarter of 2021, due to "price increases [Chipotle] took throughout 2021." Additionally, the company made a "modest price increase" in August to offset increased food costs.
"[Inflation] is hitting us...we're seeing rapid price increases in all of our inputs," Chipotle's chief marketing officer Chris Brandt told Fox Business.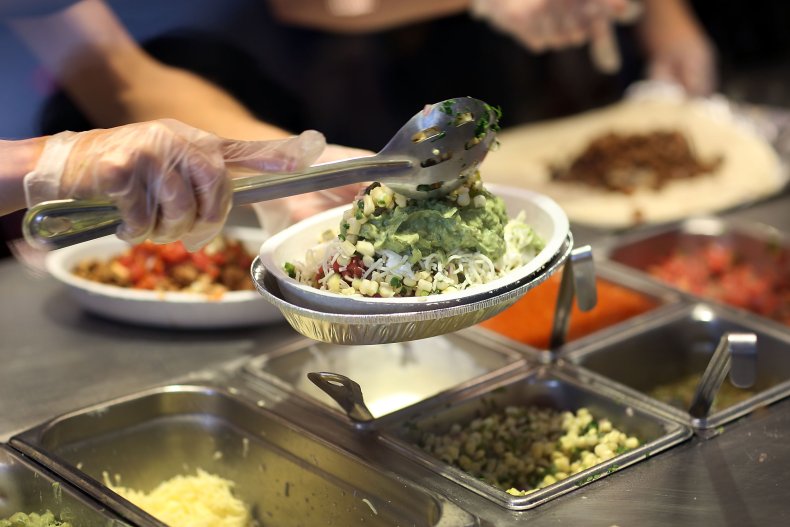 For example, a popular Chipotle ingredient, chicken, was 17.6 percent more expensive in August than in 2021. And overall, the cost of food in the United States increased by 10.1 percent from May 2021 to May 2022, the first increase of over 10 percent since the period ending March 1981.
Chipotle officials told NRN that its increased menu prices haven't negatively impacted sales, as most of the chain's regulars come from higher-income households. However, many lower-income consumers have "pull[ed] back their frequency of visits" to the restaurant.
'Count Your Days'
Likely aware of the restaurant's recent price increases, Buckmon told viewers that he "moved money over" before visiting Chipotle last month.
"I'm expecting to pay, like, $15-$16 for a bowl," he said.
But after asking for guacamole, queso and other fixings, Buckmon said his order amounted to $25.
"I said, 'How much is the total?'" Buckmon recalled, adding that he asked to see his receipt.
In a follow-up video, Buckmon shared a photo of his receipt. Per the photo, his steak burrito bowl cost over $20, and his drink cost $2.75. After tax, the total bill amounted to $25.13.
"I paid for it...[but] Chipotle, count your days because you'll never get the opportunity to screw me like that again in your life," Buckmon said in his first video.
Viewers React
Viewers agreed that Chipotle's prices are "outrageous," and as a result, many said they no longer frequent the restaurant chain.
"Their prices have gotten OUTRAGEOUS," Diana said.
"When I first started eating Chipotle, it was $6.25! And I know this because I went every day lol now is almost 3x that...that's why I don't go anymore," valenciagamble wrote.
Little b added: "It [cost] $55 for three of us. I'm cutting ties with Chipotle, we had a good run."
09/14/2022, 3:00 p.m. EST: This article has been updated to include a comment from Chipotle.