'Extremely Rare' Letters by Abraham Lincoln and George Washington Unearthed
A treasure trove of rare letters from American history are going under the hammer, including documents signed by founding father George Washington.
New York's Bonhams Fine Books and Manuscripts sale has teased a selection of documents featuring works by Jesse James, Abraham Lincoln and Davy Crockett, due to be auctioned on Tuesday.
They described the "single-owner" collection as "significant," with one letter, entitled "The Most Important Jesse James Letter Extant" from the infamous outlaw, expected to fetch between $300,000 and $500,000.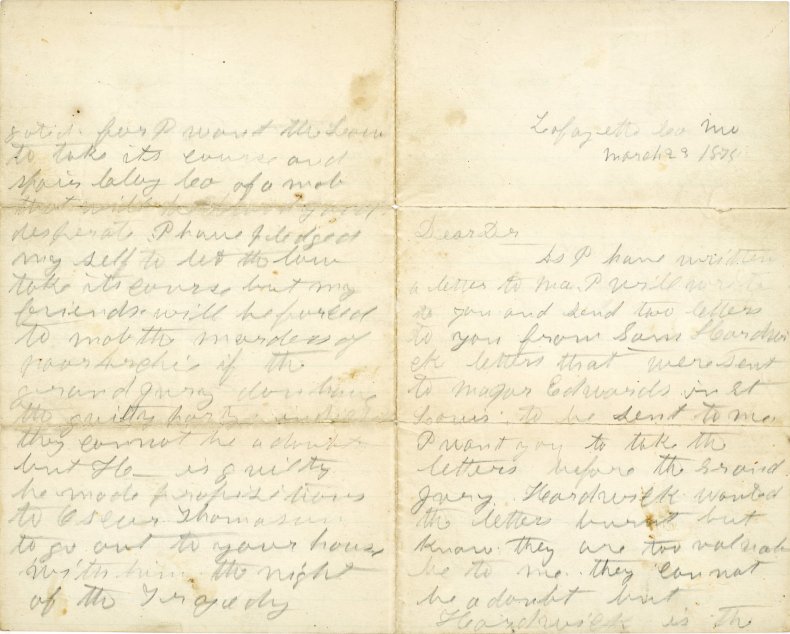 Bonhams claimed letters from James (1847-1882) are "extremely rare," stating there have only been two recorded at auction in the last 30 years.
The writing details a raid on his family farm on January 25, 1875, in Missouri, by Pinkerton detectives, that left his 9-year-old brother, Archie, dead, and mom, Zerelda Samuel, with life-changing injuries after losing her right arm.
The letter is James' attempt to provide more information in the hopes of seeking lawful retribution.
Bonhams said: "In this long letter, James sends his father-in-law two letters from Samuel Hardwicke, asking Dr. Samuels to bring them to the grand jury that was convened to investigate the brutal killing, eventually indicting Allan Pinkerton and 7 other men."
Another piece of writing, entitled "The Letter that Arrived Too Late," is from Civil War leader Robert E. Lee (1807-1870) to Union Commander Ulysses S. Grant (1822-1885).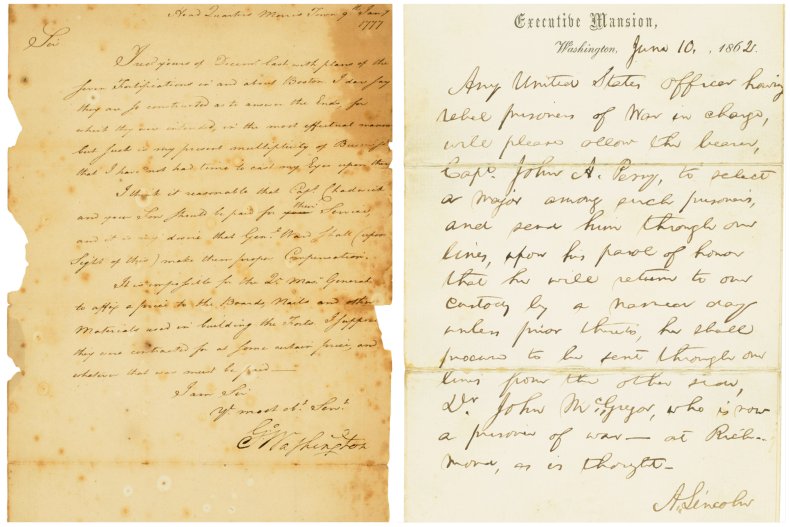 Bonhams explained the note was written on the second day of the Battle of Cold Harbor, in 1864, during a stalemate.
The letter, as its title suggests, arrived too late for any help to be sent, and is estimated to fetch between $120,000-$180,000.
A third letter of note, dating back to June 10, 1863, is one written and signed by none other than Abraham Lincoln. The 16th U.S. president signed a draft order for the first national conscription.
Bonhams explained: "The Enrollment Act of 1863 was the first genuine national conscription law, passed when the Union Army was facing a terrible shortage of men. This particular document was signed on July 2, 1863, in Washington, D.C. and was a draft order for the Sixth district of the state of Massachusetts to furnish 1806 troops."
The letter signed by Lincoln (1809-1865) is expected to be snapped up for between $15,000–$20,000.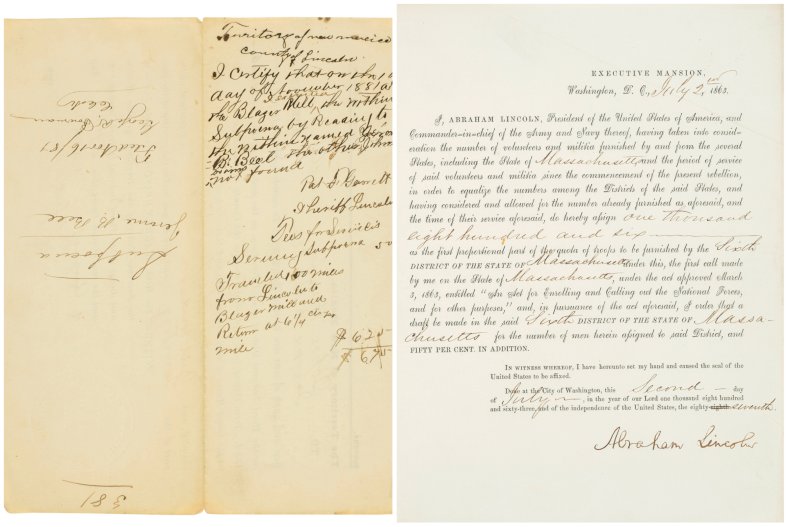 While another written by Lincoln, on June 10, 1862, asks for a rebel prisoner to exchange for captured Union, Dr. John McGregor, is expected to fetch between $12,000–$18,000.
He's not the only president featured in the documents, as George Washington's, the first U.S. president, letter to Chief Engineer of the U.S. Army, Richard Gridley is also included.
In the correspondence, which appears to be dated 1777, Washington (1732-1799) asked the engineer about fortifications at Boston.
The letter, described as "rare" by Bonhams, is envisioned to command a price tag of between $20,000–$30,000.
Meanwhile fellow politician, Davy Crockett, shares his own take on political philosophy, in a note to James Davidson.
Crockett's (1786-1836) lengthy writings are expected to fetch between $40,000-$60,000, with an excerpt saying: "I would rather be politically burried than to be hypocritically imortalized[.] I have been made a political marter for being an honest man."
Commenting on the contents, Bonhams said the letter was penned "on the heels of his failed 1831 Senate bid, including much commentary on his political philosophy and his dispute with Andrew Jackson.
"This important Crockett letter wonderfully characterizes his dissatisfaction with Jackson and shows the early signs of his frustration with the political system.
"A rare Davy Crockett letter that perfectly illustrates the honesty and the fire which made him a folk hero."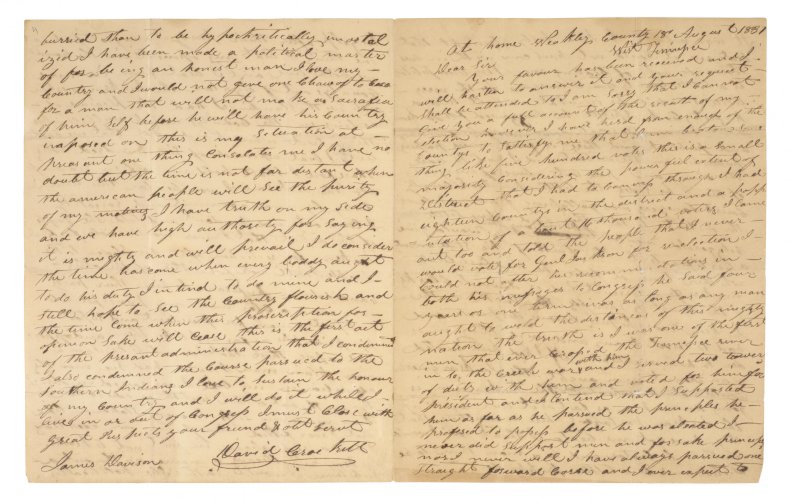 Transcript of Jesse James' letter
"As I have written a letter to Ma I will write to you and send you two letters from Sam Hardwick[e]...that were sent to Major [John N.] Edwards in St. Louis to be sent to me. I want you to take the letters before the Grand Jury. Hardwicke wanted the letters burnt but knows they are too valuable to me.
They can not be a doubt but Hardwicke is the instigator of the brutal murder and he knows every mane [man] that was there & I am convinced Hardwick was with the murders when poor little Archie was so crually murdered. Hardwick sed Jno. Grooms was knowing to all that he done. I do not believe Grooms had any hand in it... He sed he tol all to Gov Hardin Gov Wootson & Gen Bingham.
Be sure to have Gov Hardin Gov Wootson & Bingham summonsed before the grand Jury. Also have Major Jno. N Edwards of St. Louis sumonsed... He has several letters of Hardwicks and he knows much that Hardwick has told him
that will probably endict H. Be sure to attend to this for H is the most guilty of all.
When the Gran Jury are done with H. letters you get them & keep them for me. If any one doubt the authorship of H. letters have Sheriff Patton Dr Allen and others to testify to H. hand writing.
Dr have this horrible vliain thoroughly investigated for I want the Law to take its course and spair Clay Co of a mob that will be bloody and desperate. I have pledged my self to let the law take its course but my friends will be forced to mob the murders of poor Archie if the grand Jury don have the guilty partys indicted.
They cannot be a doubt but H is guilty. He made propositions to Oscar Thomason to go out to your house with him the night of the Trajedy Have G.E. Patton summonsed before the Grand Jury & tell the Jury to ask Patton if Oscar Thomason told him about Hardwicks propositions and then have Oscar Thomason to go before the Jury & confirm Pattons statement.
Oscar Thomason can bring much to light on this subject - Give this letter of mine to the foreman of the Jury and Hardwicks letters & tell him to return them to you after Court. Tell the Jury to present Hardwicks two letters when Hardin, Wootson Bingham & Edwards are before the Jury. Also have sheriff Grooms to go before the grand Jury. Strain every nerve to have the midnight assassins punished. yours Jesse W. James."