Rashida Tlaib Doubles Down on 'Apartheid' in Israel Remarks After Bipartisan Criticism
U.S. Representative Rashida Tlaib defended her vote against providing additional funding for Israel's Iron Dome defense system, doubling down on her previous remarks linking the nation to apartheid amid bipartisan criticism.
Tlaib, a Michigan Democrat who is the only Palestinian member of Congress, received pushback from members of both parties who support Israel after she and other progressives voted against the $1 billion funding, which overwhelmingly passed the House on Thursday. The funding was intended to replenish the Iron Dome's missiles supply following several violent clashes earlier this year.
"All the bipartisan attacks launched at me for speaking a factual truth about the apartheid system in Israel will not intimidate or silence this girl from #SouthwestDetroit," Tlaib tweeted.
While speaking on the House floor Thursday, Tlaib said: "I will not support an effort to enable and support war crimes, human rights abuses and violence. The Israeli government is an apartheid regime."
Tlaib's remarks prompted criticism from members of both parties. Representative Ted Deutch, a Florida Democrat, ditched his prepared remarks to respond to Tlaib.
"I cannot allow one of my colleagues to stand on the floor of the House of Representatives and label the Jewish democratic state of Israel an apartheid state," he said. "To falsely characterize the state of Israel is consistent with those who, let's be clear, it's consistent with those who advocate for the dismantling of the one Jewish state in the world."
Representative Chuck Fleischmann, a Tennessee Republican, also sharply rebuked Tlaib.
"We heard right now from my colleague across the aisle, a shocking statement—she opposes this because they have a vocal minority in the majority party that is anti-Israel, that is anti-Semitic and as Americans, we can never stand for that," he said.
Still, other progressives defended the vote. Representative Cori Bush, a Missouri Democrat who sided with Tlaib, tweeted Thursday: "Palestinians deserve freedom from militarized violence too. We shouldn't be sending an additional $1B to an apartheid state's military. Especially not when we are failing to adequately invest in the health care, housing, education, and other social services our communities need."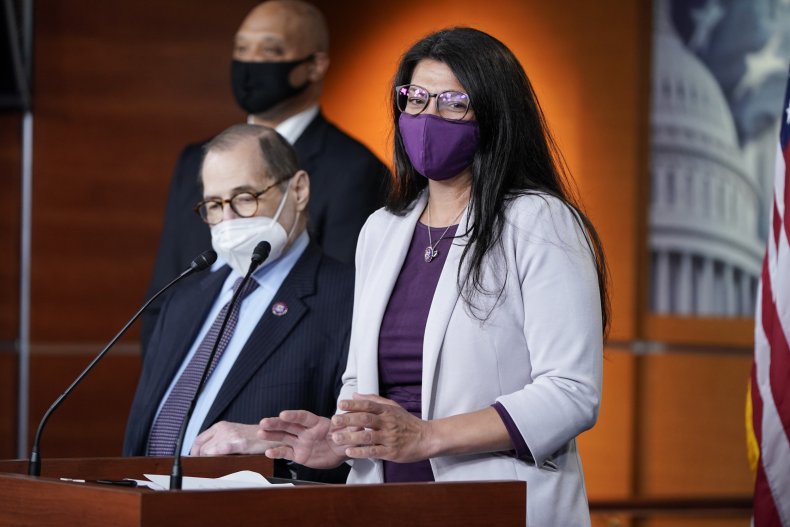 The funding became a flashpoint for Democrats earlier in the week as Congress attempted to advance a stop-gap spending measure meant to fund the U.S. government through early December and prevent a federal shutdown next week. Some progressives said they would not vote for the spending plan unless the Iron Dome funding was stripped.
The Democrats who joined Tlaib in voting against the funding were Bush, André Carson of Indiana, Jesús García of Illinois, Raúl Grijalva of Arizona, Marie Newman of Illinois, Ilhan Omar of Minnesota, and Ayanna Pressley of Massachusetts. They were joined by Republican Thomas Massie of Kentucky. Democrats Alexandria Ocasio-Cortez of New York and Hank Johnson of Georgia voted "present."
Democrats have long been divided over U.S. policy in Israel. Some progressives had previously accused Israel of violating the rights of Palestinians, while others have said Israel has the right to defend itself against Hamas.
In May, progressives criticized Israel over violent scenes in the West Bank—while other Democrats, including President Joe Biden, affirmed its authority to protect itself against Hamas attacks. Still, Biden joined progressives in raising concerns about civilian casualties in Gaza after an Israeli airstrike killed 42 Palestinians.
Newsweek reached out to Tlaib's office for comment Saturday morning, but had not heard back by publication. This story will be updated with any response.