Rashida Tlaib Says Democrats Express Empathy Toward Palestine in Private Due to Intimidation
Democratic Michigan Representative Rashida Tlaib on Monday evening said that some of her Democratic congressional colleagues have expressed empathy towards Palestinians in private.
"It is really hard because any of my colleagues that even have some sort of empathy towards Palestinians, they do it quietly with whispering because they continue to be intimidated and bullied by those that want to continue the status quo apartheid in Israel," Tlaib said during an interview on the MSNBC's The Reid Out, hosted by Joy Reid.
Tlaib said that those interested in maintaining the status quo, "literally brush over Palestinians as ... somehow inherently violent, that they don't deserve human rights."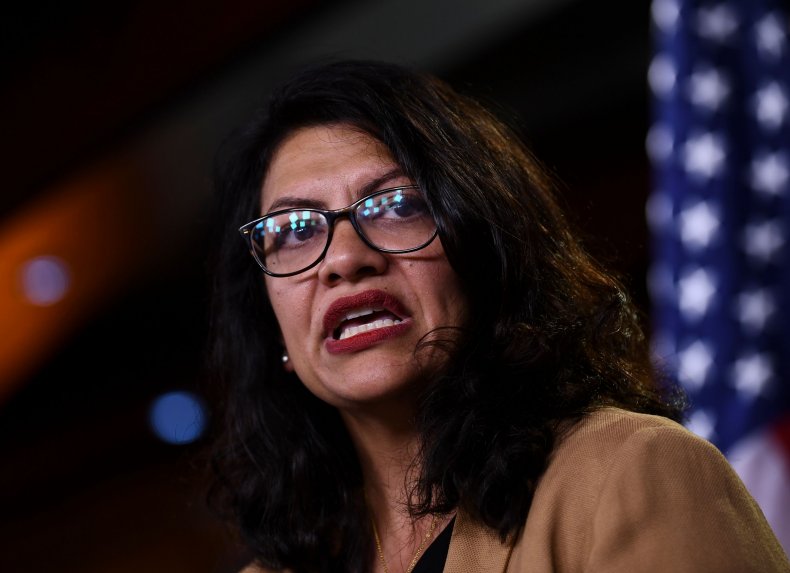 Tlaib did not specifically name the source of the alleged intimidation or detail the types of intimidation and bullying involved.
Tlaib also accused Democratic President Joe Biden of being less openly critical of Netanyahu's government than some of Israel's own citizens and media.
"I hope that my president, our president, speaks up and speaks truth about what exactly is happening, because I know they know," Tlaib told Reid. "Many of the people that live there, including some of the Israeli citizens, have come out and opposed Netanyahu very forcefully. 'Enough with this kind of discrimination and racism. These are our neighbors. These are children that we're raising our children with.'"
Tlaib is one of several progressive politicians who have pressured Biden to change the United States' policies towards Israel.
The congresswoman signed a joint statement last week, along with Democratic Representatives Ilhan Omar of Minnesota and André Carson of Indiana, asking Biden to reconsider the $3 billion in annual military aid that the U.S. provides to Israel. The money is allegedly provided "with no conditions or accountability for wanton human rights abuses and continuing illegal seizures of Palestinian land," the statement said.
While the Biden administration has "expressed support" for a ceasefire, it has not explicitly called for one.
On Monday, the U.S. blocked a joint statement in the United Nations Security Council calling for an immediate ceasefire between Israel and Hamas, according to Al Jazeera News. Monday marked the third time in a week that the U.S. had blocked a U.N. Security Council statement calling for a ceasefire.
The U.S. and Israel have both rejected the International Criminal Court's (ICC) decision, issued last Wednesday, to investigate Israel's possible war crimes in territories where Palestinian people live. The U.S. said that the ICC lacks jurisdiction since neither the U.S. nor Israeli governments recognize Palestine as a sovereign state.
Newsweek contacted Tlaib's office for comment.