Ilhan Omar Fires Back at Donald Trump's Pro-Israel Message
Rep. Ilhan Omar (D-MN) on Tuesday hit back at former U.S. President Donald Trump for his message about Israel, as the country fired rockets at Gaza in retaliation to Palestinian militants firing at Jerusalem and other parts of the country.
The attacks, the most intense in between the two sides in years, have left at least 36 people dead—five Israelis and 31 Palestinians.
In a statement on Tuesday, Trump criticized President Joe Biden for being "too soft" on Israel's adversaries. The former president has long touted himself as Israel's "best friend."
"Israel's adversaries knew that the United States stood strongly with Israel and there would be swift retribution if Israel was attacked. Under Biden, the world is getting more violent and more unstable because Biden's weakness and lack of support for Israel is leading to new attacks on our allies," the former president wrote.
He then accused Minnesota Democratic Congresswoman Ilhan Omar of being a "crazed" supporter of Palestinian and Muslim militant forces.
Omar shot back on Twitter: "It's no surprise that a white supremacist who incited an insurrection against our government, called Neo-Nazis 'very fine people,' and separated kids from their mothers would support human rights abuses against innocent kids. It's ok to be pro-humanity and pro-Palestinians."
She added in a follow-up tweet: "These attacks are designed to undermine our ability to fight against the status quo and oust us from Congress. Help us get ready for that fight."
Israel carried out hundreds of air strikes over the coastal territory of Gaza into early Wednesday morning, as Palestinian militants fired multiple rockets at Beersheba and Tel Aviv, its commercial capital.
The country's military said its jets had targeted and killed several Hamas intelligence leaders early on Wednesday. It added that it had struck rocket launch sites, Hamas offices and the homes of Hamas leaders.
In mixed Jewish-Arab towns such as Lod, close to Tel Aviv, there has been angry protests as tensions rise. Two people in town have been killed after a rocket hit a vehicle in the area. Israeli Prime Minister Benjamin Netanyahu said on Twitter early on Wednesday that the government had announced a state of emergency in Lod, adding in a tweet that he would be sending more troops into the town to restore calm.
The escalation in violence between Israelis and Palestinians took place after weeks of tension, especially in Jerusalem, during the Muslim holy month of Ramadan. Violence flared up last weekend at Jerusalem's Al-Aqsa Mosque compound in the east of the city, which is widely considered by the international community as Palestinian territory. The site houses a mosque considered the third holiest in Islam, but it is also where the most holy site in Judaism, The Temple Mount, is located.
The recent conflict has been the heaviest offensive between Israel and Hamas since the 2014 war in Gaza and many in the international community called for calm.
Tor Wennesland, the U.N. Middle East peace envoy, called on the two sides to stop the attacks immediately.
"We're escalating towards a full scale war. Leaders on all sides have to take the responsibility of de-escalation," Wennesland wrote on Twitter.
"The cost of war in Gaza is devastating & is being paid by ordinary people. U.N. is working w/ all sides to restore calm. Stop the violence now," he wrote.
The White House is working to broker a deal to stop the latest eruption of violence, Press Secretary Jen Psaki told reporters Tuesday.
The previous day, the White House expressed "serious concerns" about the situation, saying it is being "closely" monitored.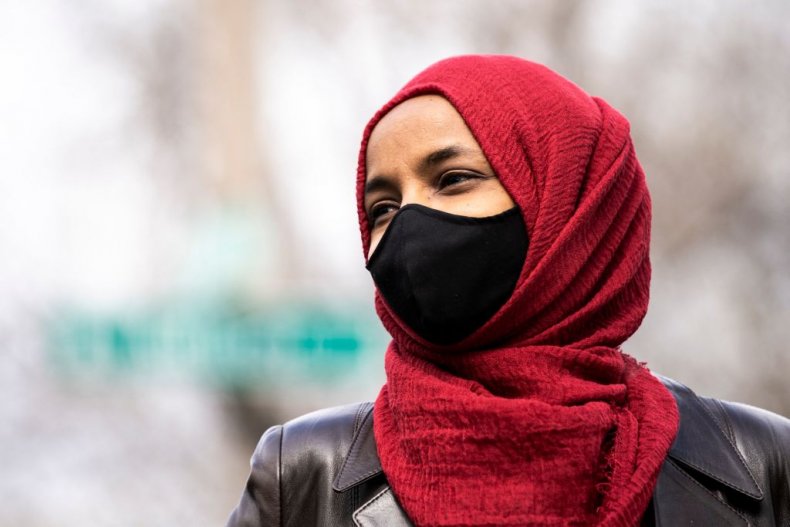 Update 5/12/21, 12:10 p.m. ET: The headline of this article was updated for clarity on the reason for Ilhan Omar's retort to Donald Trump.