What Joe Biden Has Said About Israel-Palestine Conflict
Days of violence in contested Jerusalem have escalated into deadly rocket attacks between Israel's military and Palestinian militants in Gaza.
In recent days, Israeli forces have fired rubber-tipped bullets, tear gas and stun grenades in the Al-Aqsa mosque compound, wounding hundreds of Palestinians during the Muslim holy month of Ramadan.
The violence over access to the holy site sacred to both Muslims and Jews as well as the possible eviction of several Palestinian families from a neighborhood in east Jerusalem by Jewish settlers, marks the first major crisis in the Israeli-Palestinian conflict since President Joe Biden took office in January.
The White House on Monday expressed "serious concerns" about the situation, saying it is being "closely" monitored.
"We have serious concerns about the situation, including violent confrontations that we've seen over the last few days," Biden's press secretary Jen Psaki told reporters on Monday.
But critics have urged the Biden administration to step up and do more in response to the escalating crisis.
Below, Newsweek has rounded up some of Biden's comments and views on the Israeli-Palestinian conflict.
'A two-state solution'
Biden's 2020 presidential campaign website says he "believes in the worth and value of every Palestinian and every Israeli."
It says: "He will work to ensure that Palestinians and Israelis enjoy equal measures of freedom, security, prosperity, and democracy. His policies will be grounded in a commitment to a two-state solution, where Israel and the future viable state of Palestine will live together in peace, security, and mutual recognition.
"Biden opposes any unilateral steps by either side that undermine a two-state solution. He opposes annexation and settlement expansion and will continue to oppose both as President."
The website adds that as president, Biden would "take immediate steps to restore economic and humanitarian assistance to the Palestinian people, consistent with U.S. law, including assistance to refugees, work to address the ongoing humanitarian crisis in Gaza, reopen the U.S. consulate in East Jerusalem, and work to reopen the [Palestine Liberation Organization] mission in Washington."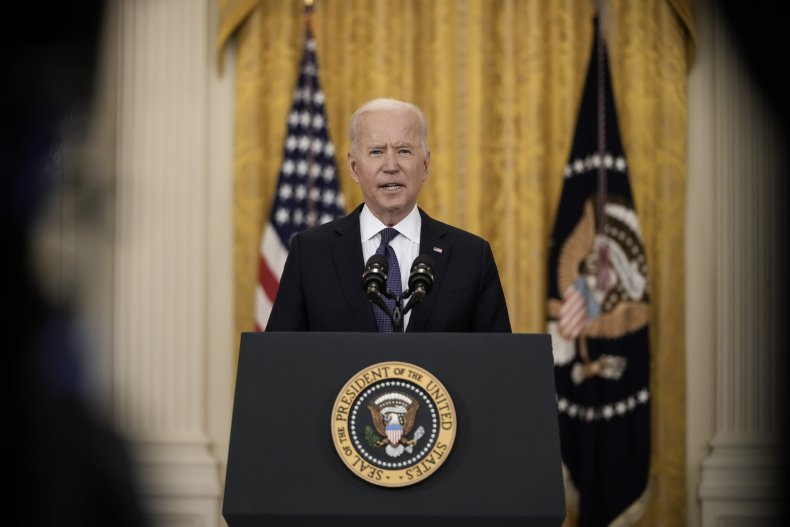 'I'm going to oppose annexation'
At a fundraiser in September last year, Biden said "it's a good thing" Israeli Prime Minister Benjamin Netanyahu had indefinitely postponed plans to annex portions of the West Bank."
"Even our brethren in the Arab world... have come to realize that it is in their interest that there be a two-state solution [and] that Israel is able to live in peace and be recognized," he said, according to Jewish Insider.
Biden told attendees that he assumes "Netanyahu knows and the Israelis know my position" on the matter.
"I've made clear that I'm going to oppose annexation as president," he said. "A two-state solution is the only way to ensure Israel's long-term security while sustaining its Jewish and democratic identity. I don't know how they do it without a two-state solution. And it's also the only way to ensure Palestinian rights to a state of their own."
'Stop inciting violence'
At the same event, Biden said Palestinians bore some blame for the conflict's stalemate.
Netanyahu has "undermined the stability of self-determination for the Palestinians, undercutting hope for a viable two-state solution any chance that he gets," Biden said. But he added that "Palestinian leadership has not stepped up when given real opportunity."
He also said Palestinian Authority "have to be prepared to stop what's going on in terms of their education system, railing against Israel in their schools. They've got to stop inciting violence and supporting it when it happens."
Resume dialogue with Palestinians
In May 2020, Biden said the priority for the "cause of Israeli-Palestinian peace should be resuming our dialogue with the Palestinians and pressing Israel not to take actions that make a two-state solution impossible."
He added: "I will reopen the U.S. consulate in East Jerusalem, find a way to re-open the PLO's diplomatic mission in Washington, and resume the decades-long economic and security assistance efforts to the Palestinians that the Trump Administration stopped."
'This is not the way'
In January 2020, after former President Donald Trump released a Middle East peace plan that favored Israel, Biden tweeted: "A peace plan requires two sides to come together."
He added: "This is a political stunt that could spark unilateral moves to annex territory and set back peace even more. I've spent a lifetime working to advance the security & survival of a Jewish and democratic Israel. This is not the way."
On borders and boycotts
In 2019, Biden said he supports the establishment of a Palestinian state that includes West Bank land as demarcated by pre-1967 borders.
"Except for longtime Israeli settlements or other land swaps and arrangements negotiated by the parties," he told The New York Times.
He said he doesn't support the Boycott, Divestment and Sanctions movement, saying it "singles out Israel—home to millions of Jews—in a way that is inconsistent with the treatment of other nations and too often veers into anti-Semitism and efforts to delegitimize Israel."
But he added: "We should be mindful, however, that steps to sanction supporters of BDS. may be inconsistent with First Amendment protections of free speech, as several federal courts have concluded."
In that interview, Biden was also asked if Palestinian refugees and their descendants should have the right to return to Israel. "This is a final status issue that must be agreed to by both parties," he told The Times.
'The only path'
In an answer to a question posed by the Council on Foreign Relations in July 2019, Biden again reiterated his belief that a two-state solution is "the only path to long-term security for Israel, while sustaining its identity as a Jewish and democratic state."
"It is also the only way to ensure Palestinian dignity and their legitimate interest in national self-determination," he added.
"At present, neither the Israeli nor Palestinian leadership seems willing to take the political risks necessary to make progress through direct negotiations."
He said the challenge "has been made even more difficult by President Trump's unilateralism, his moves to cut off assistance to the Palestinians, and his equivocation on the importance of a two-state solution."
Biden continued: "I will restore credible engagement with both sides to the conflict. America must sustain its ironclad commitment to Israel's security— including the unprecedented support provided by the Obama-Biden administration.
"It is also essential to resume assistance to the Palestinian Authority that supports Israeli-Palestinian security cooperation, people-to-people programs, economic development, and humanitarian aid and health care for the Palestinian people."
Biden said his administration "will urge both sides to take steps to keep the prospect of a two-state outcome alive."
He added: "Palestinian leaders should end the incitement and glorification of violence, and they must begin to level with their people about the legitimacy and permanence of Israel as a Jewish state in the historic homeland of the Jewish people.
"Israeli leaders should stop the expansion of West Bank settlements and talk of annexation that would make two states impossible to achieve. They must recognize the legitimacy of Palestinians' aspirations for statehood.
"Both sides should work to provide more relief to the people of Gaza while working to weaken, and ultimately replace, Hamas. And Arab states should take more steps toward normalization with Israel and increase their financial and diplomatic support for building Palestinian institutions."