Rasmussen Reports, Often Cited by Trump, Shows Biden With 12-Point Lead Following First Debate
Conservative polling firm Rasmussen Reports—which President Donald Trump has often cited in the past—now shows Democratic presidential nominee Joe Biden ahead by double digits less than a month before the election.
The new national poll, which was conducted by Rasmussen following the first presidential debate last week, shows Biden with a lead of 12 percentage points—backed by 52 percent of likely voters compared with just 40 percent who support Trump. An additional 4 percent said they support a different candidate, while another 4 percent said they remain undecided.
Biden, who served as vice president under former President Barack Obama, has cleared the 50 percent threshold in Rasmussen's polling for two weeks in a row now. Last week, following Trump's controversial nomination of conservative judge Amy Coney Barrett to the Supreme Court, Biden led Trump by 8 percentage points—with 51 percent support compared with 43 percent for the president.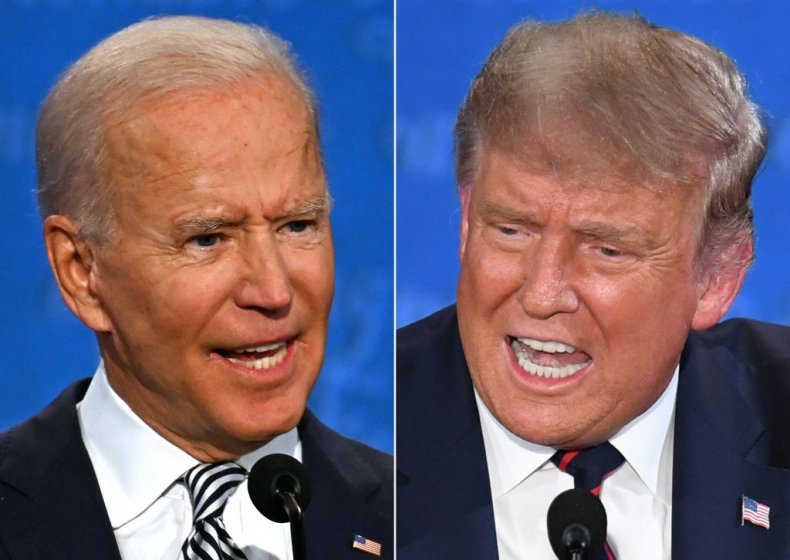 The president's support among Republicans has also declined slightly. While Trump was backed by 79 percent of likely GOP voters last week, just 76 percent supported him in the poll carried out following the first debate. Meanwhile, a little more than 80 percent of Democrats continue to back Biden. The Democratic nominee also leads Trump by 18 points among non-affiliated voters.
Although nearly all national polls, as well as polls out of key battleground states, suggested Biden was favored to win the upcoming presidential election prior to the first debate and Trump's COVID-19 diagnosis—momentum appears to have shifted even further in support of the Democratic candidate.
Polling by NBC News/Wall Street Journal released on Sunday showed Biden ahead by 14 percentage points. A survey by CNN showed the president trailing his Democratic challenger by 16 percentage points, and a poll by CNBC/Change Research showed Trump down by 10 percentage points. The average of national polls compiled by Real Clear Politics shows Biden with a lead of about 9.1 percentage points, while the FiveThirtyEight average has the Democrat ahead by about 9.3 percentage points.
Biden also appears to be favored in the swing states of Florida, Michigan, Pennsylvania and Wisconsin. These states voted for Obama in 2008 and 2012 before flipping red for Trump in 2016. Currently Biden is ahead by an average of 3.5 percentage points in Florida, 6.2 percentage points in Michigan, 6.3 percentage points in Pennsylvania and 5.6 percentage points in Wisconsin, according to Real Clear Politics.
Notably, Biden's lead over Trump is larger than that of then–Democratic presidential nominee Hillary Clinton in 2016. Clinton led by an average of 6.2 percentage points 27 days before the last presidential election, according to Real Clear Politics. She was backed by an average of just 48 percent of voters, while Biden is currently supported by a little more than 51 percent.