Rate of COVID-19 Cases in Military Double That of U.S. Civilian Population
The growth rate of COVID-19 infections in the U.S. military is now more than double that of the U.S. civilian population, based on numbers released by the Department of Defense.
Since July 1 the U.S. military has confirmed 4,100 cases of COVID-19 among currently active service members, bringing its infection growth rate to 33 percent, more than double the 16 percent infection growth rate nationwide during the same period, according to Military Times.
"While we are seeing some upticks in the same places there are upticks in the civilian sector, again, that is not necessarily overly surprising, in that we have been doing more testing, and we have been doing testing of those who are asymptomatic," said Tom McCaffery, assistant defense secretary for health affairs.
The military's infection rate among service members now stands as 0.8 percent, double its mid-June rate but just 0.1 percent below the national infection rate.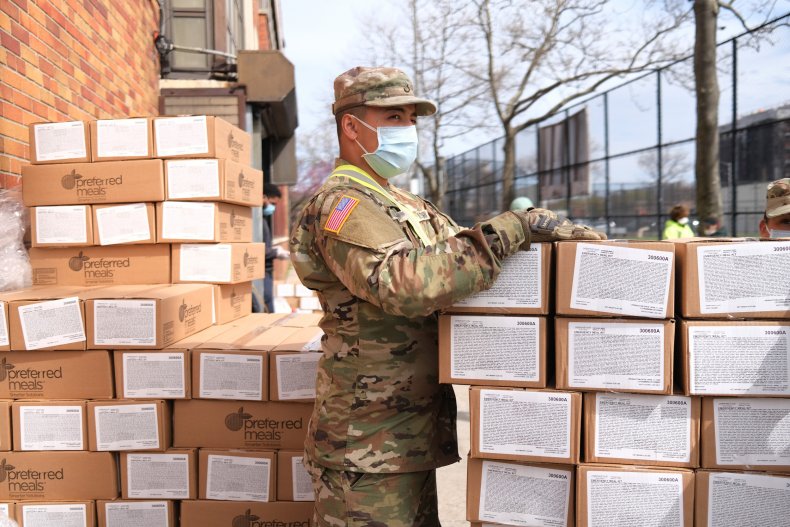 The rise in case numbers comes at a time when officials in the Marines and Navy have said that safety prevention measures for preventing the spread of COVID-19 have caused a scramble for cheaper alternatives as their budgets run out.
The Marines and Navy have been training fewer recruits, quarantining new arrivals in off-site facilities, increasing medical checks for coronavirus symptoms and requiring commanders and trainers to stay on-site rather than risk possible exposure by returning nightly to their homes.
The extra money needed for medical staff, housing, staging facilities, facemasks and other changes have quickly added substantial costs to the branches' usual operating budgets.
In a press briefing on Tuesday, commanders of both branches said a $10 billion supplemental fund passed by Congress earlier in 2020 has kept them from running out of funds, according to The Marine Corps Times. However, it's unclear how quickly the branches may run out.
In early May, an "interim guidance" memo from the U.S. Military Entrance Processing Command said that the U.S. military would stop recruiting applicants who have tested positive for COVID-19.
The guidance seemed liable to affect the over 6,500 coronavirus cases occurring at the time at more than 150 bases in all but four U.S. states. However, the policy has since changed to a ban on recruits who were hospitalized after contracting the virus.
Matthew Donovan, the defense undersecretary for personnel and readiness, said that the current policy examines new recruits individually including a full examination by military entrance processing station doctors. Those who had previously contracted the virus would be assessed on the time period, diagnosis, complications, recovery and lingering effects before being processed onward to entry training.