A woman out for a walk at Myrtle Beach State Park in South Carolina was shocked when she came across a rattlesnake in the surf.
Michelle Robert posted several photos and a video of the venomous viper that showed the reptile at the beach's waterline, allowing the waves to wash over it.
In the comments of one of her photos, Robert said that it was a canebrake rattlesnake, which is a form of a timber rattlesnake.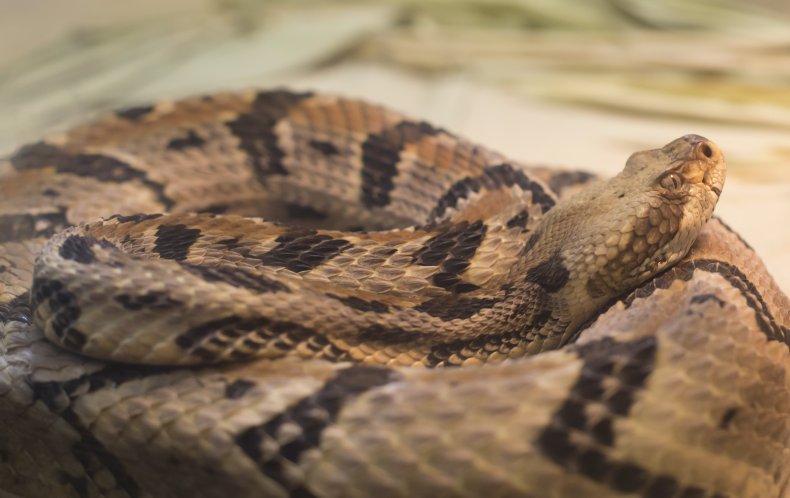 According to South Carolina's Department of Natural Resources, timber rattlesnakes range between three and five feet long and are found throughout South Carolina.
"The canebrake of the piedmont and coastal plain is a species of forested woodlands, wooded bluffs near rivers, river swamps and wet thickets," the agency said.
It said that of the 38 species of snakes found throughout the state, six are venomous.
"Their venom apparatus, including fangs and venom glands, developed as a means to obtain food and is typically only used in defense as a last resort," the department said.
Robert wrote to Newsweek that she has lived in the Myrtle Beach area since 2005 and never heard of or seen a rattlesnake on the beach.
She was out for a walk in search of sea glass when she noticed the rattlesnake.
"The area of beach that I was walking is not close to a beach access and there were no other people around when I first spotted the snake," Robert said. "I was just walking with my feet in the shallow part of the water looking for sea glass and seashells."
She said the rattlesnake then caught her eye, and after observing it, Robert pulled out her phone to start recording it.
Robert said she first thought it was dead but noticed it started swimming.
"It would get washing up on the shore and would actually go back toward the wave again," she said. "I think he was actually enjoying it."
Robert left after watching the snake for some time and warned others that were walking in the snake's direction. She said one person said they planned to call the park ranger.
ABC 11 reported that Russell Cavender, the owner of the Snake Chaser, received a call from the park to relocate the rattlesnake. He took it to a rural swampy area.
Robert said she was told by Cavender that the snake is one to avoid.
"As far as North American pit vipers this one is up there in the top five," Robert said in a comment under one of her photos.
Cavender told Newsweek that those who suffer from a bite may face the negative effects of the injuries for years.
He also said it is rare to find a rattlesnake on the beach, and this was just his third time relocating one from that type of environment.
Though a shocking find, Cavender said killing a rattlesnake is "unnecessary."
He said each animal has their place, but the rattlesnake population is decreasing.
"We're decimating their environments," Cavender said. "I used to find more every year."
Those who saw Robert's social media post were just as surprised as she was.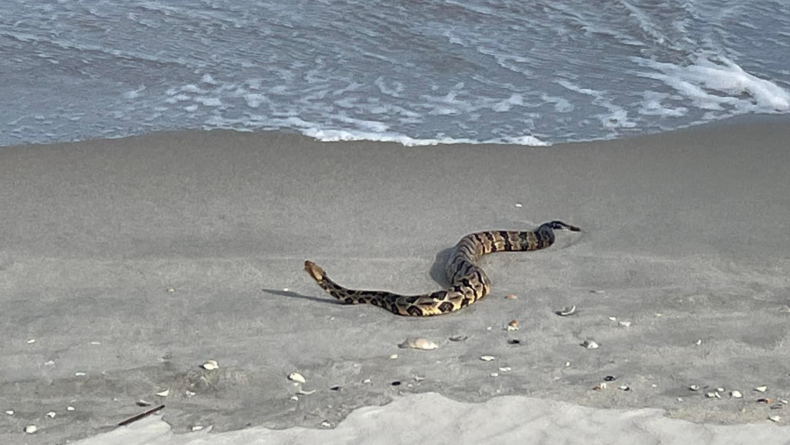 "I can handle the jelly fish, the dolphins, crabs, seeing a shark [sort] of lol but this...nope," a Facebook user wrote. "This shows he is either sick or he's just as tired as we are of the heat and needed some cooling off."
"I think I'd find a new beach," said another.
"He just wants to catch a fish for dinner," one person said. "But yikes!!"
There have been some other reports of encounters with rattlesnakes.
A snake catcher was filmed removing two diamondback rattlesnakes out of a pink cactus in a backyard using tongs.
One man needed medical attention after he was bitten by a rattlesnake five times.
A family discovered a rattlesnake on the couch they were setting on moments earlier.
Updated 08/08/2022, 5:04 p.m. ET: This story has been updated with comments from Russell Cavender.