Read Andrew Ogles College Transcripts that Confirm Lies on Resume
Republican Congressman Andy Ogles of Tennessee admitted that he misrepresented his educational history after a report found that he lied about majoring in politics.
Tennessee's WTVF reported earlier this month that Ogles had no formal training as an economist, despite repeatedly claiming to be one.
In an interview with WTVF, Ogles said he did not recall saying he had an economics degree "because I've been quite clear that I studied political science and international relations."
This comes as his Republican colleague George Santos of New York also admitted that he lied on his resume about his personal, educational and professional life. Santos claimed to have degrees from Baruch College and New York University, which was proven false after he was elected to Congress in November.
A new investigation from WTVF shows that Ogles lied about his college major and that he only took one community college economics course, which he barely passed.
The news outlet uncovered Ogles' transcript from MTSU, which Ogles submitted with a job application more than a decade ago.
WTVF reporter Phil Williams said federal law prohibits university officials from disclosing a transcript. But since Ogles has a copy and released it to a potential employer, "it is fair game and completely legal."
The transcript revealed that Ogles' major was Liberal Studies, not economics or international relations.
The document also shows that Ogles took one economics class at a community college, Principles of Economics at Columbia State Community College, earning a "C."
According to the obtained transcript, Ogles enrolled in Western Kentucky University in 1990 but left in the fall of 1993. He also enrolled in Columbia State Community College in 1991 and 1992 before transferring to MTSU in 1995.
His transcript also shows that he got a "C" in American History and failed Presidency, Problems in Government, Political Theory and National Security Policy in 1995 and again in 1998.
He then returned to MTSU in 2008 and finished his degree with a 2.4 GPA, WTVF reports.
WTVF found that Ogles' 2009 resume listed a degree in International Relations, not Economics, minoring in Psychology and English.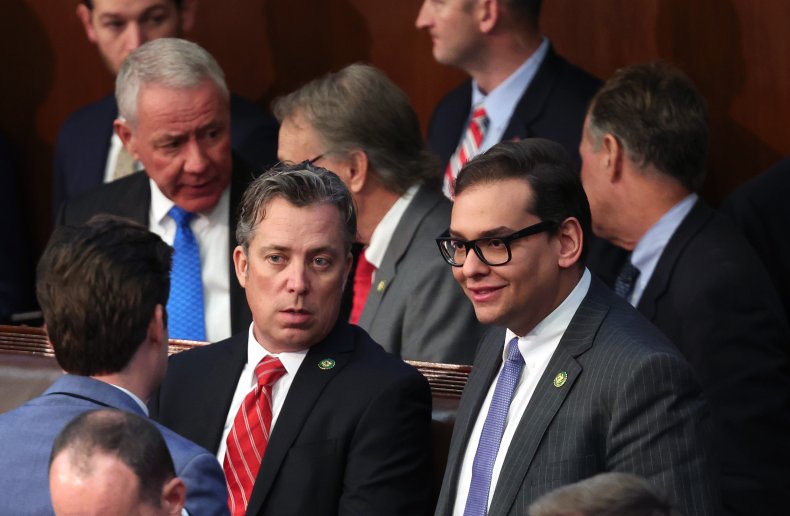 Ogles told Newsweek in a statement that he was "mistaken" when he previously spoke about his degree.
"I previously stated that my degree from MTSU was in International Relations. When I pulled my transcript to verify, I realized I was mistaken. My degree is in Liberal Studies. I apologize for my misstatement," Ogles said.
He said he transferred to MTSU his senior year to pursue a degree in Political Science and International Relations.
"Due to an interfamilial matter, I dropped out of college and returned home to financially support my family during a difficult time," he said. "Though leaving school was a difficult decision, it was the right one. I would do the same thing again today, even though withdrawing left several incomplete grades that would ultimately be registered as failing."
He returned to school years later through their distance learning program to "set an example" for his daughter, "demonstrating the importance of finishing what you start."
"After completing the online courses, I was awarded a Bachelor of Science, and MTSU mailed me my degree a few months later," he said. "At the time, it was my understanding I had completed my course of study in Political Science and International Relations."
But last week, he requested an official copy of his transcript and learned that he was actually awarded a broader degree in Liberal Studies with minors in Political Science and English.
Ogles' campaign website states that the congressman is an entrepreneur who studied Political Science at MTSU. His congressional website only says he "obtained his degree from MTSU."
In an interview with WTVF, Ogles linked political science and economics.
"It looked at political science from, you know, not only the historical perspective but the economic perspective," he said. "So that was really my first taste into economics and understanding the dynamics that go into place of why certain countries are allies."
Since graduating college, Ogles worked in economics.
According to his Congressional bio, Ogles worked on economic, tax and healthcare policy at the Americans for Prosperity (AFP), a libertarian conservative political advocacy group, in 2013.
"During this time, Congressman Ogles authored and contributed to publications regarding Obamacare and tax policies, especially the impacts on the State of Tennessee," his website states.
After AFP, Ogles moved to the Laffer Center for Supply-Side Economics where he served as the Executive Director "overseeing the center's efforts to preserve and promote core tenets of supply-side economics by expanding the organization's exposure throughout the state."
His campaign website also notes government transparency as a main issue.
"As the adage goes, we have a Republic in America...if we can keep it, but a terrible lack of accountability and transparency in our federal government threatens to destroy it all."
Ogles is a freshman representative who recently won Tennessee's 5th Congressional District, a long-time Democratic stronghold that was recently redrawn to favor Republicans. He is a member of the Financial Service Committee.
He previously served as the mayor of Maury County.
According to a questionnaire during his campaign for mayor, Ogles listed his occupation as "Economist, Tax Policy Expert" and claimed he received graduate education from the Vanderbilt Owen School
In his bio for the Club for Growth Foundation, Ogles states he studied Economics and Political Science at MTSU and pursued his graduate work in Marketing at Vanderbilt's Owen School of Management.
Update 2/27/2023, 6:00 p.m. ET: This article was updated with comment from Ogles.