Read Messages Oath Keepers Sent After Trump's December Meeting
After former President Donald Trump's December 18, 2020, meeting about that year's presidential election, members of the Oath Keepers allegedly began planning for the January 6, 2021, Capitol attack, according to court documents.
The House select committee investigating the riot spent its Tuesday public hearing focusing on the role of far-right groups, including the Oath Keepers, in the plans to allegedly thwart the 2020 presidential election results to try to keep Trump in office.
Part of their hearing focused on the December meeting where Trump and his allies allegedly discussed plans to attempt to overturn the election results that eventually led to people shouting at each other.
On December 19, 2020, Trump tweeted about a rally to be held on January 6, 2021, the day Congress was set to approve the Electoral College vote. He tweeted: "​​Big protest in D.C. on January 6th. Be there, will be wild!"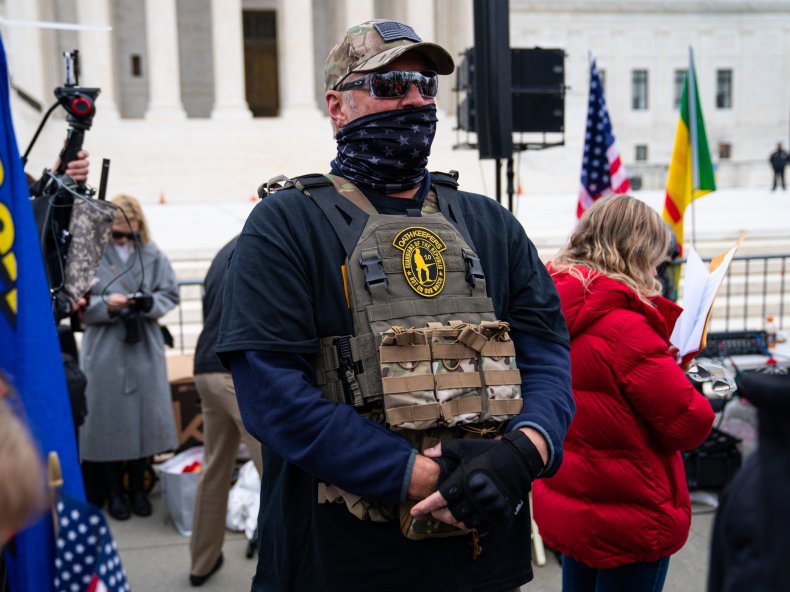 Court documents reveal the messages sent by members of the Oath Keepers in the days that followed, when they allegedly planned for the January 6 riot.
December 19, 2020
On December 19, 2020, Roberto Minuta, a member of the Oath Keepers, sent a message to another person, who was not identified in court documents, that read: "Oath Keepers president is pretty disheartened. He feels like it's go time, the time for peaceful protest is over in his eyes. I was talking with him last night."
December 21, 2020
Joshua James, another member of the Oath Keepers, posted a message to a chat including leadership members.
"SE Region is creating a NATIONAL CALL TO ACTION FOR DC JAN 6TH.... 4 states are mobilizing," James allegedly wrote.
Not receiving an initial response, he wrote back: "DID NO ONE HEAR ME!!!! 3 STATES ARE MOBILIZING TO DC!!! Everyone in this channel should understand the magnitude i just sent!!"
December 22, 2020
Stewart Rhodes—an Oath Keepers member who may testify before the January 6 committee—allegedly said in an interview with a regional Oath Keepers leader that if Joe Biden were to assume the presidency, "we will have to do a bloody, massively bloody revolution against them. That's what's going to have to happen."
December 23, 2020
The next day Rhodes allegedly published another open letter on the Oath Keepers website, where he wrote that "tens of thousands of patriot Americans, both veterans and non-veterans will already be in Washington D.C., and many of us will have our mission-critical gear stowed nearby just outside D.C."
He also allegedly wrote that he and others may have to "take to arms in defense of our God given liberty." Rhodes also allegedly continued advocating for the use of force "to stop the lawful transfer of presidential power" in a hangout chat, per the court documents.
That same day, James allegedly sent the letter to another person, describing it as "required reading."
December 25, 2020
Kelly Meggs, who has described himself as the leader of the Florida Oath Keepers, allegedly wrote in the chat that the rioters "need to make those senators very uncomfortable with all of us being a few hundred feet away."
"I think Congress will screw [Trump] over. The only chance we have is if we scare the s*** out of them and convince them it will be torches and pitchforks time [if] they don't do the right thing. But I don't think they will listen."
December 26, 2020
An unnamed Oath Keepers member on December 26, 2020, attempted to arrange a training class with a Florida company that conducts firearm and combat training, according to court documents. They allegedly wrote: "I trained with you not long ago. Since then I have joined Oath Keepers. I recommended your training to the team. To that effect, four of us would like to train with you, specifically in your UTM rifle class."
December 31, 2020
Rhodes allegedly wrote to leaders of the Oath Keepers that "there is no standard political or legal way out of this."
Oath Keepers member Brian Ulrich allegedly wrote: "Someone can tell me if I'm crazy but I'm planning on having a backpack for regular use and then a separate backpack with my ammo load out with some basics that I can just switch too is s*** truly the fan blades."
James also received a message from someone offering "friends not far from DC" who have "a lot of weapons and ammo if you get [in] trouble." James allegedly responded: "That might be helpful, but we have a s***load of QRF on standby with an arsenal."
January 2, 2021
In a message to his contacts, Oath Keepers member Thomas Caldwell allegedly wrote: "Can't believe I just thought of this: how many people either in the militia or not (who are still supportive of our efforts to save the Republic) have a boat on a trailer that [could] handle a Potomac crossing? If we had someone standing by at a dock ramp (one near the Pentagon for sure) we could have our Quick Response Team with the heavy weapons standing by, quickly load them and ferry them across the river to our waiting arms ... if it all went to s***, our guy loads our weps AND Blue Ridge Militia weps and ferries them across."