Read The Onion's Hilarious Supreme Court Filing in Defense of Parody
The Onion filed a joke-filled amicus brief with the Supreme Court in defense of an Ohio man who was arrested by his local police department for running a parody page mocking the unit.
The satirical news site urged the Supreme Court, which began a new term this week, to take up the case of Anthony Novak, a man from Parma, Ohio, who was arrested for creating a fake Facebook page poking fun at the Cleveland suburb's police department in 2016.
Police charged Novak with disruption of a public service, claiming his Facebook page, which stayed up for only a single day, led to several concerned residents calling the police department, according to Cleveland.com.
In one post, Novak wrote that police were holding an event to allow convicted pedophiles to solve quizzes and puzzles for a chance to be removed from the state's sex offender registry list—and become honorary members of the department, according to the brief.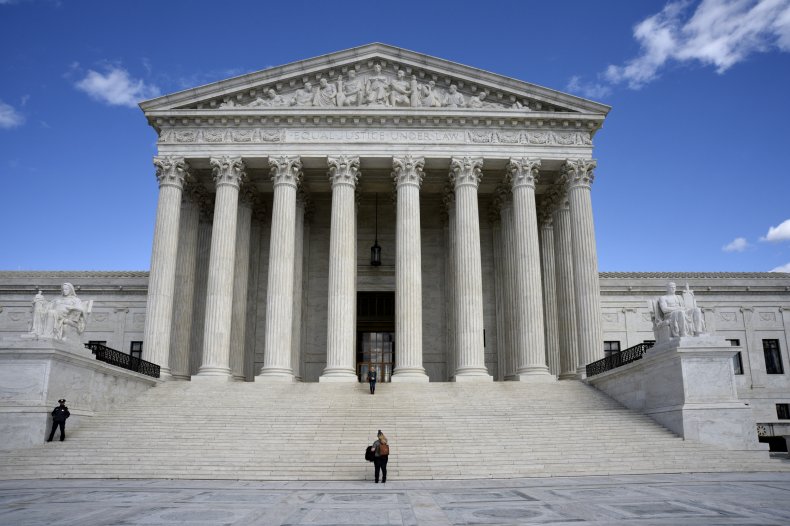 Other posts said that police would be providing an "experimental technique" for abortions for free in a police van, the department was seeking recruits but that minorities were "strongly encouraged" not to apply, and that residents were banned from providing food to the homeless, in an effort to starve them.
Novak went to trial for one day in August, when a jury acquitted him of all charges. He went on to sue the police department, accusing it of violating his First Amendment rights, which provide freedom of speech in the United States.
However, the Sixth Circuit Court of Appeals ruled in May that Novak failed to prove his arrest was a form of retaliation that violated his free speech rights. Now, The Onion, a popular online website that regularly pokes fun at current events, is urging the U.S. Supreme Court to look into Novak's case in a brief filed on Monday.
The Onion's brief opens: "Americans can be put in jail for poking fun at the government? This was a surprise to America's Finest News Source and an uncomfortable learning experience for its editorial team."
"Indeed, 'Ohio Police Officers Arrest, Prosecute Man Who Made Fun of Them on Facebook' might sound like a headline ripped from the front pages of The Onion—albeit one that's considerably less amusing because its subjects are real," it reads.
Read the entire brief, which uses jokes to supplement The Onion's legal argument in support of parody, below.
The brief continues to delve into stances supporting Novak's right to post satirical content poking fun at the police—while also ribbing the Supreme Court staff who would read the brief.
"The Onion's motto is central to this brief for two important reasons. First, it's Latin. And The Onion knows that the federal judiciary is staffed entirely by total Latin dorks," it reads.
It criticized the Sixth Circuit's logic that people "could reasonably believe that some of Novak's Facebook activity was not parody" because Novak deleted posts making clear the page was fake, arguing that previous court rulings determined "reasonable readers do not need to be told explicitly what they have no serious trouble figuring out for themselves."
"Under a proper understanding of the reasonable-reader test, a disclaimer not only spoils the punchline but is redundant. The Sixth Circuit's holding stands alone among the otherwise uniform approach courts have taken—and not in a good way," the brief says.
Newsweek has reached out to the Parma Police Department and The Onion for comment.