'Real Housewives' Leah McSweeney on Jen Shah: 'I Just Feel for Her Kids'
Leah McSweeney burst onto the Real Housewives of New York stage boldly in 2020 (anyone remember the flying tiki torches?) and now she's bringing her unapologetic self to The Real Housewives Ultimate Girls Trip Season 3. Its premiere date is still to be announced.
Joining her will be Salt Lake City's Heather Gay and Whitney Rose, Potomac's Candiace Dillard Bassett and Gizelle Bryant, Miami's Alexia Echevarria and Marysol Patton, and Atlanta's Porsha Williams.
McSweeney talked to Newsweek on October 6 about all things Housewives-related, including some of the women who have recently spent time in the headlines for not-so-great reasons.
Of Salt Lake City's Jen Shah, who recently pleaded guilty to fraud and could face up to 30 years in prison, McSweeney said, "It's sad that people are willing to risk their own lives and freedom to have money. I just feel for her kids, man, like her going away to jail for something—I feel for her children, because they're losing a mom." She added that she thinks Shah seems likable and entertaining to watch, calling her "reality-TV gold."
McSweeney opened up about Beverly Hills' Erika Jayne, as well, who's defended herself against allegations that she'd participated in a scheme with her now-estranged lawyer husband to embezzle millions from plane crash victims. (Jayne adamantly denies wrongdoing and was recently dismissed from another lawsuit in which she was named as a defendant.)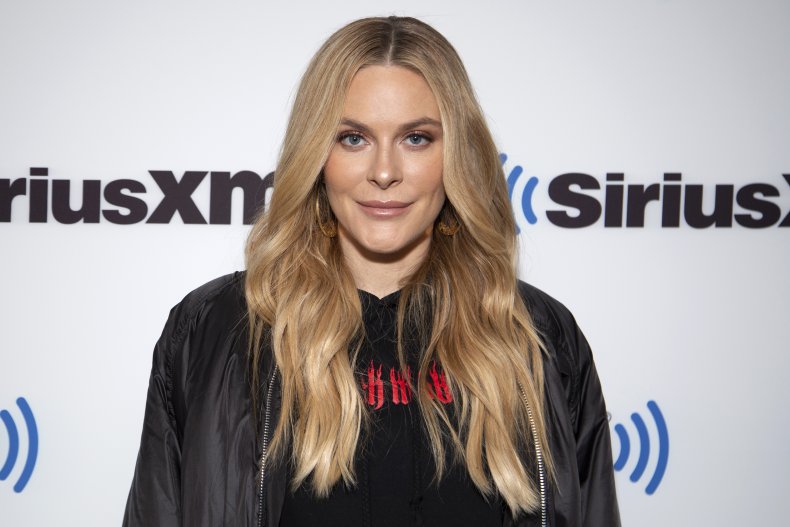 "The thing is, Erika was never shy about her wealth or her—what is her song?—'It's Expensive to Be Me.' You know what I mean?" McSweeney said. "Everyone loved her for that aspect of her personality or who she is or her persona or whatever. Well, now they know that it was maybe not coming from an honest place, all the money. And I don't know—I feel like the tide turning on her, like they wanted to turn on her anyway."
McSweeney's long been a straight shooter. Her memoir Chaos Theory has been called "brutally honest," and the star applies that same honesty when looking inward. Her journey with sobriety has been chronicled on the Housewives, and she told Newsweek that even though getting sober is never exactly easy, not drinking is well worth it.
The reality star's introspection has also led to her conversion to Judaism, and she says that the way the Jewish community has welcomed her has been beautiful. Her 15-year-old daughter, Kier, seems "totally psyched" that they're doing Hanukkah this year.
McSweeney said that she'd recently gotten her driver's license, so she might rent a car this weekend and see if Kier would want to go to a pumpkin patch or haunted hayride. She's also currently serving up serious self-assured realness as the face of Abreva's new "Confident B#@%! with a Cold Sore" campaign.
As for the upcoming season of Ultimate Girls Trip, which was filmed in Thailand, McSweeney described the experience as "so intense." The still-unaired season has already sparked wild rumors, including one that McSweeney had been fired and booted from the country after hurling elephant excrement at a castmate.
Yes, that would have been "totally iconic" and "unhinged," she said. No, it didn't happen.
"I wish I had the balls to do that because I definitely at some points felt like
doing that to a few of the women, but I couldn't do it," McSweeney said, laughing.
As for who it was?
"I can't tell you who," she said. "But you'll see soon, and you'll know."