The Real Story Behind the EgyptAir Hijacker Photos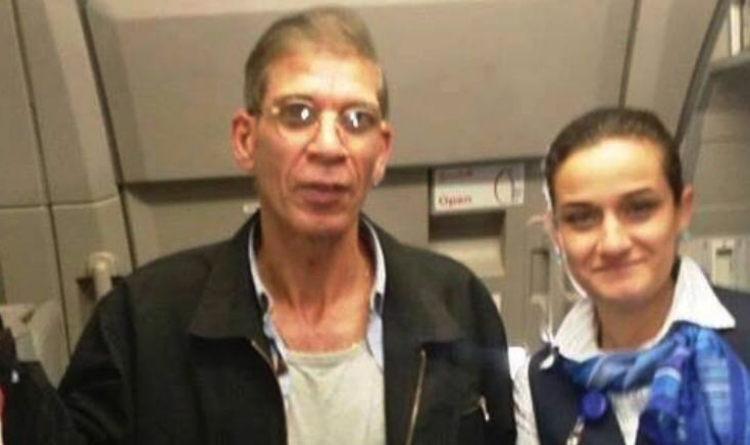 The co-pilot of the EgyptAir flight hijacked on Tuesday has revealed the true reasons behind an air stewardess's decision to pose for a smiley picture with the hijacker of flight MS181, Seif al-Din Mustafa.
The flight crew was forced to divert the plane—which was traveling from the Egyptian city of Alexandria to the capital, Cairo—to Cyprus after Mustafa threatened to detonate a suicide belt, later found to be a fake.
Speaking exclusively to Newsweek, Hamad el Kaddah, the 32-year-old co-pilot of the aircraft, has detailed the reasons behind the picture taken by a Dutchman, Huub Helthuis, of Mustafa and air hostess Niera Atef.
Qaddah, the last person on the plane with the hijacker and the pilot pictured jumping out of a cockpit window, says that the crew was not laughing at the hijacker or making light of the situation but tricking Mustafa so they could relay his appearance and his device to Egyptian and Cypriot authorities.
"I was sending everything back to Cairo and sending everything to Cyprus via Whatsapp. So I was just taking pictures of him. One of the air hostesses took a picture with him," he tells Newsweek.
"She took the picture but we were lying to him, like 'oh right, can I have a picture with you?' So we can have how he looks, what he is wearing. We did this, then we took it. Her name is Naira. She did this trick."
Cypriot authorities said the hijacking was not a case of extremism. Kaddah confirmed to Newsweek that Mustafa wanted to speak to his former wife and had a letter that he wanted to deliver to authorities. He wished to see his ex-wife, who lives in Cyprus, and eventually surrendered to authorities.
Nobody was hurt in the incident. The plane was carrying 63 passengers, including a number of foreign nationals, and crew members.
Atif took the picture with Mustafa at the height of what was believed to be an international aviation crisis, before it was revealed that his suicide belt was a fake that he had appeared to put together after going through security. Others also took the opportunity to have pictures with Mustafa despite the apparent danger to their lives, for different reasons to that of Atef.
Ben Innes, a 26-year-old British passenger on the flight, gained notoriety in his home country when his picture with Mustafa, falsely described as a "selfie", was published on the front pages of the majority of Wednesday's British national newspapers.
"I'm not sure why I did it—I just threw caution to the wind while trying to stay cheerful in the face of adversity," he told British daily newspaper The Sun. "I figured if his bomb was real I'd nothing to lose anyway, so took a chance to get a closer look at him. It has to be the best selfie ever."
Mustafa appeared in a Cypriot court on Wednesday where authorities ordered his detention for eight days. He flashed a peace sign as authorities led him away. The 58-year-old faces charges of air piracy, kidnapping and threatening behavior.