The Real Test of Wyoming's GOP Wasn't Liz Cheney
As polls closed in Wyoming on Tuesday night, all eyes were on Republican Representative Liz Cheney and her overwhelming loss to Donald Trump-backed challenger Harriet Hageman in a campaign defined by Cheney's vote to impeach the former president and the Jan. 6 select committee she helped lead against him.
But in a primary that featured Trump's unproven claims the 2020 election was stolen from him, the more telling story of the Wyoming vote was likely down the ballot, where voters overwhelmingly supported a Trump-endorsed candidate for secretary of state who has espoused unfounded claims of rampant election fraud against a sitting state senator backed by some of the biggest names in the state's Republican establishment.
The election was a major win for conservative activists in the state, as well as a departure from how Wyoming has typically voted. Beyond a Tea Party-backed candidate winning the Republican nomination for state superintendent of education in the early 2010s, Wyoming voters have tended to support more moderate or establishment-aligned figures for statewide office.
In 2018, voters notably rejected Hageman and Trump-backed Foster Friess in the Republican primaries for governor in favor of state Treasurer Mark Gordon, who enjoyed considerable establishment support. And since 1959, Democratic governors have split time in the governor's mansion with Republicans and, in 2008, a Democrat came within one-half of a percentage point of representing the state in Congress.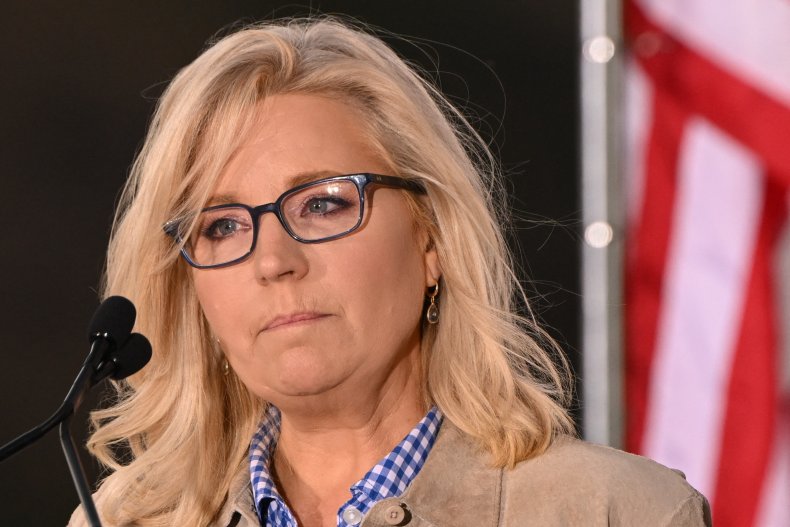 The times, however, have changed. With all votes tallied late Tuesday night, Wyoming state representative and talk-show host Chuck Gray defeated Cheyenne attorney Tara Nethercott by just over 8 points to win his party's nomination as the state's top elections administrator, all but guaranteeing he will win November's general election in the deep-red state.
Gray also becomes the sixth secretary of state candidate nationwide to win a primary after embracing Trump's claims that the 2020 election was systemically rigged against him, despite pushback from outgoing Secretary of State Ed Buchanan that such claims were "patently false."
"President Trump has endorsed our campaign because I support voter integrity measures and passed the voter ID bill," Gray told the Casper Star-Tribune in a statement on election night.
Newsweek reached out to Gray for comment.
While the Cheney race was the centerpiece of this year's election season, many in the state said the secretary of state race was even more emblematic of long-standing tensions with the state's political establishment, drawing clean battle lines between the Cheyenne establishment and the Trump-aligned activists that have come to define the Wyoming Republican Party.
While Nethercott largely stuck to a policy-driven agenda on the campaign trail, Gray went on the offensive, spending more than $400,000 in a campaign primarily bankrolled by his father with numerous attack ads, robocalls and a last-ditch text messaging campaign featuring numerous inaccurate statements about his opponent. Nethercott was also widely outspent, with Gray's father's loans to his son's campaign more than doubling what Nethercott raised for the entire campaign.
But he also did what Nethercott did not: He embraced claims that the 2020 election in the state, which Trump won by roughly 40 points, was potentially compromised.
"What Chuck has been successful at doing is addressing the concerns of many Wyoming citizens in that the biggest danger in any election is the lack of certainty," said David Iverson, a conservative podcast host and political activist. "I think that that's what he's been able to tap into. Tara, on the other hand, she's just kind of written it off, that 'I know this isn't happening, this is an absolute, and we shouldn't even discuss it.'"
It was also an unusual race by Wyoming standards. Though the secretary of state is second in line to the governorship, races to fill the seat are often uncontentious, rarely attracting significant spending or media attention.
This year was similar. While the number of votes in the 2022 Republican primary eclipsed the previous election by more than 40,000 ballots in all, nearly 14,000 Republicans did not even vote in the secretary of state primary, roughly equivalent to the number of votes Nethercott would have needed to win.
"Traditionally down-ballot races are not contentious as congressional and gubernatorial races," said Jim King, a political science professor at the University of Wyoming.
But 2022 was also a very different type of election in the state. After a highly divisive 2020 primary season that saw numerous Republican incumbents lose their seats from challengers on their right flank, Wyomingites said the political environment in 2022 was even more corrosive, with Cheney's race—and the shadow of Trump-styled populism— weighing heavily on races down the ballot.
"I don't think it's gotten any softer," said Republican Cale Case, a Nethercott supporter and longtime state senator from Lander who narrowly won his bid for re-election Tuesday night. "If anything, it's gotten more brutal."
While Gray has served in the Wyoming House of Representatives since 2016, he has cast himself as a political outsider in Cheyenne, prone to conservative platitudes around banning abortion, propping up the state's coal industry, rampant government spending and voter fraud.
That persona has played into the themes of his campaign as well. In July, Gray made an appearance with state Republican officials at aJuly campaign rally in Lander with a number of other anti-establishment conservatives in an event observers said put the fractures of the state's Republican Party on full display.
On the campaign trail, Gray has held screenings of Dinesh D'Souza's documentary 2,000 Mules—which critics say uses flawed data analyses to allege rampant fraud in the 2020 presidential elections—and regularly claimed the election was rigged against Trump. In the legislature, Gray led unsuccessful efforts to audit the results of the state's elections.
But Gray's antics proved inflammatory, drawing public rebukes from a number of his statehouse colleagues and heightened scrutiny around his campaign activities. Republican state Representative Evan Simpson accused him of misleading the public about his role in crafting the state's 2021 voter identification law.
Former Secretary of State Max Maxfield filed a formal complaint against Gray weeks before the election alleging he had illegally underreported income from his father during his campaign and a failed bid for Congress earlier this year, while an investigation by the news site WyoFile said that Gray's father has failed to comply with state registration requirements for a number of the family's radio stations around the region.
As hardline conservatives amassed around Gray, top figures in the state like former House Speaker Steve Harshman and U.S. Senator Cynthia Lummis threw their support behind Nethercott, while former state Senate President Dan Dockstader told Newsweek that he ultimately decided to drop his bid for secretary of state to back her, out of fear he would split the vote, drawing clear battle lines between the electorate.
"Rarely do you see a statewide elected official coming out and endorsing in what is clearly a contentious battle in the Republican Party," Dave Picard, a longtime Republican strategist in the state, told Newsweek.
Ultimately, the secretary of state race better defined where battle lines in Wyoming truly lie. While Cheney's 40-point loss almost perfectly mirrored Biden's in the state, observers say Nethercott's narrow defeat represents the true barometer.
"I think it's just as clear between the establishment and the grassroots," Mike Pyatt, a Gray supporter and GOP activist from Casper, said in an interview.