Four national polls from the past week have shown Democrats favored by more voters to control Congress compared to Republicans, as many analysts and GOP leaders continue to express confidence that the liberal party will lose control of at least the House and possibly the Senate in the November midterm election.
Recent historical precedent shows that the party of the president in the White House generally loses House and Senate seats in the midterm of the president's first term. Democrats control both legislative chambers with slim majorities, meaning even just a few losses could shift control of Congress to Republicans. Meanwhile, polls consistently show President Joe Biden's approval rating at historic lows, which many see as a bad sign for Democrats' chances of winning in November.
Despite the grim expectations for Democrats, four separate polls published since last Friday have shown them with more support than Republicans among voters.
The Georgetown Institute of Politics and Public Service Battleground Civility Poll conducted by Lake Research Partners/The Tarrance Group and published Thursday showed Democrats narrowly ahead of Republicans in a generic congressional ballot by 2 points. The liberal party was backed by 48 percent of voters compared to 46 percent who supported the conservative party.
The survey included 1,000 registered voters with a margin of error of plus or minus 3.5 points.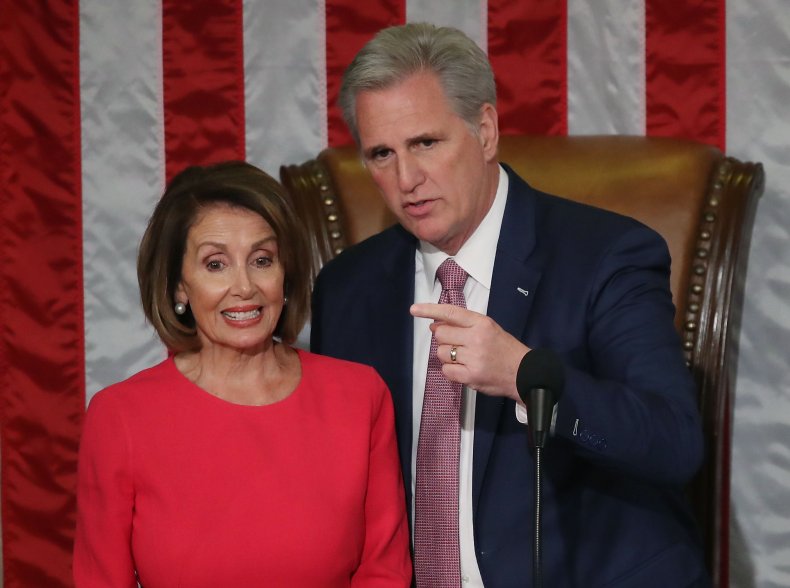 Another poll conducted by USA Today/Suffolk University from July 22 to 25 showed Democrats 4 points ahead. That survey had Democrats backed by 44 percent of registered voters compared to 40 percent who supported Republicans. Notably, the same poll carried out in mid-June showed Democrats and Republicans tied at 40 percent—meaning Democrats have gained 4 points.
The survey included 1,000 registered voters with a margin of error of plus or minus 3.1 percent.
Survey results from The Economist/YouGov from July 23 to 26 had Democrats 6 points ahead of Republicans. That poll showed the liberal party with 44 percent of support compared to 38 percent backing the conservative party. Again, that marked a shift in favor of Democrats. Earlier in July, the results were 43 percent for Democrats and 40 percent for Republicans, meaning Democrats gained 3 points.
The poll included 1,311 registered voters with a margin of error of plus or minus 3.1 points.
Polling by Politico/Morning Consult, which was carried out from July 22 to 24, showed Republicans trailing Democrats by 4 points. The liberal party was supported by 45 percent of registered voters and the conservative party had the backing of just 41 percent.
The survey included 2,006 registered voters and had a margin of error of plus or minus 2 percent.
Notably, a poll conducted from July 20 to 22 by Trafalgar Group showed dramatically different results, with Republicans leading by 8 points. That survey had the GOP at 48 percent on the generic congressional ballot and Democrats at just 40 percent. It included 1,085 likely voters and had a margin of error of plus or minus 2.9 percent.
Generic congressional ballot polls are an imprecise way to gauge which party is more likely to win in November. Each House race is decided in an individual district with its own particular dynamics, while Senate races are decided state by state. The national sentiments captured in these polls do, however, suggest that a larger number of voters appear to favor Democrats over Republicans.
When it comes to the Senate, news and polling analysis site FiveThirtyEight's election model late on Tuesday showed that Democrats had a 52 percent chance of keeping the Senate majority, while the Republicans had a 48 percent chance of taking it. This marked the first time the model showed Democrats with an edge ahead of the November midterm.
As of Thursday afternoon, the FiveThirtyEight model predicted that Democrats may actually pick up three seats, bringing their total to 53 in the Senate. Republicans are predicted to likely lose three seats, dropping their total down to just 47.
Meanwhile, historical precedent is on Republicans' side.
In June 2021, the University of Virginia's Center for Politics released an analysis of midterm elections going back to 1946. That report showed that a president in power, on average, loses more than 26 House seats during the midterms. The largest loss has been 64 seats, while the largest gain has been just eight seats.
The analysis showed similar results in the Senate. On average, the president's party has lost more than three seats in the Senate during the midterms. The biggest loss has been 13 seats, while the largest gain has been just four seats.