The Rock's New Movie 'Red Notice' Throws Serious Shade at Vin Diesel
Dwayne 'The Rock' Johnson and Vin Diesel are very much the Bette and Joan of their time, with a feud that has played across social media posts and tabloid articles.
Red Notice contains the latest shot fired by The Rock at his former co-star. For the most part, the film (in theaters now and streaming on Netflix from November 12) is a twisty heist drama starring Johnson, Ryan Reynolds and Gal Gadot as an FBI agent and two art thieves respectively. However, the film finds a moment to have a joke at Diesel's expense.
The release of the film onto Netflix comes a few days after Diesel reached out to Johnson on Instagram and asked the Luke Hobbs actor to return to the Fast & Furious franchise.
Johnson has also spoken to press about his latest dig at Diesel (and don't worry: no spoilers for the plot of Red Notice here).
What is the Vin Diesel joke in Red Notice?
The joke comes about one hour, 46 minutes into the movie, where Johnson's John Hartley is talking to Reynold's Nolan Booth. The exchange is as follows:
Hartley: "Know what I think is funny, Booth?"
Reynolds: "Vin Diesel's audition tape for Cats? It exists."
In an interview on The Jess Cagle Show, Johnson was asked about how these jokes find their way into his films. The wrestler-turned-actor said: "They just find a way. It's interesting, these Vin Diesel jokes—which play great, by the way, to the audience, which is always a good thing, because it's really all about them – but people think these jokes come from me and they actually don't...
"You'd be surprised with how many people come to me with, 'I've got a great one! I've got another great Vin Diesel joke!' It's always funny."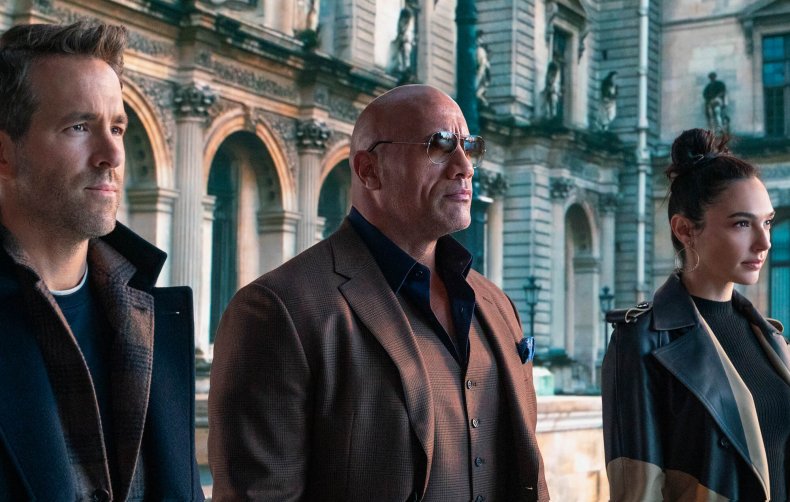 Of course, what Johnson does not mention here is that he could very well say no to those jokes being in his film—he is, after all, a producer on Red Notice.
In another interview with Entertainment Tonight, he blames co-star Ryan Reynolds for the joke: "You know, Ryan loves to improv, and I love that...that was Ryan. He came up with that. He came up with a few of them, and I thought that was the one that could be funny."
Red Notice is not the first Rock movie to have a Diesel joke. In Fighting with my Family, for example, we see Johnson, playing himself, calling the wrestling-loving father of Paige (Florence Pugh).
When Johnson introduces himself, Paige's father (Nick Frost) says: "Yeah, and I'm Vin Diesel, mate," and then hangs up.
This joke comes a few days after Diesel wrote on Instagram: "My little brother Dwayne... the time has come. The world awaits the finale of Fast 10. As you know, my children refer to you as Uncle Dwayne in my house.
"There is not a holiday that goes by that they and you don't send well wishes... but the time has come. Legacy awaits."
Sadly, it does not seem that Diesel really auditioned for the cast of Cats (though he would be pretty good casting for Growltiger, the role played by Ray Winstone in the movie). A number of actors, however, have come forward and confessed they auditioned for the notoriously poorly received musical.
In the Heights' Anthony Ramos released his audition for Rum Tum Tugger (Jason Derulo) onto his Twitter, while The Trip star Rob Brydon revealed he auditioned for Growltiger on British TV show Would I Lie to You. Former Pussycat Doll Nicole Scherzinger, meanwhile, claimed to The Guardian that the casting director refused to see her for the role of Grizabella (Jennifer Hudson), despite having been nominated for an Olivier for performing it on London's West End.