Brother Dragged Over Reason He's Demanding Family Heirloom Is Returned
A man has been slammed for wanting a family heirloom back after finding out it's worth far more than he thought.
In a now-viral Reddit post, u/Delicious-Quality-87 explained they have always been interested in their baby boomer great aunt's belongings from the middle of the last century.
"One of the weird things about her was that she would give her old belongings as gifts for weddings and important birthdays. I still have the music box she gave me for my First Communion," they wrote.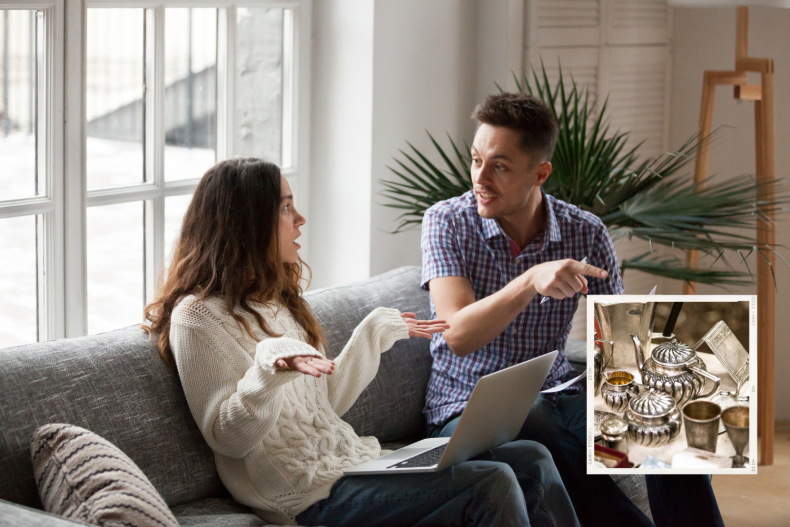 The original poster (OP) states the items were distributed to aunts and cousins, but they have since gained six extra pieces from cousins who wanted to downsize their collection.
The OP states they are 15 years older than their eldest brother, who tied the knot when they were 14.
They wrote about the wedding: "At his gift opening, I saw he got one of her usual gifts. I also saw his wife's face. She was not super grateful. I made sure he knew that I thought it was beautiful but I didn't ask him to think of me if he wanted to get rid of it. I thought he might like to pass it on to his kid one day."
When the aunt passed away, she left the last of her collection to the Redditor, who got married in September 2022.
Their brother regifted his wedding gift from their beloved aunt for her wedding.
"He thought it was super funny. Then he gave us our "real" gift from our registry.
"I thanked him profusely for both," they said.
More recently, the brother saw the collection in the Redditor's home and began to google how much the items were worth. He discovered the figurine he regifted was about $6,700.
This led to an argument and he wants it back, however the OP has refused as they intend on regifting the items to the younger generation on special occasions, just like their great aunt.
In fact, the figurine is set to go to the brother's daughter for her first communion along with an information booklet from the aunt.
"I know exactly who I got each piece from. And they are all going back to that family.
"He says I'm being mean by accepting a gift from him that is worth so much.
"I asked him if he ever bothered looking up the value of what he was giving me. He said he thought it was like precious moments or Hummel," they wrote.
The 'Value' of the Gift Is Gravely Misunderstood
Art Shaikh, the CEO of DigitalWill.com, spoke to Newsweek exclusively about the Reddit post that has 13,400 upvotes.
He said: "Inherited items from beloved family members can make a unique gift for other family members, especially younger generations. When re-gifting something that was inherited, it would be wise to tell the story of where the piece came from and why it is so important or precious.
"Too often, the story behind family heirlooms is lost due to a lack of history and record keeping. It helps to leave these items in a digital will for family members with a written explanation behind them so that the recipient is aware of the significance of the item.
"With regard to this specific Reddit post, by the OP's brother. He is more concerned with monetary value, while the true value of these types of gifts is in the history and tradition that they have gained over the years."
What Do the Comments Say?
Almost 1,000 Redditors have commented since it was posted on February 11.
The top comment has over 19,000 upvotes, it said: "NTA. He only wanted it when he found out it has monetary value. You want it for its sentimental value and to pass on to his daughter? Very sweet of you really."
"Although it's sweet you want to pass it on to his daughter, be careful with it, I reckon he's just gonna take it and sell it. OP NTA," backed another.
Another warned: "NTA. He would have sold it rather than gift it to you. And be ready for him to do exactly that when you give it to their baby for communion."
Newsweek reached out to u/Delicious-Quality-87 for comment. We couldn't verify the details of the case.
If you have a family dilemma, let us know via life@newsweek.com. We can ask experts for advice, and your story could be featured on Newsweek.