Reese Witherspoon Teases Jennifer Aniston, Jon Hamm 'Morning Show' Romance
Reese Witherspoon teased some upcoming romance in the latest season of The Morning Show, telling fans they can expect to see some action between one of the show's stars, Jennifer Aniston, and newcomer, Jon Hamm.
"We are beyond excited," the Legally Blonde star said of their new cast addition during an appearance on the Tonight Show with Jimmy Fallon. "He's the greatest!"
Fallon pressed Witherspoon for some spoilers, but the actress remained tight-lipped.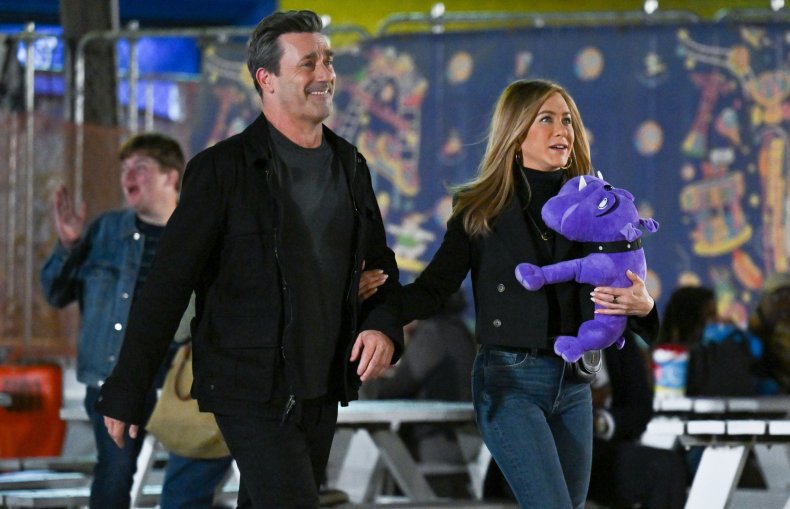 "All I know is, he's amazing, he's great," Witherspoon said before suggesting that romance is on the cards between Hamm and Aniston's characters.
"He has a whole—some scenes with Jennifer Aniston," she said suggestively.
"Ohh that's a little hot goss right there," Fallon exclaimed before Witherspoon added: "That's a little tea."
Fans of the show were delighted to hear that the Mad Men star was announced as a new cast member for Season 3 earlier this year.
Hamm will appear in the third season of the drama series and Variety reports that his character, Paul Marks, is a corporate titan with his sights on UBA, the show's fictional network.
Hamm briefly discussed his casting in the series during an earlier appearance on Fallon.
"And The Morning Show. I get to hang out with Aniston," he said in September.
"Reese Witherspoon, Billy Crudup. Great cast, great people—I can't really get into it," he said.
Aniston and Hamm were spotted filming scenes from the upcoming series in New York City in September, and it definitely looks like the characters are on a date.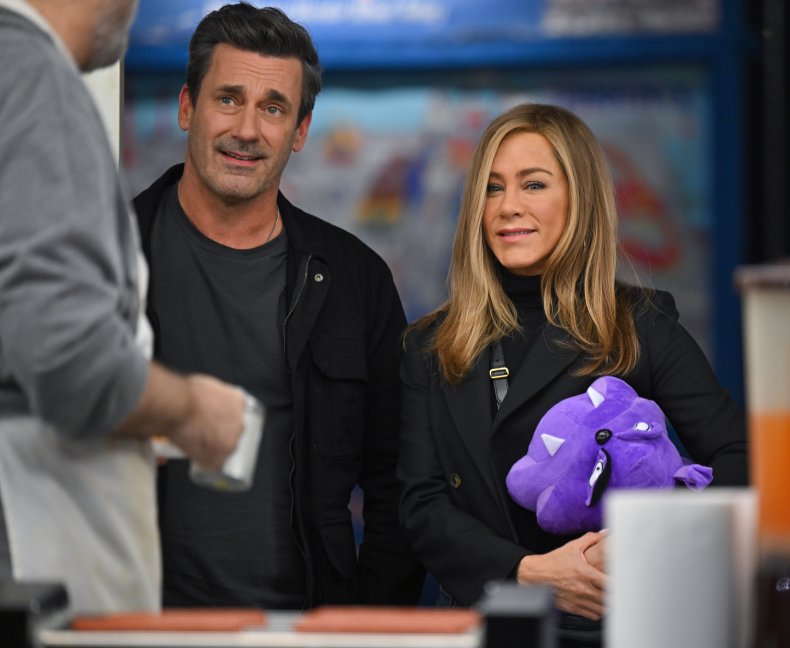 Hamm also recently delighted Real Housewives fans when he revealed he is a huge fan of the Bravo reality TV franchise.
The Mad Men star discussed his love for the long-running reality series during an appearance on SiriusXM's The Howard Stern Show in September.
The 51-year-old said when he and his girlfriend, Anna Osceola, are cooking dinner, they love to watch TV, specifically the Real Housewives of Beverly Hills.
"I'm fascinated by it, I really am," Hamm told Stern of RHOBH, adding: "I resisted it for decades I thought it was the low-hanging fruit, the lowest common denominator."
Elsewhere in the interview, Hamm discussed his new relationship and said he is "very much" in love with his new girlfriend, Anna Osceola.
"It's good and comfortable and it's a feeling about taking care of someone else and being taken care of," Hamm said about his relationship and added that he "could for sure" see himself settling down.