Reese Witherspoon's Look-Alike Daughter Ava Flaunts Tattoos on Red Carpet
Reese Witherspoon's daughter, Ava Phillippe, showed off her tattoos while attending a Louis Vuitton event in Beverly Hills.
The 22-year-old walked the red carpet on Thursday, July 28, for the "200 Trunks, 200 Visionaries" exhibition on L.A.'s famed Rodeo Drive. She posed for photos wearing black shorts and an edgy black vest over a white top. Her exposed arms revealed several tattoos, one of which seemed to be new.
An "Admit One" ticket on her forearm was not in photos Phillippe shared of herself via Instagram back in May. However, the ink did make an appearance on Witherspoon's social media on July 10.
"Love sharing sunsets with my girl," the Morning Show actress, 46, captioned an Instagram photo with her mini-me in an unknown tropical location, "*esp when she fixed my makeup."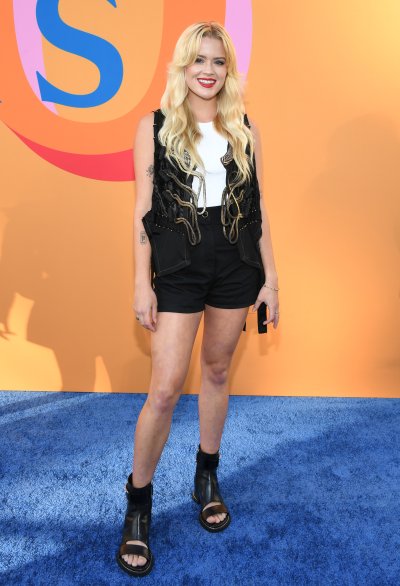 "Love you mama!!" Phillippe commented underneath the image.
"We all need a gorgeous twin daughter who fixes our makeup," Witherspoon's Legally Blonde co-star Selma Blair added, while The Help star Octavia Spencer said, "Twinning! #gorgeous."
The mother-daughter duo is often compared because they look so similar.
In an interview with Gayle King for InStyle in November 2021, Witherspoon was asked about their uncanny features.
"People always love watching you and Ava together because, honestly, nobody can deny that she is your daughter," King, 67, said. "Do you enjoy the reactions you get from people when they see you two together on social media?"
In response, the producer admitted that she loves "being mistaken for her" because "it makes me feel so young."
"I'm so proud of her. She really rolls with it," she said. "I'm sure it's not easy looking exactly like your mother."
King respectfully disagreed with the Academy Award winner, saying, "When mama looks like you, it's very easy."
The mother of three shares Ava and son Deacon with ex-husband Ryan Phillippe and son Tennessee with husband Jim Toth. During the same chat with the CBS Mornings co-anchor, she revealed her parenting trick for when her daughter gets "frustrated" by the comparisons.
"We talk to Zoë Kravitz a lot," Witherspoon said. "Because she and her mother look exactly alike, so whenever Ava is frustrated, I go, 'Call Zoë. Text Zoë. She knows what to talk about.' I mean, that's another mother-daughter combo that's, like, identical twins."
Despite getting a movie ticket on her arm, the UC Berkeley graduate doesn't sound eager to follow in her parents' footsteps.
"I don't see it out of the question, certainly," Phillippe, whose father is also an actor, told E! post-graduation. "I'm not so sure on where I'm going yet."
As for whether Witherspoon has any tattoos, she has a rather large piece of body art on her stomach of a star surrounded by two birds.
Newsweek reached out to Phillippe and Witherspoon for comment.