Britney Spears' Fiancé Responds to Octavia Spencer's Apology for Prenup Joke
Britney Spears new fiancé, Sam Asghari, said "misconceptions come with the territory" after Octavia Spencer apologized for joking "Make him sign a prenup," in response to the couple's engagement.
Pop superstar Spears, 39, announced on Sunday that she was engaged to model, actor and personal trainer Asghari, 27.
Oscar-winning actress Spencer, 51, was among the thousands who commented on the post. But on Wednesday, the Hidden Figures star walked back on her remark, saying that she intended to "make them laugh" rather than "cause pain."
Posting a picture of the newly engaged couple on her Instagram account, Spencer wrote: "Y'all, a few days ago Sam and Britney announced their engagement and me being me I made a joke. My intention was to make them laugh not cause pain.
"I've reached out to this lovely couple privately to apologize and now want to restore just a smidge of happiness they were robbed of. Britney's fans have seen her through a lot of pain and she's found happiness. We're thrilled for her. So let's show them love."
Responding to Spencer's post, Asghari wrote: "You are very kind to clarify but i have no hard feelings whatsoever. Jokes and misconceptions come with the territory."
Taking to his Instagram Story hours after the engagement announcement, he also quipped: "Thank you everyone who is concerned about the prenup! Of course we're getting iron clad prenup to protect my jeep and shoe collection in case she dumps me one day."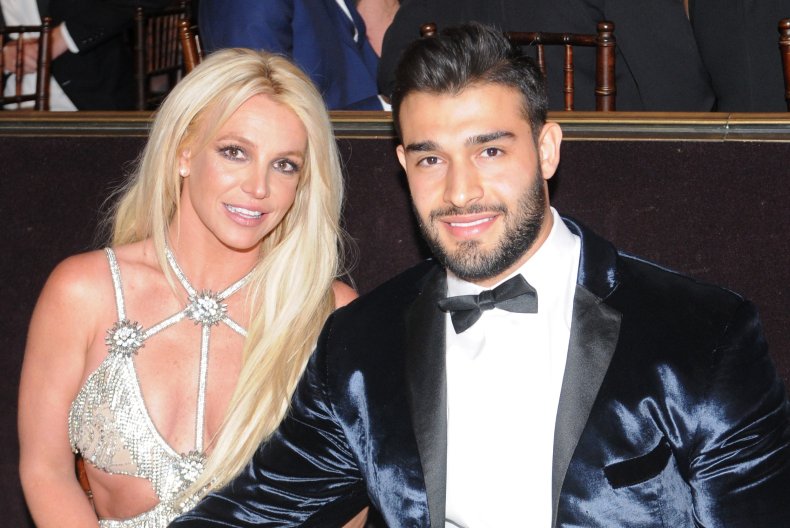 Spears has yet to publicly respond to Spencer's post, after deactivating her Instagram account—which boasted more than 34 million followers—on Tuesday.
Amid speculation over the reason behind her account unceremoniously vanishing, Spears took to Twitter on Tuesday to explain.
The mother-of-two wrote: "Don't worry folks ... just taking a little break from social media to celebrate my engagement !!!! I'll be back soon."
Days before deleting her Instagram account, Spears shared the news of her engagement to Asghari with a celebratory video, in which she showed off her diamond ring.
"The couple made their long-standing relationship official today and are deeply touched by the support, dedication and love expressed to them," Asghari's talent manager, Brandon Cohen, told Page Six in a subsequent statement.
The lovebirds met on the set of Spears' "Slumber Party" music video back in 2016, and were publicly romantically linked months later.
In an interview with Forbes, which was published in March, Asghari spoke about his desire to settle down and have children with Spears.
"My priorities in life are to remain humble and understand where I came from and where I'm going," he said. "I want to take my career to the next step when it comes to acting. I want to take my relationship to the next step, as well. I don't mind becoming a father. I want to be a young dad."
During a Los Angeles court testimony over her conservatorship in June, Spears also spoke about the barriers she faced in her own wish to have more children.
She said: "I would like to progressively move forward and I want to have the real deal, I want to be able to get married and have a baby.
"I was told right now in the conservatorship, I'm not able to get married or have a baby, I have an IUD inside of myself right now so I don't get pregnant. I wanted to take the IUD out so I could start trying to have another baby."
Spears shares two sons—Sean Preston, who turned 16 on Tuesday, and Jayden, who celebrated his 15th birthday on Sunday—with ex-husband, Kevin Federline.
Her father, Jamie Spears, recently filed a petition to step down from her conservatorship after 13 years of overseeing her personal and professional life.
Jodi Montgomery, Britney Spears' personal conservator, remains onboard, overseeing the singer's personal affairs.
The next court hearing on the case is scheduled to take place on September 29.