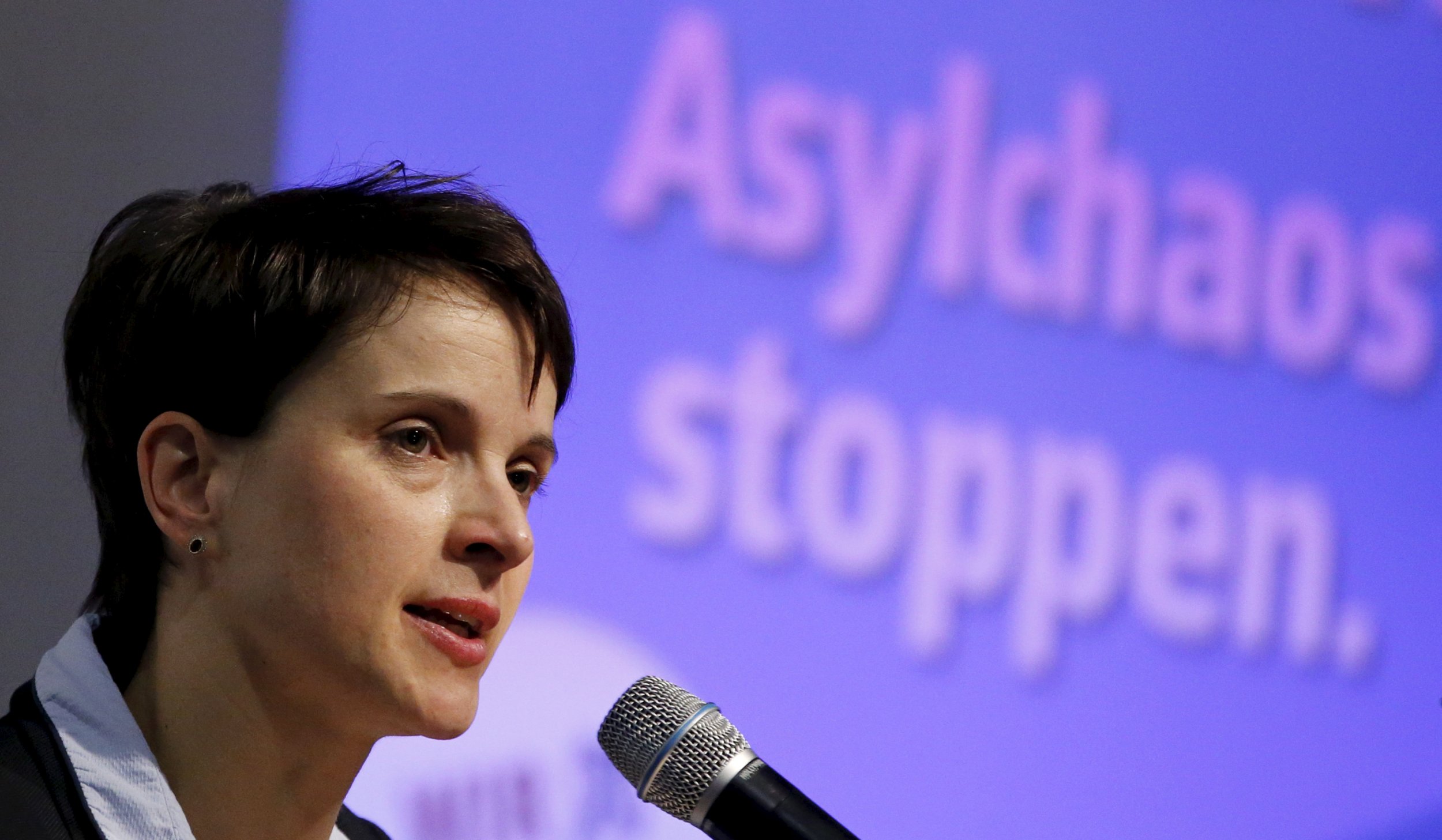 A rising anti-immigrant party has registered a strong result in Germany's municipal elections, just a week before crucial state polls.
The Alternative for Germany (AFD), a right-wing group whose growth is being watched with increasing alarm by center-right Chancellor Angela Merkel and the rest of Germany's political establishment, placed third in a round of elections in the central German state of Hesse at the weekend.
Preliminary results, which will be formally confirmed later in the week, put the AFD at 13.2 percent, Deutsche Welle reported, making it the third-largest party. The party was founded in 2013, after the last round of local elections in 2011.
Merkel's Christian Democratic Union (CDU) narrowly placed first with 28.2 percent, ahead of the Social Democrats (SPD) at 28 percent. The CDU result was a slump from its 33.7 percent score in 2011, while the Greens collapsed from 18.3 percent in 2011 to 11.6 percent, according to Die Welt.
The result is notable because it comes a week ahead of elections to the state legislatures of Baden-Württemberg, Rhineland-Palatinate and Saxony-Anhalt scheduled for March 13. Those elections will be seen as a key test of Merkel's chancellorship.
The AFD's swift rise has likely been driven by the ongoing migration crisis, which saw over a million refugees arrive in Germany in 2015. Charismatic leader Frauke Petry has shifted the party away from its purely euroskeptic roots towards a stance which captures popular disaffection with mass immigration. Merkel, by contrast, has taken heavy flak for her liberal stance toward migrants and refugees.
"First of all, we need to work towards controlling the borders and deporting a lot of people who are in Germany without having the right to be here," Petry told Reuters at the weekend.
The AFD is polling at 19 percent in Saxony-Anhalt, 13 percent in Baden-Württemberg and 9 percent in Rhineland-Palatinate. In all three states it needs only 5 percent to obtain parliamentary representation.
Established parties may also be anxious that, in this weekend's Hesse elections, the AFD performed better than the polls predicted. In Frankfurt, for example, it took over 10 percent despite one poll shortly before the vote putting its support at 6 percent.