The Brief, Radical History of the 'Refugees Are Welcome Here' Poster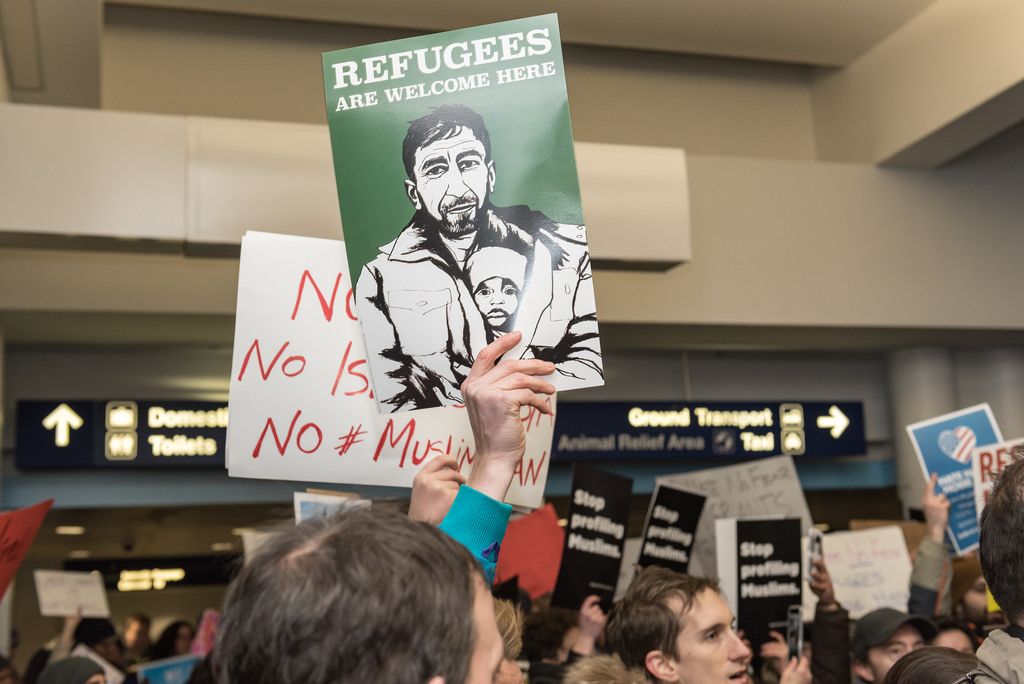 You may have seen one of Micah Bazant's posters in the window of a local business or, more recently, at a protest somewhere in America. After President Donald Trump signed an executive order limiting immigration and suspending the U.S. refugee resettlement program last week, you're probably going to start seeing a lot more of them.
Bearing the words "Refugees Are Welcome Here" written in white on a blue or green background, the poster features a hand-drawn portrait of a displaced man with a baby tucked into his coat. The anguished pair represents the global face of the largest refugee crisis in recent memory, where 65 million people have been displaced from their homes around the world.
Related: Iraqi-American citizen details her detention at the U.S.-Canada border
The posters have been a common sight at several U.S. mass demonstrations so far this year, whether it was the Women's March in Washington, D.C., and others around the country or the protests against Trump's executive order. Thrust into the air alongside handmade signs and several new posters by artist Shepard Fairey, who is best known for his "Hope" image of Barack Obama in 2008, Bazant's posters will likely become a historic visual marker for this bizarre and painful time in the history of U.S. immigration.
A 43-year-old visual artist, Bazant came up with the idea for a poster in 2015, when the already four-year-long Syrian conflict was starting to gain more attention in the U.S. media and among the public. Tens of thousands of refugees and migrants took to unsafe boats that year and embarked on journeys across the Mediterranean, mainly from Turkey to Greece and the presumed safety of the European Union. Deaths at sea were frighteningly common, but none garnered as much attention as that of Aylan Kurdi, a 3-year-old Kurdish boy who came to symbolize the plight and desperation of the world's forcibly displaced.
"[It was] an urgent moment on a global scale," says Bazant. "It was a moment that felt like we could do more good if we made it happen quickly."
Bazant created the poster in 24 hours, and with the help of the organization Jewish Voice for Peace, he printed and sent the posters to 25 U.S. cities. Bazant based the drawing on a man and child in a photo taken at a refugee camp. "I wish I knew who that father was," Bazant says.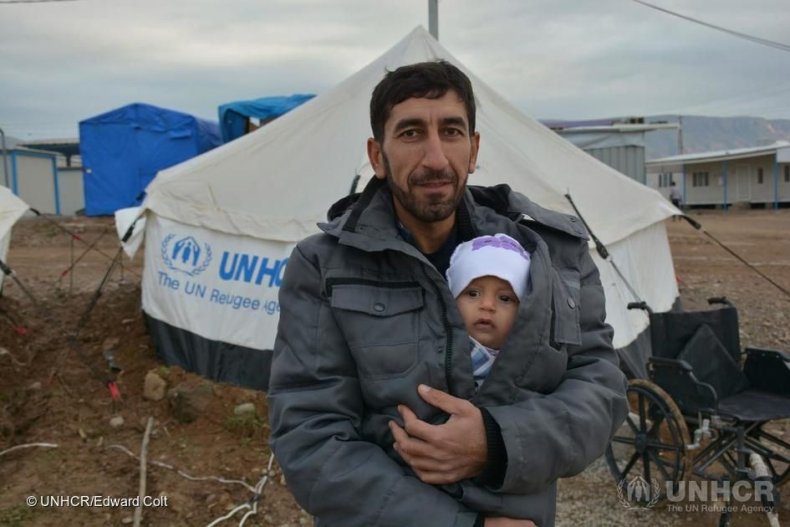 That photo was taken December 2014 by photographer Andrew McConnell. Ned Colt, a former journalist with NBC News, took a similar image (seen above) for the U.N. refugee agency. (Colt died in 2015 from a stroke.) Little is known about the identities of the pair in the photo and, therefore, on the poster. Their names are Esam, then 34, and Rawan, his infant son. Both are Syrian refugees and were living in the Basirma refugee camp in northern Iraq at the time.
The words on the poster are a different matter. Aurora Levins Morales, a Puerto Rican Jewish poet, suggested the phrase "Refugees Are Welcome Here," telling Bazant she was inspired by posters from the 1970s that supported black female activists Assata Shakur and Angela Davis. In 1979, Shakur, a member of the Black Panther Party, escaped from a New Jersey prison and later fled to Cuba. As a fugitive, she was added to the FBI's most wanted list. Posters supporting her declared, "Assata Shakur is welcome here" and featured the same FBI photo.
Jewish Voice for Peace made the "Refugees Are Welcome Here" posters available to download online, and they went "viral" in 2015, says Bazant. That first wave of the posters led to "local people using them to go around in their neighborhoods and have one-on-one conversations with business owners and community spaces about xenophobia, racism, Islamophobia, issues facing refugees," says Bazant, whose posters were often accompanied by others that said, "Stop Profiling Muslims."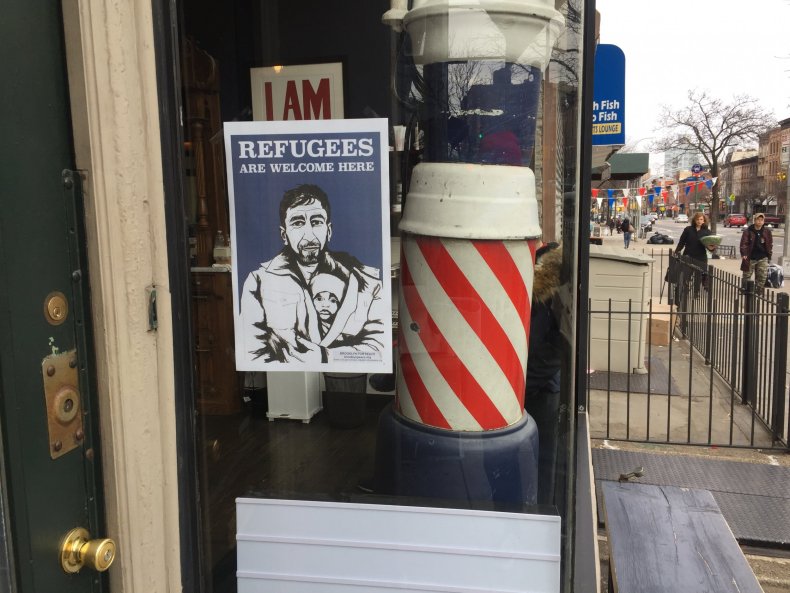 Celebrities and high-profile artists, including Hamilton creator Lin-Manuel Miranda and actress Olivia Wilde, shared the poster on social media shortly after its creation.
"It's so important that people are having those one-on-one conversations, and very local neighborhood canvassing in Kentucky, Montana, in Brooklyn," says Bazant.
The poster's second wave appeared to start after Trump's inauguration—and certainly after he signed the anti-immigration executive order. The sign was seen last weekend at airports across the U.S., where protesters rallied and waited for detained people, including green card holders, to be released by Customs and Border Protection agents.
"I'm so glad they are useful in urgent, huge protests," says Bazant.
He considers the executive order to be illegal, immoral and racist. "It's not going to create any more safety or security. It's just going to further destroy the lives of ordinary people who are fleeing countries that have been militarily and economically razed by the U.S.," he says.
"As a Jewish person, I feel like this is all stuff we've seen before," Bazant points out. "All my very large extended family was killed because so few countries were accepting Jewish refugees. For me, resisting religious discrimination and racist criminalization of refugees is a moral and spiritual imperative. When we say 'Never again,' that means 'Never again for anyone.'"
Asked how it feels to see the posters held high at nationwide protests during a historic and tumultuous time, Bazant has a simple, humble answer: "This has gotten way bigger than me. The art has its own life."