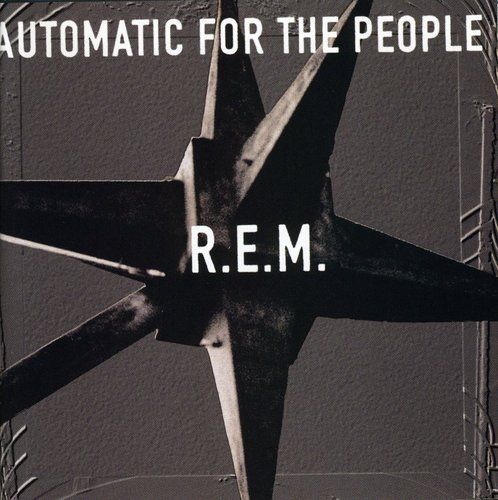 You can learn a lot about an R.E.M. album from its first 10 seconds. The thunderous drums and ringing guitar at the start of 1987's Document signaled a dramatic upgrade to big-league production. The playful banter that begins 1991's Out of Time set the tone for a bright, guest-studded pop album. Monster opens with a roar of distorted guitar, which scarcely lets up for 49 glorious minutes. Up (1998) is all electronic clicks and gurgles at first, indicative of yet another stylistic shift.
But eager fans who slipped the band's 1992 masterpiece, Automatic for the People, into their CD players (or cassette decks) were greeted with an uncharacteristically somber beginning. "Drive" starts with a minor-key acoustic riff, then Michael Stipe's cryptic vocals, then majestic strings and guitar distortion. The song moves hypnotically, almost wearily forward, its odd, ambling tempo a stark departure from R.E.M.'s previous hits, jovial rockers like "Stand" and "Shiny Happy People." It was the perfect introduction to the album's meditative sorrow.
Automatic for the People, released 25 years ago Thursday, is an indelible record that stands as a classic not because it defined an era or trend but because it dared to be out of step. (You could say Automatic was—forgive me—out of time.) In 1992, grunge reigned, not just as a musical genre but as a fashion and lifestyle brand. Amid the flannel-clad masses, R.E.M., a holdover from a previous decade (having formed in 1980), was recast as a veteran act.
Nirvana's Nevermind was selling a quarter-million units a week, a reality that only a year before seemed unfathomable. Guitars—distorted, mangled, loud—were having a moment, even when they got smashed by Kurt Cobain at the end of a set. And here were four dorky guys from Georgia lugging mandolins and oboes into the studio?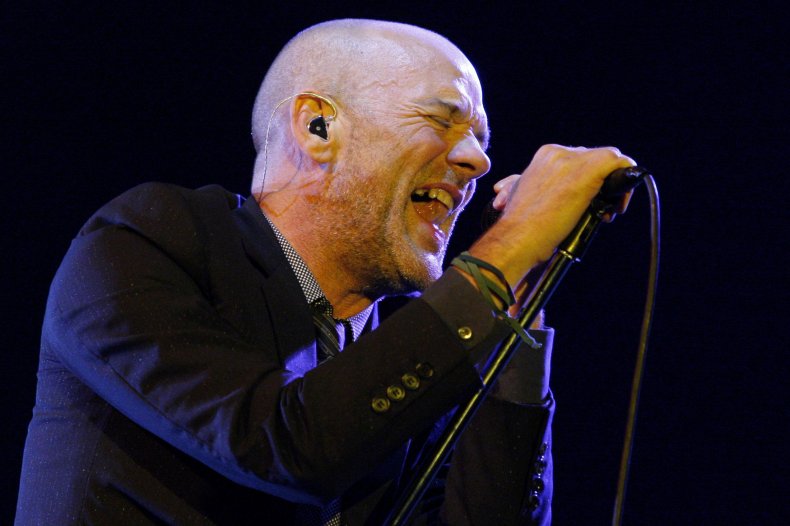 It was bold. "I think Automatic was a punk record," Stipe told Newsweek in a 1994 interview. "I really do. It flew in the face of everything that was going down musically at the time. It was beautiful. It was quiet."
Related: Reclaiming 'Monster': Reflecting on R.E.M.'s most misunderstood album with Michael Stipe
The gambit had paid off with Automatic's largely acoustic precursor, Out of Time, which sailed to No. 1 in 1991, largely on the strength of history's only mandolin-driven banger, "Losing My Religion." But Out of Time also had "Radio Song" and "Shiny Happy People," and a reasonably sunny disposition.
Automatic was the record R.E.M. needed to make in 1992, but not the one they had intended: The band had planned to make an uptempo set of rock songs. Instead, they wound up with a reflective meditation on loss and life's great transitions. Anchored by John Paul Jones's swelling orchestral arrangements and the band's richest set of melodies, Automatic captures a mood that was singular for the time.
Stipe was in his early 30s when he wrote the lyrics to these songs. During the '80s, his reputation was for writing oblique, even nonsensical lyrics (from "Pilgrimage": "Your luck/A two-headed cow"), which made the openhearted profundity of Automatic especially astonishing.
Lyrically, "the album reeks of death," a Newsweek critic observed at the time. "Try Not to Breathe," with its sea shanty rhythms and the soaring backing vocals of Mike Mills, takes the perspective of an old man who has "lived a full life" and is ready to die. On "Everybody Hurts," Stipe abandons obfuscation and plainly urges suicidal listeners to "hold on." (Though a mega-hit, it's the only track that hasn't aged well, lacking the specificity and pathos of Monster's similarly themed "Let Me In.")
"Nightswimming," a ballad of wrenching vulnerability, is a sort of elegy for lost youth ("These things, they go away/Replaced by everyday"). "Sweetness Follows" is lyrically and sonically devastating: A rushing cello cadence underscores an image of a family grown distant and resentful in the face of grief. It's heavy stuff. The whole LP is sequenced meticulously, with the band finding renewal and spiritual resolution on the final track, "Find the River."
Automatic has amassed a reputation for being dour and gloomy—Rolling Stone characterized its pace as an "agonized crawl"—which is understandable, though not uniformly accurate. This is still R.E.M., not Swans: The songs are tuneful and warm. Stipe, once teased for mumbling, projects his voice and outright sings. There are moments of levity, particularly "The Sidewinder Sleeps Tonite," with its enveloping strings and shoutout to Dr. Seuss. "Man on the Moon," now known from the movie of the same name, is a tender sing-along tribute to the late Andy Kaufman, complete with Stipe's Elvis impression. And "Ignoreland," the biggest outlier here, ups the tempo if not the mood as the singer rails against mendacious GOP "bastards."
R.E.M. could easily have broken up in 1990 and its reputation would have been assured: the tireless shows, the artistic integrity, the rapid-fire catalog of great, influential college-rock LPs. Instead, the band went on to make three extraordinary records in four hectic years, including this signature release, with its wisdom, adventurousness and a lived sense of mourning that feels entirely removed from the adolescent angst of the music of the day.
Cobain was among the album's fans. In that 1994 Newsweek interview, Stipe said the fourth Nirvana album was supposed to have a similar sound. "It was going to be an amazing fucking record," he said, "and I'm a little bit angry at him for killing himself. He and I were going to record a trial run of the album."
That never happened. The loss of Cobain—as well as Stipe's friend River Phoenix—set the tone for Monster, another R.E.M. album steeped in grief and pain but furious in tone. R.E.M. took its own advice: Hang on.
Automatic for the People is being reissued next month for its 25th anniversary. The four-disc deluxe reissue includes a new mix, more than 20 unheard demos and a 60-page book of photos.