Who Is Renee Sloan? Scott Baio's Wife Diagnosed With Microvascular Brain Disease
Renee Sloan revealed on social media that she is suffering from health issues affecting her brain.
Sloan, who is a stuntwoman and the wife of Scott Baio, replied to someone on Twitter who asked about how she was doing health-wise. She wrote: "Besides having 2 meningioma brain tumors, in Oct 2017 I also learned I have Microvascular Brain Disease."
Shortly after sharing the news, Baio also took to Twitter to confirm it. In addition to sharing her original tweet, he wrote: "Unfortunately, this is true. Renee is forever my rock, my life & my soulmate! Toughest person I know."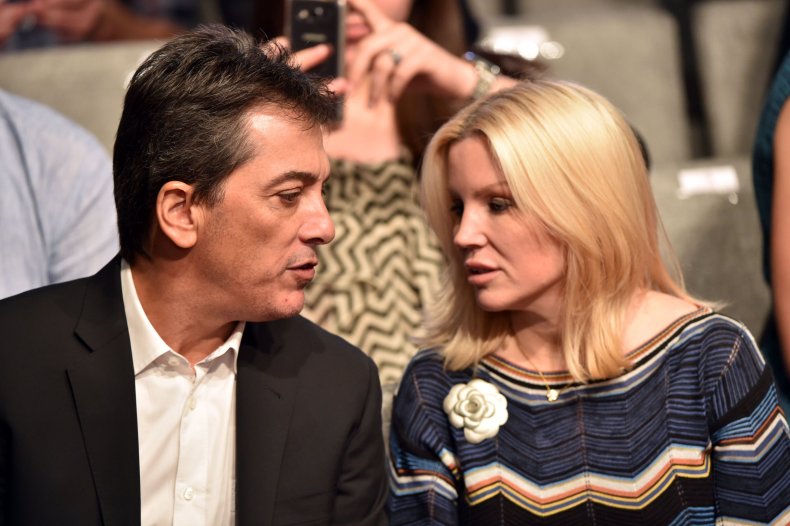 Microvascular ischemic disease involves changes to the brain's small blood vessels, according to Healthline. Those changes can go on to affect white matter, which helps with regulating nerve activity. Treatment for the disease involves various strategies such as monitoring blood pressure, lowering cholesterol and taking aspirin or blood thinner medications to help prevent strokes.
Back in 2015, Baio revealed that his wife was diagnosed with a brain tumor.
"Just a few days ago we learned my wife, Renee has a meningioma brain tumor. Although 90% of these type of tumors are benign they can cause serious problems depending on the size of the tumor and the location," the Happy Days actor wrote on Facebook.
In February, actress Nicole Eggert accused Baio of sexual assault while she was a minor, E! News reports.
"Getting the job on Charles in Charge when I was 11 was one of the most wonderful things that had ever happened to me. It represented everything good about my life and my future. My excitement did not last long," Eggert said, according to E! News.
Eggert went on Megyn Kelly Today and discussed details on the years-long assault saying that Baio groped her and tried to sneak kisses backstage, among other inappropriate behavior.
He has denied all of her claims.