Representative Dan Crenshaw, a Texas Republican and proud AR-15 owner, explained on Saturday a gun measure that he could get behind.
"Obviously I'm not giving up my AR-15. That's mine," the former Navy SEAL said during a segment on Fox News. He added that raising the legal age to buy a firearm from 18 to 21 would require changing what it is to be an adult in America, including how young people act and mature.
"So I don't think an arbitrary 21 versus 18 is really gonna change a whole lot of things when it comes to gun violence," he said.
However, the congressman does agree with expanding background checks for gun sales for those between the ages of 18 and 21 years old to include their "juvenile history."
"That makes a lot of sense...if you're 18 and you have a terrible juvenile history, but we can't look at it in the background check...we should be able to look at that," Crenshaw said. "That should be part of the analysis on your background check."
Plague of Gun Violence
His remarks come after 18-year-old Salvador Ramos killed 19 children and two teachers at Robb Elementary School in Uvalde, Texas, last month after he legally purchased two AR-15-style rifles a few days before the shooting. Another mass shooting happened just 10 days before in Buffalo, when 18-year-old Payton Gendron killed 10 Black people at a grocery store.
In light of Senate talks about legislation to address gun violence, Texas Senator John Cornyn argued this week that juvenile records should be included in the background check system, according to NBC News. He proposed a measure that would place certain juvenile records for those between the ages of 18 to 21 in the FBI's National Instant Criminal Background Checks System.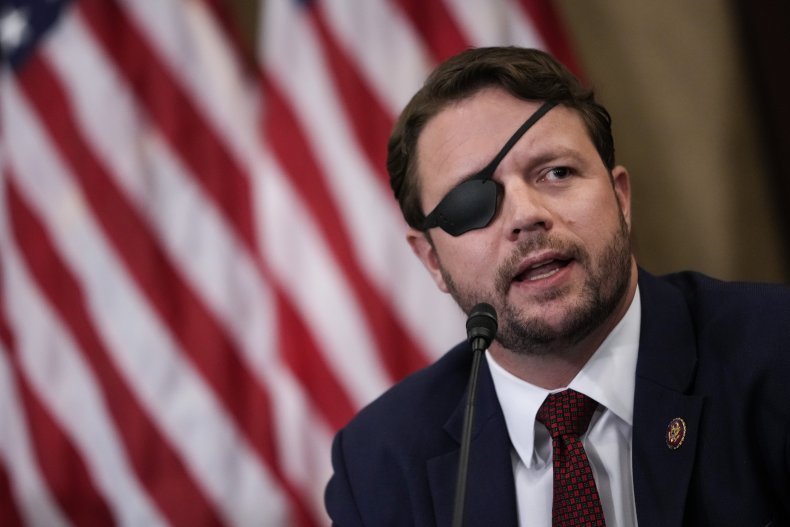 Crenshaw noted Saturday that he doesn't support passing "red flag" laws, which would allow authorities to confiscate guns from individuals who are believed to be a threat to themselves or others.
"There's a lot of misconceptions on both sides of this argument, but fundamentally with a red flag you're trying to enforce a law before it's been broken, and that's a really difficult thing to do," he said. "And I just don't think it'll have the outcome either that a lot of Democrats hope that it will."
On Saturday, President Joe Biden said that gun safety "has to become an election issue" as he praised the thousands of people who rallied for gun reform in Washington, D.C. and other cities across the country to demand action against gun violence.
"Keep marching. It's important. Look, this has to become an election issue. The way people say 'this isn't going to affect my vote,'...too many people are dying, needlessly," the president said in response to the rally. "What's being proposed in the House and Senate is marginal. It's important, but it's not all that needs to be done...the answer is march."
Mass Shootings 'Common Thread'
Crenshaw spoke about the commonalities that mass shooters might have had before those incidents happened.
"It's really hard to find a common thread through all of these people... I think most of these mass shooters do not have a father in the home," he said, by adding that "some kind of drug use is a pretty consistent thread as well through all of them, and they're all men, so there's another thing to look at."
Crenshaw was the only Texas Republican to share views on gun regulations when surveyed by the Houston Chronicle, even though the GOP controls both chambers of the state Legislature and make up the majority of the state's congressional districts. In the survey conducted by the newspaper, Crenshaw said "no" to banning assault-style weapons and high-capacity magazine, raising the age to buy assault-style weapons from 18 to 21. He also said "no" to having universal background checks.
Republicans have been hesitant to discuss gun reform as it doesn't align with their future goals as a party, according to experts.
"Gun control is a hot-button issue with conservatives," said Brian Darling, a GOP strategist and former Senate aide, The Hill reported Sunday. According to Darling, one incident that proves the unpopularity of gun reform among conservatives is the failure of a 2013 deal negotiated between Democratic Senator Joe Manchin and Republican Senator Pat Toomey that was meant to expand background checks in all commercial sales of guns.
"Republican politicians understand that supporting gun control is very bad for their future," Darling added. "It's really a terrible political idea to push these ideas and team up with Democrats to pass gun control."