Rep. Dan Crenshaw Says 'Grifters' and 'Performance Artists' Exist Among Conservatives
A video has shown Republican Texas Representative Dan Crenshaw discussing "grifters" and "performance artists" among congressional Republicans. In particular, he calls out members of the House Freedom Caucus, a group containing Congress' most right-wing legislators.
The video came from Crenshaw's speech to the Texas Liberty Alliance PAC, a grassroots group that supports candidates for the local government of Harris County and the Texas state legislature.
When discussing why Crenshaw supported two candidates endorsed by the PAC, he said, "I've been in Congress for almost three years now. There's two types of members of Congress: There's performance artists, there's legislators."
"Performance artists are the ones who get all the attention, the ones you think are more conservative because they know how to say slogans real well," Crenshaw continued. "They know how to recite the lines they know that our voters want to hear."
Crenshaw then said that during the first two years of Republican President Donald Trump's presidency, members of the House Freedom Caucus voted least in line with Trump's legislative agenda. Comparatively, Crenshaw added, Republican Illinois Representative Adam Kinzinger—a legislator often opposed as "anti-Trump" by the Freedom Caucus—voted 99 percent in line with Trump's agenda.
"We have grifters in our midst," Crenshaw said. "Lie after lie after lie. Because they know something about the conservative heart. We're worried about what people are going to do to us. What they're going to infringe upon... That's the nature of conservatism."
Crenshaw is somewhat correct in his claim that some of the Freedom Caucus' best-known members supported Trump the least during the first two years of his presidency.
Arizona Representative Andy Biggs, chairman of the caucus, voted in line with Trump 72.9 percent of the time during Trump's first two years. This made Biggs one of the GOP representatives who voted least in favor with Trump, according to the political statistics site FiveThirtyEight.
Similarly, Arizona Representative Paul Gosar, who has gained notoriety for posting a video depicting him murdering Democratic New York Representative Alexandria Ocasio-Cortez, only supported Trump with 77.8 percent of his votes during the same time period.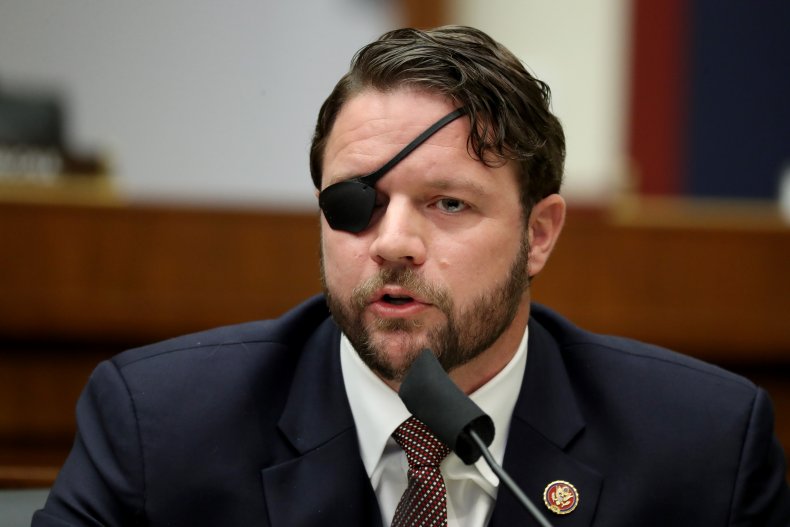 Florida Representative Matt Gaetz, only voted in line with Trump 81.1 percent of the time during Trump's first two years. When Crenshaw joined the U.S. House during the last two years of Trump's presidency, he voted in line with Trump 90.8 percent of the time.
As for Kinzinger, 99 percent of his congressional votes were in line with Trump's positions during Trump's first two years.
More recently, however, Kinzinger has become increasingly vocal against Trump, setting himself against pro-Trump Congress members, like Gaetz and Georgia Representative Marjorie Taylor Greene. Both Greene and Gaetz are among the most vocal members of the House Freedom Caucus.
Kinzinger, who will retire from Congress in 2022, continued to distinguish himself late into the Trump presidency as one of the few House Republicans who voted to certify the Electoral College victory of Democratic President Joe Biden. Kinzinger also voted to impeach Trump for inciting the January 6 Capitol riots.
But during the height of the Trump presidency, Kinzinger agreed with Trump's position on not expanding housing assistance and healthcare provisions in the Affordable Care Act during the pandemic.
Kinzinger also voted in line with Trump against providing disaster relief to Puerto Rico, restoring net neutrality protections, requiring background checks for all firearms purchasers, and against impeaching Trump for obstruction of justice and abuse of power in December 2019.