The U.S. Army has announced that it will soon begin discharging soldiers who have refused to get the COVID-19 vaccine. More than 3,300 service personnel could be affected—and Newsweek has calculated that the cost of replacing them could reach $200 million.
Roughly 97 percent of active-duty soldiers have received at least one shot of a coronavirus vaccine, according to Army figures released last week. However, 3,350 soldiers had refused to get the vaccine as of January 26. Some 3,073 have been issued official reprimands, suggesting they could be among the first to be discharged.
It's not clear whether the Army will recruit one soldier to replace each service member discharged for refusing the vaccine, but the effort would be a costly one.
It costs an estimated $22,000 to recruit and screen an applicant to the Army, according to a 2013 paper published in the journal Military Medicine.
The paper, which cited the U.S. Army Training and Doctrine Command, said another $36,000 was spent training the soldier until their first operational assignment.
Using that total figure of $58,000 per recruit, Newsweek has calculated that the cost of replacing 3,350 soldiers would be $194.3 million. It is not known how the costs might have changed since 2013. The U.S. Army has been contacted for comment.
The directive from Army Secretary Christine Wormuth, dated January 31, tells commanders to begin involuntary separation proceedings against soldiers who have refused the vaccine and do not have a pending or approved exemption "as expeditiously as possible."
A total of 5,870 service members have received temporary exemptions while their requests for permanent medical or religious exemptions are decided.
"Army readiness depends on soldiers who are prepared to train, deploy, fight and win our nation's wars," Wormuth said in a statement on Wednesday.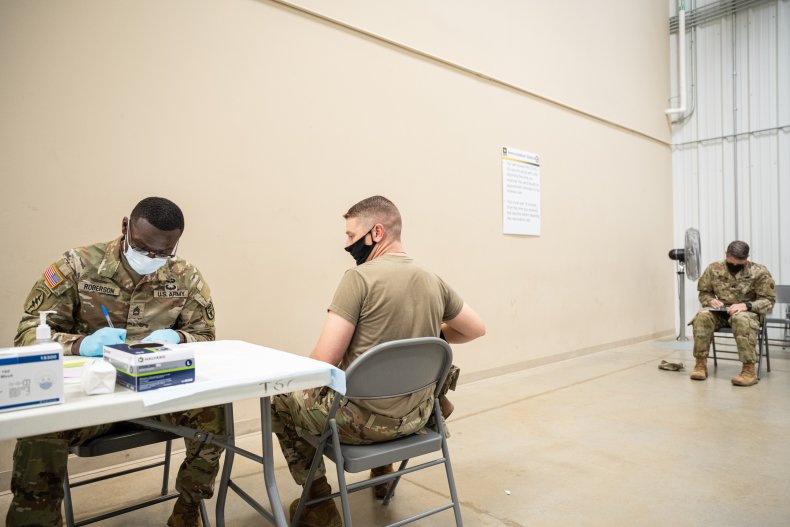 "Unvaccinated soldiers present risk to the force and jeopardize readiness. We will begin involuntary separation proceedings for soldiers who refuse the vaccine order and are not pending a final decision on an exemption."
Her directive states that soldiers who have refused the vaccine will be issued either an "honorable or general (under honorable conditions) characterization of service unless additional misconduct" warrants a discharge under a lesser distinction.
Those who were already scheduled to retire or leave the Army by July 1 will receive a temporary exemption to allow that process to be completed.
The announcement has made the Army the final branch of the military to set out its discharge policy for personnel who refuse the vaccine.
The Marine Corps, Air Force and Navy have already discharged active-duty troops or entry-level personnel at boot camps for refusing the shots.
Last summer, the Department of Defense ordered all service members— active duty, National Guard and reserves—to get the vaccine.
In an August memo, Secretary of Defense Lloyd Austin said vaccination against COVID-19 was "necessary to protect the Force and defend the American people."
Each military branch set its own deadline for service members to get vaccinated. The Army's deadline for active-duty soldiers was December 15.