Details of Suspects, But Not Motive, Emerge in San Bernardino Shooting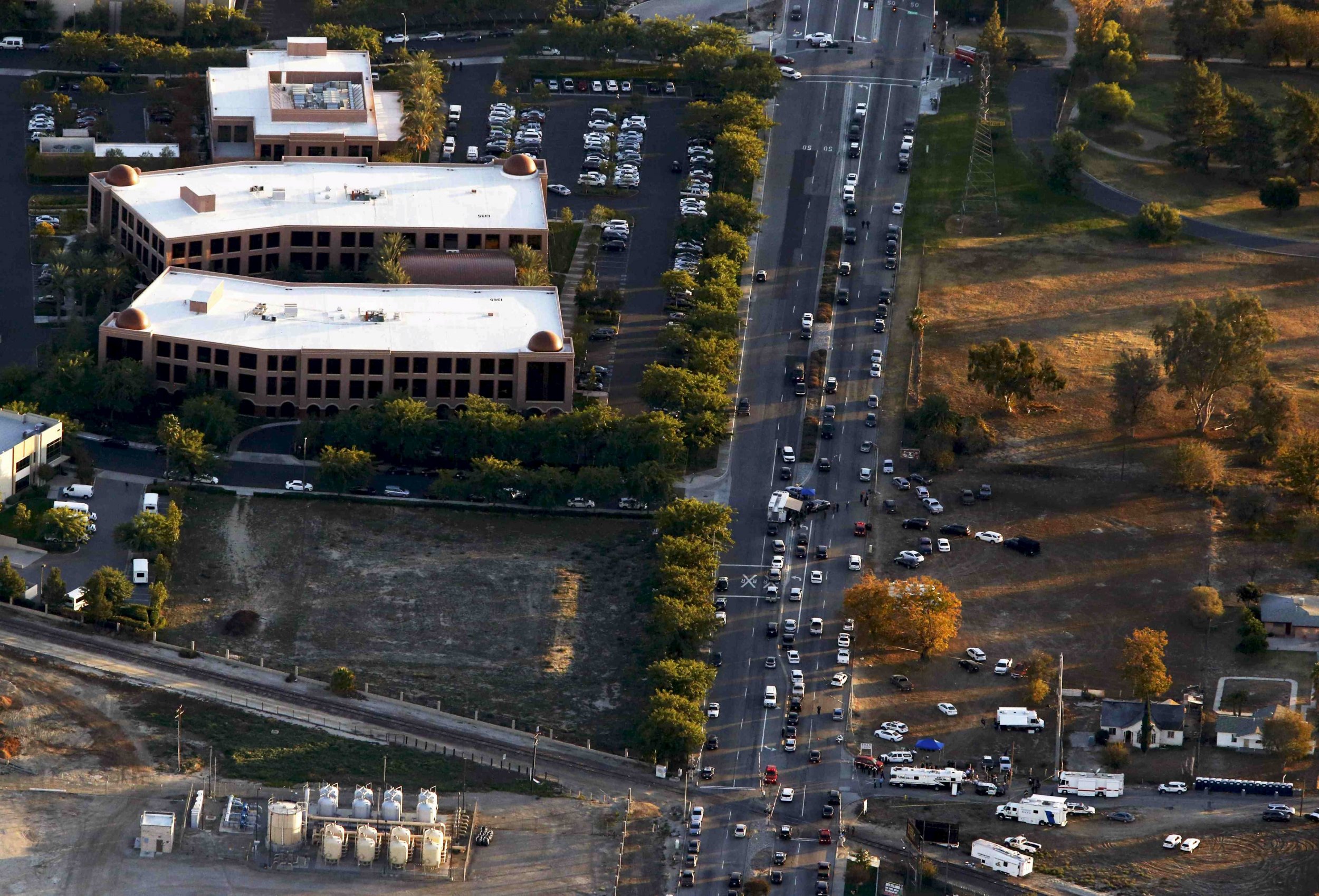 Updated | San Bernardino County police have identified the two shooting suspects in the California rampage that left 14 dead and at least 21 injured in California on Wednesday.
Police said Syed Farook, 28, and Tashfeen Malik, 27, opened fire at a holiday party at the Inland Regional Center for the developmentally disabled. It is located in San Bernardino, about 60 miles east of Los Angeles.
Authorities said Farook left the event and returned later to open fire on the attendees. It is unclear if Malik was with him at the event before the shooting. Both Malik and Farook fled after the shooting and left explosives at the scene, according to the authorities.
Farook, who was born in Illinois and most recently lived in California, was an employee of the San Bernardino County health department. The department is the county agency that hosted the gathering. His parents originally are from Pakistan.
Malik was born in Pakistan and lived in Saudi Arabia until she was introduced to Farook. The couple married two years ago, Hussam Ayloush, executive director of the Los Angeles office for the Council on American-Islamic Relations, told NPR Thursday morning. They were the parents of a 6-month-old girl, whom they left in the care of one of their mothers before the shooting.
"According to the family, [Farook] had a good life; he had a good job; he was happy," Ayloush said. "They're shocked, completely shocked, by his actions."
At a press conference late Wednesday, Farhan Khan, Farook's brother-in-law, declined to comment on the couple's religion. But Ayloush on Thursday confirmed to NPR that both were Muslim.
"As far as the family knew, there were no strong political or religious views either way," he added.
He said when three people were killed in a shooting last week at a Planned Parenthood in Colorado Springs, Colorado, Muslims and other people around the country didn't point a finger "at all white people or all Christians because of the crime of one individual."
"But it seems the same courtesy, the same respect, is not always afforded to Muslims," Ayloush said.
After the shooting on Wednesday, a tip led San Bernardino County police to a residence in Redlands, California. Upon arriving, authorities saw a vehicle flee the home, officials said. The police pursued the SUV and engaged in a shootout with the two suspects.
Both Farook and Malik died in the melee. Authorities detained a third person on Wednesday but later said they could confirm only that Farook and Malik carried out the shooting.
It remains unclear what motivated the shooters, but Jarrod Burguan, the police chief of San Bernardino County, said, "There had to be some degree of planning that went into this." The shooters were heavily armed and wore tactical attire.
Griselda Reisinger, one of Farook's former co-workers, told the Los Angeles Times: "He was very quiet.... I would say 'hi' and 'bye,' but we never engaged him in conversation."
Reisinger said the health department was experiencing a high turnover rate because of disagreements with management. She added that the department held the holiday party in the same location last year.
Late Wednesday, Khan said he spoke to the suspect about a week ago. "I cannot express how sad I am for what happened today," he said. "I am in shock that something like this could happen."
Khan said he was unaware of any motive for the crime.
This story has been updated to include new information disclosed about the suspects and an increased number of injured people, from 17 to 21.
Details of Suspects, But Not Motive, Emerge in San Bernardino Shooting | U.S.