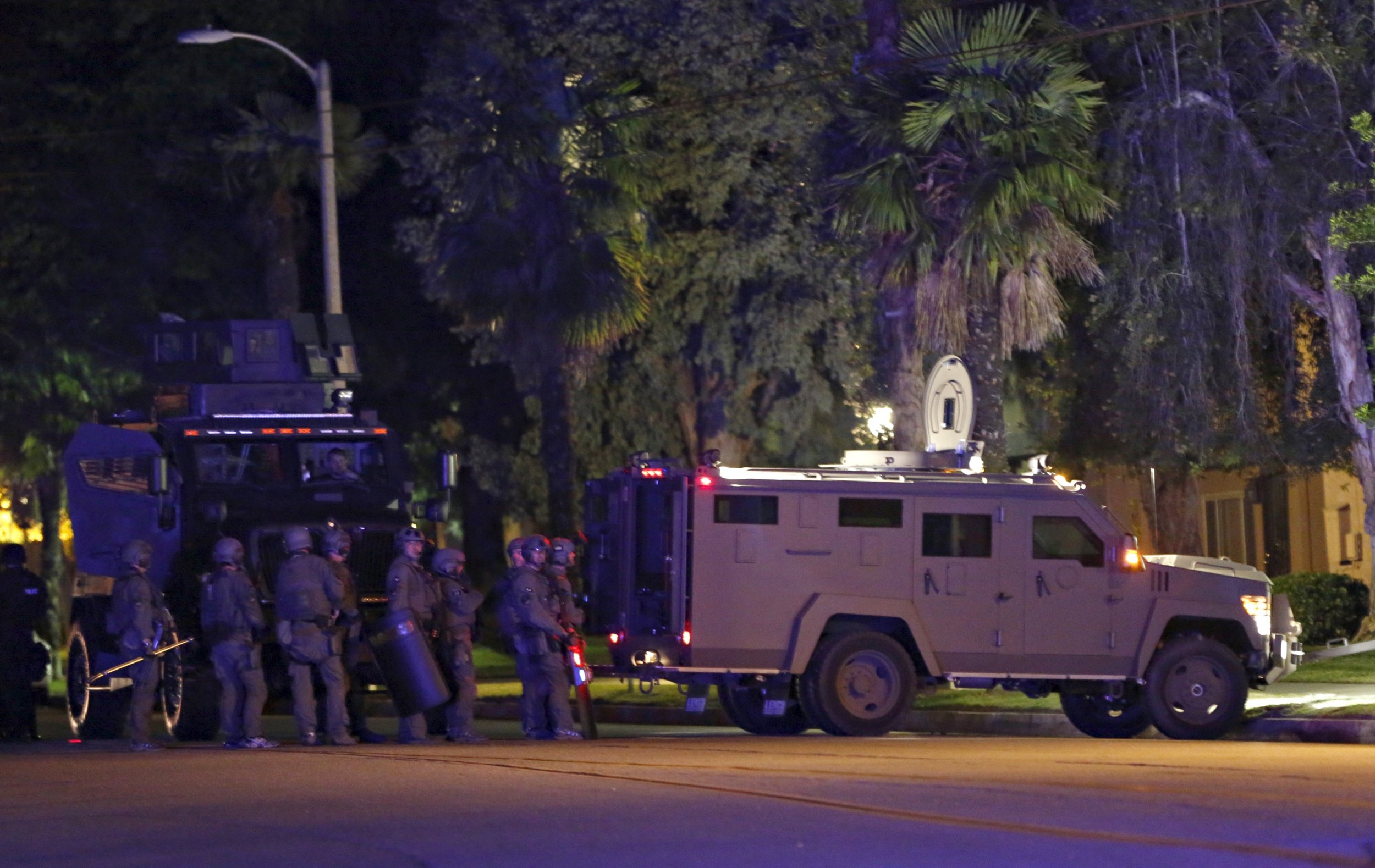 Updated | Two assailants opened fire during a holiday party at a California center for the developmentally disabled on Wednesday, killing 14 people and injuring 17. The incident, which took place about 60 miles east of Los Angeles, was the deadliest mass shooting since December 2012, when Adam Lanza killed 26 at an elementary school in Sandy Hook, Connecticut.
Around 11 a.m. local time, Syed Rizwan Farook, 28, and Tashfeen Malik, 27, entered the Inland Regional Center in San Bernardino and opened fire using assault weapons and handguns, the police said. Before fleeing, the assailants left explosive devices at the scene. Farook, a county employee, attended the holiday party before the shooting, according to the police. He then left in an "angry" manner and returned to open fire, San Bernardino authorities said.
Speaking at a press conference late Wednesday, the FBI said it remains unclear what motivated the shooters but did not rule out terrorism. "We do not know if this is a terrorist incident," said David Bowdish, a special agent in charge with the FBI's Los Angeles bureau.
After the shooting, a tip led the police to a home in Redlands, California, and upon arriving, a dark SUV fled the residence. The police followed the vehicle, a shootout ensued and Farook and Malik died in the altercation. "They were dressed in dark, tactical gear," San Bernardino Police Chief Jarrod Burguan said during a press conference. "There had to be some degree of planning that went into this."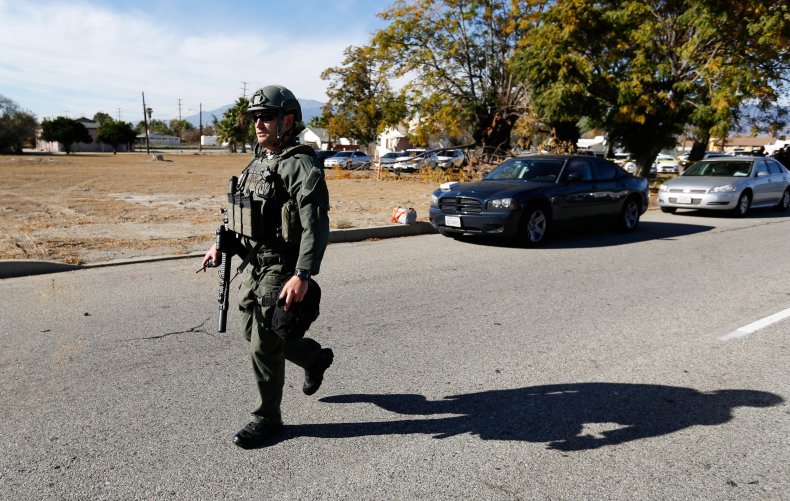 One police officer was injured in the shootout with the suspects and was rushed to the hospital, the police said, but his life is not in danger.
The authorities detained a third person but said Farook and Malik carried out the shooting alone.
Related: Authorities Identify One California Shooting Suspect as Syed Farook
An active shooter incident involving a woman is extremely rare. The FBI studied 160 active shooter incidents between 2000 and 2013 and determined only six were carried out by women—less than 4 percent.
The Inland Regional Center, the site of the shooting, provides services to those with developmental disabilities and employs about 670 people. It remains unclear how many people were inside at the time of the incident.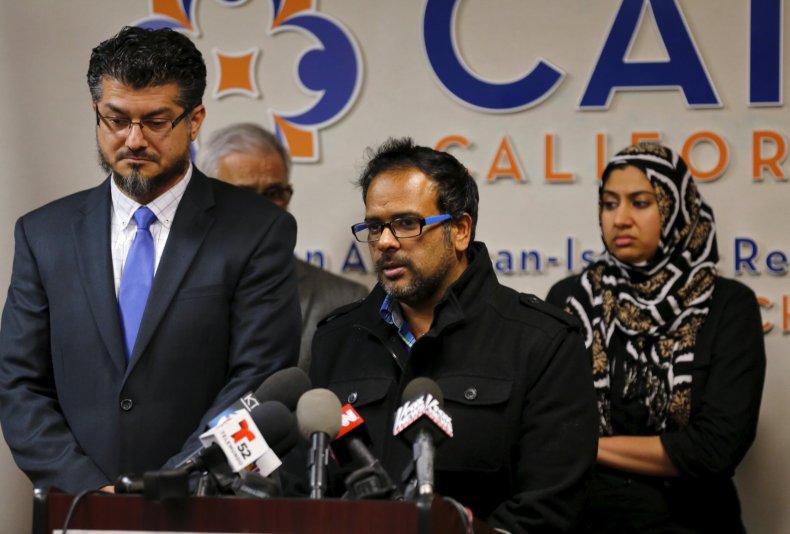 In Focus
Shooters opened fire on a holiday party in San Bernardino, California, killing 14 people and wounding 17.
Launch Slideshow

15 PHOTOS
After the shooting, five adult victims were transported to the Loma Linda University Medical Center, spokeswoman Briana Pastorino said during a press conference. She did not elaborate on their conditions or identify them.
The Arrowhead Regional Medical Center confirmed to Newsweek that was also treating six victims of the attack, though their conditions remain unclear.
On Wednesday afternoon, President Barack Obama weighed in on the incident.
"Our hope is that we are able to contain this particular shooting," he said in an interview with CBS. " We don't yet know what the motives of the shooters are but what we do know is that there's steps we can take to make Americans safer."
Related: Presidential Candidates React to San Bernardino Shooting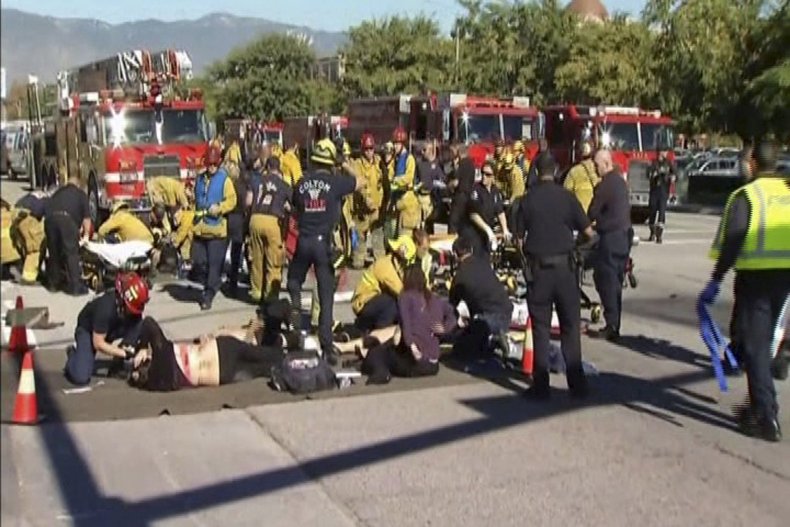 California governor Jerry Brown issued a statement shortly after: "Our thoughts and prayers are with the victims' families and everyone affected by the brutal attack," he said. "California will spare no effort in bringing these killers to justice."
For hours on Wednesday, local businesses and schools were on lockdown as police searched for the assailants.
The shooting comes days after a gunman opened fire at a Planned Parenthood healthcare center in Colorado Springs, killing three people and injuring nine. There have been more than 350 mass shootings so far this year, including a series of high profile violent incidents since June, when a gunman killed nine parishioners at a predominantly African-American church in Charleston.