Republican Adam Kinzinger Rips GOP's 'Batsh**tery,' Asks McCarthy to 'Assert Some Influence'
Republican Representative Adam Kinzinger slammed the "batsh**tery" being promoted and supported by some of his GOP colleagues while urging House Minority Leader Kevin McCarthy to take a stand against it.
Kinzinger was among the 10 House Republicans to vote to impeach former President Donald Trump after the January 6 assault on the Capitol by his supporters. The Illinois Republican has since become one of Trump's harshest critics and also routinely takes aim at GOP colleagues and leaders who continue to align themselves with the former president.
"Some GOP are: 1) pushing FBI conspiracies on Jan 6, 2) comparing the 2nd amendment to Vietnam and the VC, 3) scared of shaking the hands of police defending them, 4) opposing Juneteenth, 5) so much more batsh**tery. Would be a great time for @GOPLeader to assert some influence," Kinzinger tweeted on Friday.
As Kinzinger pointed out, a number of pro-Trump Republicans have been pushing a range of conspiracy theories about the events of January 6. Meanwhile, freshmen GOP Representative Madison Cawthorn of North Carolina gave an interview to Newsmax on Wednesday in which he defended gun rights by citing communist Vietcong fighters' efforts against U.S. Marines in the Vietnam War.
Washington, D.C., Metropolitan Police Officer Michael Fanone, who was injured in the January 6 attack by Trump's supporters, attempted to shake the hand of pro-Trump GOP Representative Andrew Clyde this week after the lawmaker voted against awarding police officers with medals for their bravery during the insurrection. Clyde refused to shake his hand, according to Fanone.
Furthermore, 14 House Republicans this week voted against making Juneteenth—or June 19—a federal holiday. The date marks the day in 1865 when the U.S. began to enforce the end of slavery in Texas.
"Watching some on the right oppose this is mind-numbingly ignorant. It's a celebration of freedom," Kinzinger tweeted this week in response to GOP opposition to the new holiday.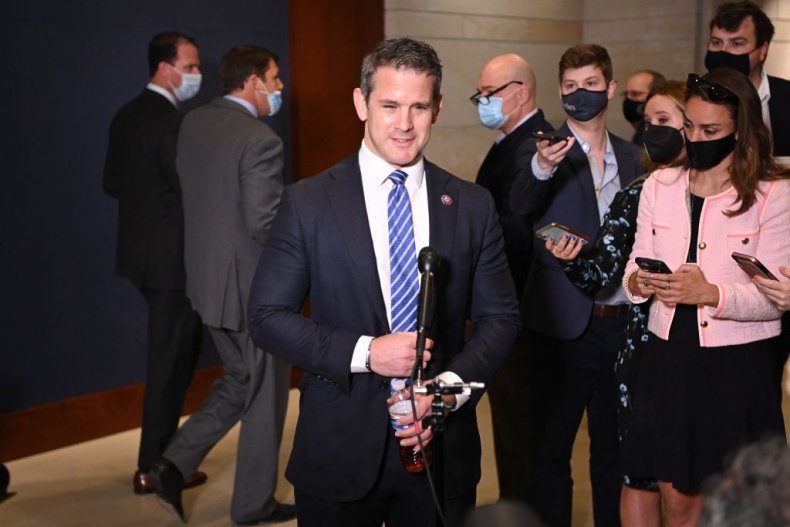 In a Thursday tweet, GOP freshman Representative Peter Meijer also called out Trump supporters promoting conspiracy theories about the January 6 riot at the Capitol.
"Not peaceful. Not 'let in by police.' Not Antifa. Not FBI. (Can't believe I have to say that.)," Meijer wrote. "January 6th was not whatever ridiculous conspiracy or white-washing explanation liars are peddling. It was what it was: a violent attempt to stop the constitutional transfer of power."
The Michigan Republican was one of the 10 GOP House members who voted to impeach Trump following the violent assault.
Although McCarthy initially condemned Trump for inciting the attack, he declined to vote in support of the former president's impeachment. The California Republican later met with Trump and mended their relationship. He has since aligned himself closely with the former president, and it has become apparent that the majority of Republican voters still firmly support Trump.
Newsweek reached out to McCarthy for comment but did not immediately receive a response.