Republican Chair Ronna McDaniel Warns Republicans Can't Win Without Trump: 'We Would Lose'
Republican National Committee chair Ronna McDaniel does not believe her political party can continue to win in elections without former President Donald Trump in the GOP.
McDaniel, the niece of GOP Senator Mitt Romney of Utah, remains staunchly supportive of Trump. However, a new book—Betrayal: The Final Act of the Trump Show—by ABC News journalist Jonathan Karl reports that Trump threatened McDaniel, saying he'd start his own political party during the final hours of his presidency. Trump and the RNC chair have denied the report, but McDaniel was pressed by ABC News journalist Rick Klein about the conversation during a Wednesday event.
"I just want to be clear, did President Trump have a conversation with you where he said he would leave the party?" Klein asked McDaniel.
"Listen," she responded, "President Trump clearly has not left the party."
"And I've never shared my conversations with the president and I'm not about to start doing that now," McDaniel continued. "But I will say one thing that's very true that was said in that statement, which is, if he left the party, we would lose. If he left the party, Republicans would lose."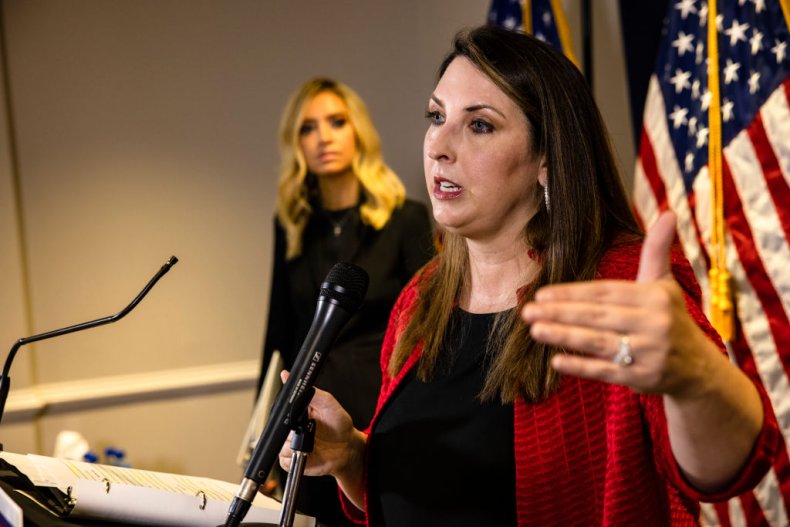 The former president reportedly told McDaniel during a phone call on his final flight as president on Air Force One on January 20, that he was "done" with the GOP, according to Karl's book. "I'm starting my own party," he reportedly said.
"You cannot do that," McDaniel reportedly answered Trump. "If you do, we will lose forever."
"Exactly. You lose forever without me," Trump reportedly replied. "I don't care."
"This is what Republicans deserve for not sticking up for me," he reportedly added. Karl also reported that McDaniel and RNC leadership later informed Trump that he'd be denied access to the GOP mailing list and that Republicans would stop paying the legal bills for his 2020 election challenge lawsuits, if he left the party.
After the report from the book broke, McDaniel and Trump both issued statements claiming it was inaccurate. "This is false, I have never threatened President Trump with anything," McDaniel told ABC News. "He and I have a great relationship. We have worked tirelessly together to elect Republicans up and down the ballot, and will continue to do so."
Trump turned to one of his favorite catchphrases—"fake news"—rejecting the ABC News report. "ABC Non News and 3rd rate reporter Jonathan Karl have been writing fake news about me from the beginning of my political career," he said in an official statement.
Recent polling suggested that Trump remains widely popular with Republican voters. A survey published Thursday by Quinnipiac showed that 61 percent of GOP voters would be more likely to vote for a candidate who "strongly embraces" the former president and his ideas. A separate Morning Consult poll from early October showed that just over two-thirds (67 percent) of Republicans want Trump to run for president again in 2024.
Newsweek reached out to Trump's press office for comment but did not immediately receive a response.