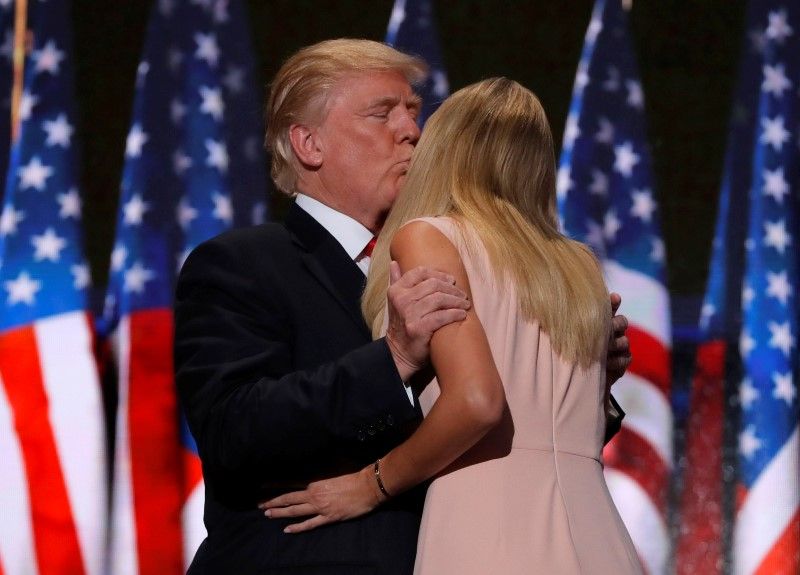 There's a reason the Republican National Convention in Cleveland this week featured a parade of women delivering testimonials about their relationships with Donald Trump, capped off Thursday night by an extended appeal to women from Trump's oldest daughter and close confidante, Ivanka. It's a tacit acknowledgement that the GOP presidential nominee is deeply unpopular with female voters, potentially historically so, which could cost him the election in November.
Yet even as Ivanka Trump and other family members and friends sought to paint the candidate as a misunderstood champion for equal rights, other, less-scripted moments in Cleveland reinforced exactly why the campaign and the Republican Party as a whole are struggling to win over women. And some Republican strategists were openly worrying that 2016 may be the year the GOP loses women for good.
Ivanka Trump did her best to counter those impressions on the final night of the convention. Introducing her father, the 34-year-old businesswoman insisted that he is committed to gender equality and would pursue policies that support working women. "Politicians talk about wage equality, but my father has made it a practice at his company throughout his entire career," she declared. "He will fight for equal pay for equal work," she promised. "As president, my father will change the labor laws that were put in place at a time when women were not a significant portion of the workforce, and he will focus on making quality child care affordable and accessible for all!"
On Wednesday night, Lynne Patton, vice president of the Eric Trump Foundation, gave a similarly impassioned pitch for Trump in a pre-taped video that played on the Jumbotron in Quicken Loans Arena, while underscoring, "I am a highly intelligent, free-thinking and independent woman."
Trump, however, mentioned "women" only twice in the prepared remarks of his speech Thursday upon accepting the GOP presidential nomination, and women's rights not at all. For a man whose disdainful criticism of women's looks and behavior has become infamous—and ruthlessly recirculated by Democrats—it will take much more concerted outreach to reassure skeptical female voters. A CNN/Opinion Research poll released July 17, for example, found that 63 percent of women have an unfavorable view of Trump. The same survey found Democrat Hillary Clinton would defeat Trump among female voters 52 percent to 36 percent. By way of comparison, President Barack Obama won women in 2012 by a 12 percent margin over Republican challenger Mitt Romney, which at the time was the largest gender gap Gallup had ever measured in a presidential election.
While Trump's female allies sought to paint a more sympathetic picture of him to the convention audience, other aspects of the Cleveland convention highlighted the kind of open misogyny that Trump himself has been criticized for. Outside Quicken Loans Arena, street vendors hawked T-shirts referring to Clinton with such slogans as "Trump that bitch!" and "Hillary sucks, but not as much as Monica." And the shirts appeared to be selling—more than one Trump supporter was spotted in the latter shirt milling around the convention site.
In a highly publicized moment on Wednesday night, security officials had to escort Texas Senator Ted Cruz's wife, Heidi, out of the arena over concerns for her safety after she was aggressively heckled by some in the convention crowd. She was there while her husband, who lost out to Trump in the GOP primary, addressed the delegates, drawing lusty boos when he closed his speech without endorsing Trump. "She was fine. She said people were yelling" at her, but that "it was silly," Cruz adviser Jeff Roe said Thursday afternoon at an event in Cleveland hosted by Politico. But, he acknowledged, "certainly the optics are awful," vis-à-vis Republicans' treatment of women.
The treatment of Heidi Cruz "was disturbing to me," said Katie Packer, a Republican consultant who helmed an anti-Trump PAC during the Republican primary, at the Politico event. "But a lot of the things that are being done and said [in the Trump campaign] that don't even relate to women are very upsetting to women.... I think a lot of the racial things that happen, women recoil at. The sort of bullying and braggadocious-ness that come from Trump are something that women naturally recoil at more than men." Packer warned that if Trump wins the White House, the Republican Party will be on track "to be a party of mostly white men."
Other Republican women in Cleveland for the convention were less concerned, at least publicly, about how Trump affects the GOP brand in the eyes of women. Christina Hagan, a state representative from Ohio, didn't respond directly when asked by Newsweek whether she worried Trump's campaign would dampen support from women voters for down-ballot elections, like hers. "We have a lot of work to do" in terms of electing more women to office, Hagan said. "But gender does not, in my mind, define your capacity to do the job."
Tennessee Representative Marsha Blackburn, who spoke at the convention in support of Trump on Thursday night, argued earlier in the day that female voters are most concerned about national security and economic security, and said Trump is well-positioned to appeal to them on those issues. As for some of the harsh rhetoric toward Clinton coming out of the Republican convention, "I had a reporter yesterday, an MSNBC reporter, said something about, 'Oh, don't you think that all of this about Hillary is so out of control,'" Blackburn recounted in a Q&A with The Atlantic. "And I looked at her, and I said, 'Have you ever looked at my Facebook feed? My Twitter feed? You go read this, and let's talk about how mean liberals can be to conservative women.'"
But what about Trump's comments about Fox News anchor Megyn Kelly, asked The Atlantic's Alex Wagner. Among other things, Trump derided Kelly's efforts in moderating the first GOP debate by suggesting, in crude terms, that she was menstruating.
"I agree with you. I totally agree with you," Blackburn replied. "There are things that he has said that I don't agree with and that I wish he had not said."